Charles I, known as the Great or Charlemagne, and the Popes
'His hair was grey and beautiful, his face radiant and cheerful; his appearance was always imposing and dignified; his health always magnificent'. 'The Christian religion, in which he was instructed from a young age, he always cultivated with great sanctity and piety (sanctissime et cum magna pietate coluit). He visited the church assiduously, morning and evening, also at night and during mass'. —Einhard
'His most important interlocutors throughout his life were the popes. The pivot of Carolingian politics, around which everything revolved, was the relationship with the Holy See'. 'It is curious that while Charles lived he was able to avoid any conflict with the papal see. Charles certainly never won the confidence of the Italian population; there he continued to be an enemy'. —Wolfgang Braunfels
'The Merovingian state had been predominantly profane; the Carolingian empire, by contrast, was a theocracy'. —Christopher Dawson
'The image of the Carolingian theocracy harmonised impressively with the Carolingian idea of peace and with the conception of the empire as a corpus christianum'. —Eugen Ewick
'Then the hour of the man of Providence sounded'. 'With Charles the Great, the victorious arms of the Franks were the forerunners of Catholic doctrine'. 'To keep his subjects in harmony and to establish among men concord pacis were the ideal aims of that mighty monarch, under whose reign scarcely a year passed without war. But these ideals fully correspond to a Christian conception of his office'. —Daniel Rops
'I would rate Charlemagne well up in the top five most evil characters of European history'. —Arthur Kemp (*)
______ 卐 ______
Editor's Note:
While it is true that I believe Hitler to have been the greatest man in Western history (and the fact that whites currently defame him and continue to worship Yahweh can only mean that they have signed their death warrant), that doesn't mean that Hitler was infallible. Politically and militarily, he blundered in invading the Soviet Union. But ideologically he also erred, though not so catastrophically, insofar as his opinion was limited to one of his after-dinner talks. I am referring to that evening with his friends when he approved that Charlemagne tamed the Saxons (others, like Himmler and the SS, believed exactly the opposite).
Although Hitler had a much better awareness of the Christian problem than those Americans who since the mid-1990s have called themselves white nationalists, his understanding of Christendom was limited. As far as I know, it was only until this century that Christianity began to be understood as the primary cause, not a secondary cause, of white decline.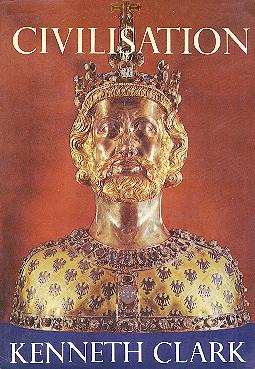 Although the syntax correction of my books will take time (I am about to finish Daybreak), only when I have completed the revision of all the books of our Daybreak Press, which includes one by Savitri Devi, will the formal presentation of the new paradigm be available in acceptable English. In the meantime, I must say that our reading of history is diametrically opposed to Kenneth Clark's not only as far as Charlemagne is concerned (featured on the cover of his book), but in how Clark represented Christendom.
Fortunately, non-Christian authors such as Karlheinz Deschner have shown us a different history of Christendom in general, and Charlemagne in particular, that differs not only from the historical conception of the normies, but of American white nationalists and even Hitler himself.
__________
(*) This last quote doesn't appear in the original. Deschner usually puts several epigraphs of theologians and Christian historians in favour of a specific character at the beginning of a chapter, and he adds in the end one or two quotes from dissidents who say the opposite. It doesn't hurt that I take the liberty of adding one more critical quote here because Kemp is the only living historian of the white race.