Or
The younger brother of Boromir
Before we begin translating each talk from Werner Jochmann's 2000 edition, published in German, I must clarify a few points.
Hitler's after-dinner talks have been repudiated both by some white nationalists (those who are Christian and sympathetic to National Socialism), and by anti-Christian liberals like Richard Carrier who resent the idea that Hitler might have harboured anti-Christian ideas. Both base their arguments on the botched English translation currently on the market. The way to shut them up is simply to translate into English a reliable edition of the original manuscript, which we will do for The West's Darkest Hour.
Each Hitler after-dinner talk will be accompanied by a hatnote linking to this PDF: the translated introduction by Werner Jochmann and a very brief text by David Irving (the original in German can be read: here). Since Jochmann's introduction consists of 34 pages, we have taken the liberty of adding some subheadings to make it less of a chore to read: Heim, Picker, Bormann, Hitler, Master Plan East, Final solution and Christianity (the subheading This edition does appear in Jochmann's original text).
The Christian question is central to understanding not only the dark hour, but the resounding failure of white nationalists. Recently, some commenters and I made use of LOTR and the character Boromir to understand the problem. While I agree with what Krist Krusher said about Tolkien, the metaphor is splendid to illustrate why using the One Ring—Christianity—to save the race will always end in the destruction of whoever dons the ring.
The point is that 'No one here can wield the ring: it only answers to its Master'. And the Master is none other than the Jew who wrote the Gospel! (even though he now only lives disembodied in the amorphous form of Sauron). The One Ring answers only to him and to him alone. When a racialist Christian wants to put on the ring to fight the dark hour he falls into the trap set by Sauron: precisely what I recently said about an old article published on this site: 'Silly Christian apologetics on The Occidental Observer'.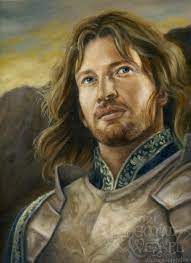 I'd like to end this entry with what I said a couple of days ago in the comments section: 'Even the toughest Americans are willing to put on the One Ring to fight Sauron rather than understand—as Frodo's servant, Sam, finally made Faramir understand—that it was impossible to use it for Gondor's purposes'.
In his private talks, Hitler understood what American white nationalists still fail to understand.