Only the overman will be able to develop empathy at the level of what in my books I call the priest, or rather ruler, of the four words. But without going so far, the philosophical problem of who should govern arose from the times of Plato.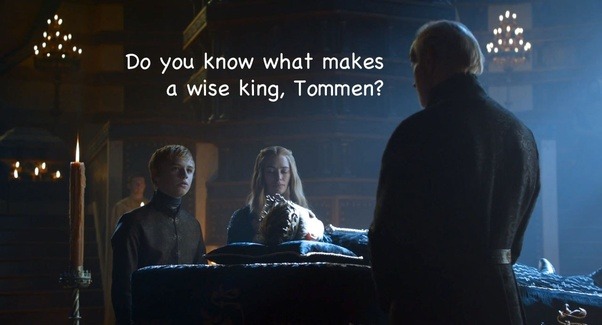 In popular culture that has reached the masses, only fiction writer George R.R. Martin apparently has dealt with the problem of this philosopher-king. The viewership for the finale of Game of Thrones, 'The Iron Throne', included 13.6 million people who watched the episode on HBO at 9 p.m. Sunday about a year ago, making it the most-watched telecast in the network's history. But of all these millions of normies only one understood Martin's philosophy: the vlogger who correctly predicted who would be crowned in the finale.
Below is a transcript of Yezen's 'Why Bran Stark will be King' video, which was uploaded twenty days before the finale. Compared to Yezen, all the fans of the famous series who keep commenting on YouTube seem Neanderthals to me. Not only did they fail to predict who would be the king: they were angered by the finale because they don't understand why only someone with sovereign empathy must rule.
For those who have already seen the above-linked video and are interested in a transcript, let me say that the emphasis of the red words is mine. Yezen said:

______ 卐 ______
First off, I want to say how much I appreciate all of the support this channel has been getting in the past couple weeks, so today I'm gonna try to drive everyone away by giving one of my more controversial predictions. In the end of Game of Thrones, the person who will sit in the Iron Throne and rule Westeros is… Bran Stark.
Yup. King Bran the Broken. The Bird Kid, First of our POV's, Lord of the Awkward Stare, and Producer of the Memes, because 'Chaos is a ladder'. And Bran is the best at climbing. Also, he's the best at sitting… [LOL!]
Okay, but really, without getting into Children of the Forest conspiracies, or a convoluted lecture on the line of succession for Harrenhal, let me explain why it'll be Bran. And before I get a million comments reminding me that he's not Bran anymore—I get it, he's not totally Bran. But it's also not that simple. The actor Isaac Hempstead Wright has confirmed that there is some Bran 'left over' in the Three-eyed Raven, so it's a complicated entity.
Anyways, hang in there. Here it goes.
Tommen: 'It means I'll become King'.

Tywin: 'Yes, you will become King. What kind of King do you think you'll be?'

Tommen: 'A good King?'

Tywin: 'Huh. I think so as well. You've got the right temperament for it. But what makes a good king, hmm? What is a good King's single most important quality?'
In many ways, Game of Thrones was intended as a response to The Lord of the Rings. Bran is Frodo. Aegon is Aragorn. Arya is Aeowyn. The Night King is Sauron. Sam is Sam, and Sean Bean dies.
And George R.R. Martin's equivalent for the titular Ring of Power has always been the Iron Throne. Like the One Ring, the Iron Throne is the central object of absolute power, around which the narrative revolves. Though not inherently evil like the Ring, the Iron Throne is isolating; it brings men to war, and tends to destroy those who hold or pursue it. And, at the end of The Lord of the Rings, the ring is cast into the fire that forged it, and destroyed forever, ridding the world of its corruption, and restoring moral order.
So why can't we expect the same from Game of Thrones? Why can't the Iron Throne simply be destroyed in the dragon-fire that forged it, thereby ending the evil of war?
Tommen: 'Holiness?'

Tywin: 'Hmm'.
Well, the answer lies in the differences between how Tolkien and Martin depict good and evil in relation to power.
In Tolkien's world, good and evil are distinct, and the Ring represents power in a strictly evil sense. All power that is just or lawful is considered to be separate from the corruption of the Ring.
Yet, in Martin's world, morality is ambiguous, and exists in shades of gray. The Iron Throne has no inherent moral alignment, and represents the power for both good and evil. Though there is certainly symbolism to destroying it; whether there's a spiky metal chair or not, people will still seek power. And the Seven Kingdoms can still be conquered, and will still be ruled. Melting the Iron Throne isn't a real solution. Power must pass to someone.
Of course, the obvious candidate would be King Aegon—Jon Snow Targaryen. After all, he is modelled after Aragorn, who is the King that returns. And in the season 8 opener, we already see Davos suggesting the possibility of Jon and Daenerys getting married, binding their alliance and forming a dream-team power couple to rule Westeros better and fairer than ever before.
Davos: 'What if the Seven Kingdoms, for once in their whole shit history, were ruled by a just woman and an honourable man?'
Yet, as is typical of this story, the fact that someone has predicted this outcome in dialogue, implies that it's unlikely to come to pass. The Northerners seem outright opposed to Targaryen rule, and whether or not Daenerys can accept joint rule with Jon, the story will not give us an ending exactly as Davos suggested.
And, to be totally frank, there is no way Martin created the feminist icon that is Daenerys Targaryen just to force her to give up her life ambition to her husband, whether it's by bending the knee or by dying.
While the Lord of the Rings ends with Aragorn ruling, Aragorn is never charged with the Ring. Rather, just as Tolkien begins his story with the Ring passing to Frodo, Martin's will end when the Throne passes to Bran.
Tommen: 'Justice?'

Tywin: 'Hmm. A good King must be just'.
After the catastrophe of the ending, House Targaryen as well as most of the other Great Houses, will be brought to ruin. And in the wake of that ruin, the Seven Kingdoms will need to restructure its leadership. And so, the Wolves [the Starks] will have their time.
Bran 'I'm-not-Bran' Stark, will be the enigmatic, apathetic Fisher King.
Sansa 'I-learned-a-great-deal-from-her' Stark, will leave Winterfell and govern the Seven Kingdoms through Bran, just as Cersei once governed on behalf of Tommen.
And Lady Arya 'don't-call-me-that' Stark, will inherit the North and rule as the Warrior-Lady of Winterfell.
Essentially, Bran, Sansa and Arya, will be the Stark version of Aegon, Rhaenys and Visenya. Just without the dragons or the incest.
In the books, this is set up pretty early on by Ned Stark, who after Robert's rebellion, inherits the life and position meant for his elder brother, who had died during the rebellion. This is also set up pretty well by Littlefinger, whose life goal is: '…a picture of me, on the Iron Throne, and you [Sansa] by my side'.
In the end, this vision will sort of come true. It just won't be Littlefinger on the throne. But that's all the time I'll spend on evidence, because whether I'm right or wrong, there's only about a month until we see this play out.
Tommen: 'What about strength?'

Tywin: 'Hmm, strength…'
On a fundamental level, Game of Thrones is an exploration of power, and different characters coming to power convey different messages about what it takes to rise up in the world.
The rise of Daenerys emphasises strength and justice and ambition.
Jon champions honour and righteousness.
Someone like Littlefinger, deception and opportunism.
While Cersei emphasizes ruthlessness and vanity.
Meanwhile, King Brandon would convey a more mysterious meaning that, although strength, lineage, deception and ruthlessness each play a part, all of them are bound up by FATE.
Not in a divine sense, but in the sense that, regardless of our flaws or virtues, the universe is chaotic and beyond our control. What may be in one place in time a virtue, is in another a flaw. And whoever rises to power is, to some extent, a consequence of being in the right place at the right time. Just as the Targaryens, Baratheons and Lannisters had their time, the Starks will have theirs, and so the throne will pass to Bran.
Tywin: 'So, we have a man who starves himself to death, a man who lets his own brother murder him, and a man who thinks that winning and ruling are the same thing. What do they all lack?'
This ending would serve as a strange marriage of idealism and cynicism. In many ways, Bran begins the story as the most powerless character, lacking even basic bodily autonomy. And as fate would have it, Bran ends up the most powerful. Yet that power comes at the cost of isolating Bran from his own humanity, and never gives him the thing that he really wanted.
Arya: 'He wants to be Knight of the King's Guard. He can't be one now, can he?'

Ned: 'No'.
The story which built itself on the tragedy of the Starks will end in their triumph. But despite that triumph, the Starks never really get back the home or the innocence they once had. Yes, there's the physical place [of a home], but never the feeling of having a complete family. Never the trust, innocence, or joy of childhood. In the deepest sense, what is lost in war, is never truly reclaimed in war.
And look, I know you probably still don't buy it, or you still think it's gonna be Jon, and you really might be right about that, but hear me out just a little longer, because there is a glimmer of idealism to this ending.
Though many will die, and the wheel might not break, Bran just might make a good king after all. Despite having lost so much of himself to the Three-eyed Raven, Bran, perhaps more than any other character, has grasped one of the most essential lessons of the story, which is the importance of EMPATHY.
Tommen: 'Wisdom?'

Tywin: 'Yes!'

Tommen: 'Wisdom is what makes a good king'.

Tywin: 'Yes, but what is wisdom, hmm?'
Despite their history, Bran is able to look at Jaime Lannister, the man who once shattered his life, and to see good in him, to see Jaime as a man who was protecting the people he loved. And to not only forgive him, but to protect him. This simple act of understanding demonstrates what the war-torn kingdoms of Westeros have been so lacking: not strength, or cunning, or even honour, but real wisdom.
For a world that's been so damaged by people's inability to see from one another's perspective, maybe a broken boy is the right ruler to heal a broken kingdom.
Maybe not the one you want, certainly not the one we'd expect, but the one the ending needs. After years of war and hatred, I think maybe the Kingdoms of Westeros will get the little bit of understanding that they deserve. And that is an encouraging thought. [Music]
Bran: 'Theon',

Theon: '…'

Bran: 'You're a good man. Thank you'.
But okay, despite what I said earlier, don't leave, stick around. If I'm wrong, which I probably am, you can come back later and leave a comment to tell me.
So you better subscribe just so you don't forget. In the meantime, there is more to come. So, until next time. Peace.