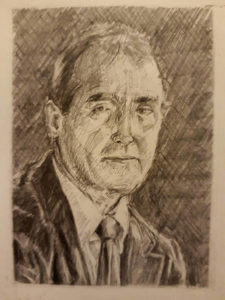 On Monday I said that William Pierce, the year of his departure, uploaded a lucid podcast in which he said that we could see the JQ in a novel way: that we, because of our failings, were enabling the empowerment of Jewry.
The accepted wisdom on the racial right is diametrically opposed: the Jews empowered themselves without our help, to the point of dominating our societies. This claim is sometimes heard on the non-racial right as well. For example, on this day the respected Colonel Douglas Macgregor said a couple of times in this interview that Bibi dominates the American Congress!
Obviously, it is the other way around: it is the traitorous whites, the worst scum of whites that have existed since prehistoric times, who have empowered Jewry to delusional levels. Although Pierce died two decades ago, it is refreshing to know that on the other side of the Atlantic an intellectual, Tom Sunic, holds a POV analogous to mine. In The Occidental Observer this week Tom wrote in his article 'Homo judaicus: The Political Theology of US Foreign Policy':
America's unconditional support of Israel resembles a belated form of White House Christian-inspired medieval neurosis. Fear of being called an anti-Semite prevents American politicians and a great number of American academics from openly criticizing Israel.

When some sparse critical voices are heard, they usually leave out the founding myths of the Biblical narrative, and focus, instead, on dry facts relating to the influence of Jewish lobbies in America.

In the typical fashion of American "expertise," American academics who happen to be critical of Israel use one set of arguments while neglecting other scholarly approaches. In their analysis of the holy alliance between postmodern Israel and America, American scholars tend to forget that the Old Testament ties between these two countries had already predestined America to nurture a special and privileged rapport with the state of Israel.
My emphasis!
One does not have to agree with everything Sunic says in that article, or in the book on which the article is based. But what I quote above superbly portrays the POV of The West's Darkest Hour as far as the JQ and the CQ are concerned.