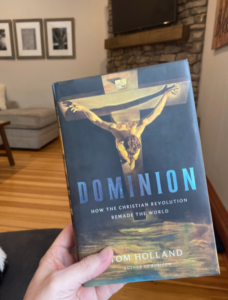 Tom Holland has written a superb overview [Dominion: How the Christian Revolution Remade the World] of the impact of Christianity on the West. He argues we in the West are moored to our Christian past and our morals and ethics derive from Christianity. Holland believes that Christian values permeate Western culture and thinking. If anything, Christianity's influence has been underestimated. Holland claims that many beliefs that we take for granted have Christian origins. He argues that George W. Bush was mistaken in assuming that Muslims shared a Christian worldview and such values are universal.
Holland does not fully explain what he means by Christian values. Jesus spoke repeatedly about inequality and injustice. He spent a lot of his time helping the poor and society's outcasts. He wanted his followers to love their enemies. The Bible suggests that God is closer to the poor than to the rich. Matthew 25 states the key test for a disciple is treating the poor and the hungry as if they were Jesus. Professor Richard Hays of Duke Divinity School believes that Christians are meant to direct their energies towards the renunciation of violence, the sharing of possessions, and overcoming ethnic divisions. Holland discusses the impact of Martin Luther King and Nelson Mandela, who were both students of the Bible. They preached a message of non-violence and forgiveness.
Saint Paul claimed that Christ's church was open to all, slave and free, Greek and Jew, male and female. He taught that everyone is equal before God and we should love one another. These were revolutionary ideas in the Roman world and we still struggle with them today. Holland argues that because God loves each of us unconditionally, we are in turn meant to love and respect our fellow man. Holland discusses the Beatles and he claims that songs like "All You Need is Love" and "Imagine" express Christian beliefs.
Holland has written extensively about Rome, ancient Greece, and Islam. He claims that the more he studied classical antiquity the more alien he found it. Holland concluded that his values were distinctly Christian. Christianity became the dominant religion in Western Europe because of the Romans. Pagan Rome was a barbaric place. It was depraved and violent. The Romans entertained themselves by having criminals eaten alive by wild animals. Rome was also corrupt and materialistic, with only the rich having any rights. Julius Caesar is fondly remembered by classical scholars but he carried out genocide in Gaul. The Romans tended to destroy societies that got in their way. The Romans and Greek philosophers like Aristotle did not care about the poor and the downtrodden, they viewed them as losers. Aristotle justified slavery as natural, claiming some humans were slaves by nature, lacking the moral reason to be regarded as the equals of free men. Christianity must have seemed an attractive option for many ordinary people in the ancient world.
Holland does not believe that God exists but he was raised a Christian. He claims that we in the West have retained our Christian morals and ethics even though many of us have stopped believing in God. The book is not a history of Christianity. He mentions theologians like Irenaeus, Anselm, Origen, Marcion, and Pelagius. It helps to have some knowledge of Christian history to understand their significance.
When the Britain Empire occupied a country it would usually be forced by Christians to ban practices they considered barbaric. In India, Hindu widows would sacrifice themselves by sitting atop their deceased husband's funeral pyre. The British banned this practice because of pressure from Christian evangelicals. William Wilberforce was a devout Christian, who forced the British Parliament to ban the slave trade in 1807. The Bible did not seem to condemn slavery, but British Christians knew it was wrong. As Western culture has become more liberal we have embraced behavior that the Bible specifically forbids, like divorce, working on the Sabbath, and homosexuality. We are now making our own rules, but they are still rooted in the gospels.
In 2002, the World Humanist Congress affirmed "the worth, dignity, and autonomy of the individual." Holland views this as a quintessentially Christian idea that finds no parallel in the ancient world, or in other parts of the world today. Humanists believe "that morality is an intrinsic part of human nature based on understanding and a concern for others." Holland argues that the source of humanist values is not to be found in science or reason but in Christianity.
Holland suggests that Western secular liberals are deluding themselves in believing that Western views on human rights are universally shared. Western Liberals have insisted that Afghans should embrace gender equality. Holland claims that "To be a Muslim was to know that humans do not have rights. There was no natural law in Islam. There were only laws authored by God." For some Islamic scholars, such as Abu Muhammad al-Maqdisi the idea of equality between men and women, or between Islam and other religions, is "a monstrous blasphemy". There is no such thing as "human rights" only the laws of Allah; any attempt to impose those human rights on Islamic countries is infidel heresy and will lead to friction.
Holland discusses the dark side of Christian history. Over time, he writes, Christians "have themselves become agents of terror. They have put the weak in their shadow; they have brought suffering, and persecution, and slavery in their wake." He notes, for example, that the efforts of missionaries to bring Christianity to Africa were undermined by a "colonial hierarchy" in which black people "were deemed inferior." But he also argues that the very standard by which we condemn colonizers is itself Christian.