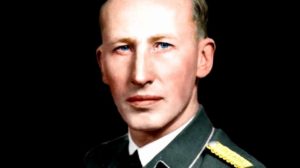 The following is one of the passages I reviewed today from the translation of Savitri Devi's book. It clearly shows what the transvaluation of values is:
One can compare the action of the Einsatzgruppen against the Jews in Germany and in the countries occupied by the armies of the Third Reich with that of the Einsatzgruppen in the Eastern territories.
In both cases, according to the instructions given by Reinhard Heydrich in May 1941 to the leaders of the latter, the aim was to 'mercilessly destroy all past, present and future opposition to National Socialism' that is, to eliminate as many actual or potential enemies of the new Germanic faith and Empire as possible. In both cases, the action revealed a scale of values in complete opposition to all anthropocentrism or a scale of values completely devoid of hypocrisy. War is in itself the negation of any anthropocentric faith or philosophy—especially war between men of different races and civilisations, some of whom regard the habitat of others as necessary, or favourable, to their development.
Himmler remarked that the Anglo-Saxon pioneers in North America had 'exterminated the Indians and only wanted to live on their native land.' And the fiercest anti-Hitlerites are forced to admit that he was right, and that there is no 'respect for the human person' in the attitude of the founders of the US towards the real Americans. It is all too easy, after the fact, when you have installed your democracy over the entire surface of a continent practically emptied of its inhabitants, whose race you have destroyed in the most cowardly way by alcohol, it is easy then, I say, to proclaim that the age of violence is over; to forbid others to carve out a 'living space' for themselves as you have carved out one for yourself and, should their effort end in failure, to bring them before a parody 'International Tribunal' as 'criminals against humanity.'