Last year I sent an email to Prof. Kevin MacDonald complaining about an influential Mexican Jew and he asked me if I'd okay publishing it in his webzine, with a little editing. Of course I accepted and it can be read: here. But I knew that if I had written a lengthier piece I'd have mentioned something even more alarming. In Latin America, Jew and gentile intellectuals are on the same page. A single example will illustrate my point.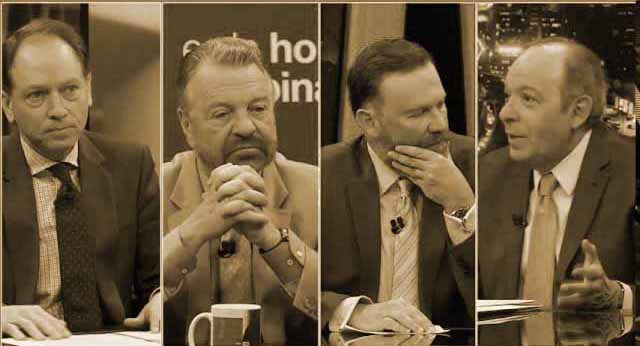 Every Monday the Mexican viewers of Foro TV can watch a roundtable with two Jews and two gentiles. Leo Zuckermann presides the program Es la Hora de Opinar. On Mondays he usually invites another Jew, Jorge Castañeda (second from left) and two non-Jews, the mestizo Héctor Aguilar Camín and the criollo Javier Tello Díaz.
Earlier this year I heard Castañeda pronouncing these lovely words in that program (my translation): '…the fact that Angela Merkel has allowed almost two million refugees to enter—and how good she did it! How good—I mean: we should congratulate ourselves, and congratulate her for having done so'. [1]
Not surprisingly, the two gentiles, Tello and Aguilar, not only agreed with such outrageous statement but even expanded Castañeda's premise, concerned about the recent surge of nationalist sentiments in Germany in face of the so-called refugee crisis.
This has been my experience with intellectual gentiles in Latin America: the way they see the world is the same as the Jews do. This is why I have so many difficulties with the single-cause hypothesis of Western malaise. Not even those gentiles who phenotypically are indistinguishable from the Spaniards, like Javier Tello and many others, think different. In fact, there's no single notable intellectual in the whole of Latin America that I am aware of who defends the white race from the ongoing exterminationist campaign.
That's why I call it the blue-pill continent. That's why I have almost zero contact with the intelligentsia in the country where I happen to be living. That's why I have been forced to blog in a second language.
________________
[1] '…el que Angela Merkel haya dejado entrar a casi dos millones de refugiados—¡y qué bueno que lo hizo! Que bueno, o sea: hay que felicitarse, y felicitarla, por haberlo hecho'.