In his correspondence our friend Gaedhal tells a group of correspondents:
Clarification on my theistic status (a critique of right-wing atheism)

As I said before, I am very clear as to which gods I disbelieve in. I disbelieve in the gods of Classical Theism. I disbelieve in the gods of revealed religion: Yahweh, Zeus, Krishna et al. However, other conceptions and formulations of Deity I am extremely open to. I like to speculate upon this topic in the privacy of my own mind, and entertain my own god concepts within the sanctuary of my own mind.

The reason why I don't critique atheism that much is because Christianity is a trillion-dollar conspiracy. Atheism is not. Atheism runs on a shoestring. Richard Dawkins does not own any basilicas. Sam Harris does not own a microstate in Rome, filled with jewels and priceless works of art. However, there are things about atheism that must be critiqued. Atheism, in my view, is full of disturbing ideas. Dr Robert Morgan, here, seems to drift into Benatarian antinatalism.
The link to the Wikipedia article is mine.
Morgan calls himself a misanthrope. I personally, do not hate humanity: I hate the mob. As Aron Ra puts it: thanks to competing evolutionary strategies, humanity is both the best species on the planet, as well as the worst.
This seems obvious to me. Although Gaedhal doesn't appreciate Uncle Adolf, I think people like him would redeem the world from its evil, if only we would follow him (that's why I recently uploaded so many posts about the New Order).
Morgan says that love does not exist, only hate. I say that hate is this planet's ruling passion, but that love also exists. With Schopenhauer, I say that hate is our default setting, but that love is an active negation of hate. Hate is an effortless default state. Love takes effort, and is a negation of hate.

Morgan believes that existence is homo homini lupus, 'man is a wolf to man'. Morgan believes that existence is a war of all against all. However, as Aron Ra and P.Z. Myers point out, cooperation is also an evolutionary strategy. The reason why humans are this planet's apex predator is because humans cooperate the best.

I sometimes use 'atheism' as a lazy shorthand for: 'a rejection of classical theism'. However, I kinda agree with Sheldrake quoting Bertrand Russell: Deterministic materialism culminating in heat death [also known as the Big Chill or Big Freeze in cosmology—Ed.] is a philosophy of unyielding despair. I agree with Benatar, in that if this universe really is a machine that is slowly running out of steam, and will soon disintegrate into the heat death of maximum entropy, then, yes, it is immoral to bring children into such a quicksand existence.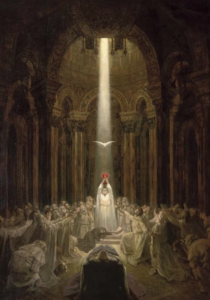 Perhaps Gaedhal didn't read what I wrote about the hypothetical Big Chill in a post of December 2021, 'Time here becomes Space' in honour of the numinous music of Wagner's Parsifal: 'Once in the very distant future, where there are no more corpses of stars, and not even black holes that evaporate with time (remember Stephen Hawking's phrase: "black holes are not so black"), leaving only photons in an expanding universe, if time ceases to make sense—then space, in our Newtonian sense, will cease to make sense. The moment time ceases to exist, space ceases to exist as well! And that would mean a new beginning or big bang insofar as astronomically large space would be, without time, nothing: equivalent again to a mathematical point or a new singularity. I hadn't thought of that possibility…' In other words, perhaps an eternal Big Chill won't happen. Gaedhal continues:
One of Benatar's books is The Misanthropic Argument for Anti-natalism. Morgan has 'skimmed through' Benatar, and is undoubtedly familiar with this book. Morgan's comment below [not quoted here—Ed.] reminds me of Benatar's book. However, the reason that I do not espouse Benatarian antinatalism is because I do not positively believe in deterministic materialism culminating in heat death. I call atheists 'oblivion chasers'.
Oblivion chasers? This reminds me a lot of a scene from 'A Knight of the Seven Kingdoms', the second episode of the last season of Game of Thrones, where Bran Stark reveals the mind of the Night King: he wants perpetual night (the Big Chill). I think I've already talked on this site about that scene where Sam says in public, before the Battle of the Long Night, that this is precisely why the Night King wants to kill Bran, who represents the knowledge of Westeros' past.
I do not see myself represented in either the atheism of the left or in the atheism of the right. To call oneself an 'atheist' is to place oneself as a member in the set of atheism—and this is not something that I am comfortable with. I don't want to be associated with co-members in the set of atheism.
That's why I don't call myself an atheist either!
Postscript. Atheists say that atheism is not a belief system and technically, they are correct. However, is it mere coincidence that most of them—damn near all of them—positively believe in deterministic materialism culminating in heat death?

There is a lot of the etymological fallacy going on with the definition of 'atheism'. If 'atheism' is commonly used to denote deterministic materialism culminating in heat death, then that is its definition. If 99.9% of atheists believe in deterministic materialism culminating in heat death, then it is not wrong to say that this is a tenet of atheism. A word is not defined by its etymology, but by how it is used. Atheism is very very often used to denote deterministic materialism culminating in heat death.
That's why it is worth re-reading what I wrote about a phrase from Wagner's Parsifal. Roger Penrose made me see that space—like time—is also an illusion, although this won't be apparent until the last black hole evaporates. The Night King might not get his way after all in the cosmological song of ice and fire!