Something that bothers me about my blogging career is that the more philosophically mature I get, the fewer visits I receive. And this is even more pronounced on my Spanish blog, which I have decided to abandon after a recent post on Evropa Soberana because no Spanish speaker wants to argue with me.
On the other hand, the Argentinian Agustín Laje, whom I have already mentioned on this site and whom the press slanders as an ultra-right-winger receives such an immense number of visits that he has been invited countless times to many Spanish-speaking countries to give lectures.
I would like to translate some passages I have already written in Spanish about Laje:

Agustín Laje's books
First, to use my metaphor of crossing the psychological Rubicon, Laje is still in Normieland. A normie could be defined as one who doesn't rebel against the egalitarian dogma of racial, gender and sexual preference: today's holy trinity in the West.
Take Norberto Bobbio's excellent definition of what exactly is right and left on page 378 of Laje's La batalla cultural. It all revolves around egalitarianism. 'In effect', Laje comments, 'that which embraces increasing doses of equality is placed on the left, and the opposite on the right' (my translation). Laje constantly claims to be right-wing. But from this angle he is left-wing. Not as crazy left as Woke but left at the end of the day because he believes in racial equality, gender equality and sometimes sort of fails to condemn some sexual aberrations (Laje wouldn't be considered right-wing in, say, Franco's Spain.) His failure to embrace Bobbio's definition of what exactly is left and right is due to his fear of validating racial hierarchy (for example, whites as well as some Asians and Jews, have higher IQs than blacks).
Like YouTubber Matt Walsh, Laje only rebels at gender ideology and the trans movement: the most psychotic phase of Wokism that has now involved even children. Here I also refer to Laje's previous bestseller, which he wrote together with another Argentinian, Nicolás Márquez: El libro negro de la nueva izquierda, published in 2016. In 2022, a book I bought in a common bookstore as La batalla cultural has by necessity to be the book of someone who doesn't blaspheme against the new trinity. Books by real dissidents have been banned from bookshops!
In other words, since Laje and his mentor Márquez simply reject third-wave feminism, that marks them out as liberals, not true traditionalists. Compare this pair with what we say about feminism in On Beth's Cute Tits: one of the books that the printer that printed it for me has refused to republish, and is now only available as a PDF (see 'Our Books').
Laje never touches the Jewish question. Nor does he mention white nationalists, who do analyse the JQ. Nor does Laje mention the most privileged minds who rebelled after 1945: the European Savitri Devi (1905-1982) and the American William Pierce (1933-2002).
If we compare the young Laje with the old critic of the Latin American left, Octavio Paz (1914-1998), the latter stated that he disliked the term political scientist; that his classical training made him approach human reality from the point of view of history. It is precisely history that 'political scientists' like Laje ignore. Think not only of the real history of Christianity, but also of the Hellstorm holocaust committed by the Allies after the Second World War; although, to be fair to Laje, Paz and his ilk also ignored these histories. Precisely because they ignore history, Laje, Márquez and all those of the Latin American new right—and the old right like that of the late Paz—have also ignored the fact that this is the second time the West has fallen into a state of mass psychosis, not the first. The first occurred in the 4th century, with Constantine.
The good thing about Laje is that he makes feminists freak out in a lot of YouTube videos. For that, he is very good, as well as for winning debates with progressives. But progressivism has reached such levels of delirium that a little common sense looks good to an audience whose mother tongue is the language of Cervantes.
Laje could not respond, on the other hand, to academics who reject not only the third feminist wave, but the second. Remember Roger Devlin's seminal essays published years ago in Counter-Currents. Unlike Laje, Devlin is a true conservative; and we are more radical than Devlin, in that we reject even the first wave of feminism.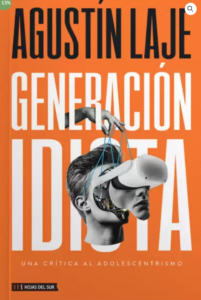 Laje has just published another book, Generación idiota (Generation Idiot). If nothing else, such books could serve as stepping stones for Spanish-speaking normies who don't want to get their feet wet to start crossing the psychological Rubicon. The problem, as we have said several times before, is that hardly anyone wants to go beyond their first baby steps to the other side of the river. That's why the more mature I get, the fewer visits I receive…