CHAPTER 5: RECONSTRUCTING THE TRUTH
To recap, I am reconstructing the likely sequence of events, based on a total picture and complete analysis of the situation.
Just as Paul's life was ending, war broke out and the great Temple was destroyed. We can only imagine the distress and outrage of the Jewish community. Their hatred of Rome must have reached atmospheric heights. If the Jews had any illusions about peaceful coexistence, those were crushed. Military responses were no longer an option. Perhaps Paul's 'psychological' ploy, the Jesus hoax, would work after all. But it would have to be taken to the next level.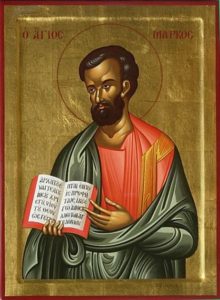 (Note of the Ed.: Left, representation of Mark the Evangelist.) Thus it was that Paul's surviving followers—perhaps Mark, Luke, Peter, John, and Matthew—decided to pick up the game. This band of "little ultra-Jews"[1] needed a more detailed story of Jesus' life; Paul's vague allusions to a real man would no longer suffice. Someone—"Mark"—thus decided to quote Jesus extensively and directly. Unlike Paul's letters, this "gospel" (Paul's word) would be intended for mass consumption. It had to be impressive—lots of miracles from their miracle-man. It would end up with 19 Jesus miracles wedged into the smallest of the four Gospels. And there were several other firsts. Here we read, for the first time ever, about the 12 apostles, Jesus as a carpenter, and the concept of hell. Here too Jesus makes a clever "prophecy" that the Jewish temple would be ruined (13:1-2)—an easy call to make, given that the temple was just actually destroyed!
It seems that Mark's anger against his fellow Jews, however, got the better of him; for centuries afterward, Christians would blame the Jews for killing Christ, not realizing that the whole tale was a Jewish construction in the first place. Perhaps there's a kind of justice in that irony after all.
The Gospel of Mark evidently sufficed for some 15 years. It must have been effective at drawing in Gentiles and building a functioning church. But then perhaps things stalled a bit. Maybe the little Jewish band got impatient. Maybe they splintered over tactical issues. Whatever the reason, some time around the year 85, two of the group—"Luke" and "Matthew"—decided that they needed to write an even more detailed account of Jesus' life. But evidently the two couldn't agree on a single plan, so they worked apart, drawing from Mark's story while weaving in other new ideas they had jointly invented. Each man went off on his own, drafting his own new gospel.
The new documents had much more detail than Mark; in fact, both were nearly twice as long as their predecessor. They had to keep the same basic story line, of course, but each man added his own embellishments. What was new? The virgin birth in Bethlehem, for one, and the whole manger scene. These now appeared, for the first time ever, some 85 years after the alleged event. We scarcely need to ask how much truth is in them. (I note as an aside that Matthew included the bit about the star, whereas that was apparently an unimportant detail to Luke, since he omitted it completely.) Luke included a vignette about Jesus as a 12-year-old (2:41-51), something utterly lacking in the other three Gospels. The Sermon on the Mount appears for the first time, though Matthew has a much longer version than Luke. In the sermon we find a number of famous sayings, all of which were never seen before: "the meek shall inherit the earth" (Mt 5:5), "you are the light of the world" (Mt 5:14), turn the other cheek (Mt 5:39; Lk 6:29), love thy enemies (Mt 5:44; Lk 6:27), "cannot serve God and mammon" (Mt 6:24), "judge not" (Mt 7:1; Lk 6:37)—all now recorded, for the first time, some 50 years after they supposedly occurred.
Followers must now virtually abandon their families for the cause. "If anyone comes to me and does not hate his own father and mother and wife and children and brothers and sisters, yes, even his own life, he cannot be my disciple" (Lk 14:26). These are remarkably cult-like dictates, but perhaps appropriate for the Jewish-led Christian movement.
Then we have passages of outright militancy. In Matthew, Jesus says, "Do not think that I have come to bring peace on earth; I have not come to bring peace, but a sword" (10:34)—how very un-Christ-like! Luke has Jesus say, "I came to cast fire upon the earth… Do you think that I have come to give peace on earth? No, I tell you, but rather division" (12:49-51). Every man must do his part: "let him who has no sword sell his cloak and buy one" (Lk 22:36). Jesus becomes downright ruthless: "as for these enemies of mine, who did not want me to reign over them, bring them here and slay them before me" (Lk 19:27). All this is necessary because "the devil" rules all the kingdoms of the world (Lk 4:5-6). But not to worry; if we all stick to the plan, and "this gospel of the kingdom will be preached throughout the whole world," then "the end will come" (Mt 24:14). And so, sometime around the year 85, two new Gospels were released into the world.
Once again, these apparently sufficed for a good decade or so. But then one more member of the cabal, "John," breaks rank and moves in yet a different direction. He feels the need for an intellectual and esoteric Jesus story, and so constructs a gospel using abstract, almost philosophical terms and concepts. It ends up as mid-length essay, between the short Mark and the longer Matt/Luke. Miracles are still there, but they are now down-played— just eight appear. We can imagine that John understood that his new, more intellectual audience would likely not be taken in by such nonsense…
"Saint" Paul and his Jewish cabal turn out to be blatant liars. In fact, the epic liars of all recorded history.
Recall my explanation above, regarding how Paul and the Gospel writers had two sets of enemies: the Romans and their fellow elite Jews. In fact, they had a third enemy: the truth. Paul and crew knew they were lying to the masses, but they didn't care. The Gentiles were always treated by the Jews with contempt, as I showed in chapter four. They could be manipulated, harassed, assaulted, beaten, even killed, if it served Jewish ends. This was not a problem for them…
In the early 1500s Martin Luther—founder of the Lutheran church—wrote a rather infamous book titled On the Jews and their Lies. There he declared that "they have not acquired a perfect mastery of the art of lying; they lie so clumsily and ineptly that anyone who is just a little observant can easily detect it"—a statement that could well be a motto for the present work. I also note the striking irony of a man like Luther who was so opposed to Jewish lies, even as he himself fell for the greatest Jewish lie of all.
In 1798, the great German philosopher Immanuel Kant called the Jews "a nation of deceivers," and in a later lecture he added that "the Jews…are permitted by the Talmud to practice deceit". In his final book, Arthur Schopenhauer made some extended observations on Judeo-Christianity. He wrote, "We see from [Tacitus and Justinus] how much the Jews were at all times and by all nations loathed and despised." This was due in large part, he says, to the fact that the Jewish people were considered grosse Meister im Lügen—"great master of lies". Employing his usual blunt but elegant terminology, Nietzsche saw it in this way:
In Christianity all of Judaism, a several-century-old Jewish preparatory training and technique of the most serious kind, attains its ultimate mastery as the art of lying in a holy manner. The Christian, this ultima ratio of the lie, is the Jew once more—even three times a Jew.
Similar comments came from express anti-Semites. Hitler called the Jews "artful liars" and a "race of dialectical liars," adding that "existence compels the Jew to lie, and to lie systematically". And Joseph Goebbels, in his personal diary, wrote: "The Jew was also the first to introduce the lie into politics as a weapon… He can therefore be regarded not only as the carrier but even the inventor of the lie among human beings".
Finally, a remark by Voltaire seems relevant here. The Jews, he said, "are, all of them, born with a raging fanaticism in their hearts… I would not be in the least bit surprised if these people would not someday become deadly to the human race". If a Jewish lie were to spread throughout the Earth, eventually drawing in more than 2 billion people, becoming the enemy of truth and reason, and causing the deaths of millions of human beings via inquisitions, witch burnings, crusades, and other religious atrocities—well, that could be considered a mortal threat, I think.
This, then, is my "Antagonism thesis": Paul and his cabal [2] deliberately lied to the masses, with no concern for their true well-being, simply to undermine Roman rule. This little group tempted innocent people with a promise of heaven, and frightened them with the threat of hell. This psychological ploy was part of a long-term plan to weaken and, in a sense, morally corrupt the masses by drawing them away from the potent and successful Greco-Roman worldview and more toward an oriental, Judaic view.
As we know, it took some time but the new Christian religion did spread, eventually permeating the Roman world. In the year 315, the emperor himself, Constantine, converted to Christianity. In 380, Emperor Theodosius declared it the official state religion.
_______________
[1] Nietzsche, The Antichrist (sec 44). In German kleine Superlativ Juden.
[2] I've been using cabal throughout the present text. It is, I think, precisely the right word. A cabal is "a small number of persons secretly united to bring about an overturn or usurpation, especially in public affairs." That's a perfect description of Paul and his band.