But then two questions arise: Is technical progress inevitable and indispensable? And can a people retain its soul despite the growing influence of mechanisation?
Mahatma Gandhi would have answered 'no' to both. As is well known, he dreamed of an India without factories, where handicraft production would have sufficed for people who, of their own free will, would have reduced their needs to a minimum, and avoided their population growth by practising rigorous continence after the birth of one or two children. Gandhi would also have welcomed the discharge of most doctors. He uncompromisingly rejected any medication resulting from experimental research at the expense of animals of any kind (he considered, as I do, all such research, from vivisection to the odious inoculation of healthy animals with disease, to be criminal). And he regarded Western medicine as a whole as a diabolical enterprise on a vast scale.
But, unlike us, the Mahatma had naive confidence in man—in the Indian no less than in the foreigner, despite all the evidence that this 'privileged' being has never ceased to show his weakness and malignancy. He believed him capable of living, as a group, according to a norm which presupposes either an iron will coupled with constant asceticism, or a reassuring absence of reproductive energy, that is to say, an exceptional nature. He also believed that a country could refuse to industrialise without falling prey to technically better-equipped enemies although it seems, alas, that this is also utopian. The recent example of Tibet, invaded and subjugated by Communist China and kept under the rule despite its silent resistance, proves it fairly well.

______ 卐 ______

Editor's Note: How I wish visitors were by now familiar with Arthur Clarke's first novella, written in the 1940s, Against the Fall of Night, which I have been mentioning to illustrate the contrast between two cities: bucolic Lys and the technologically advanced Diaspar.
Since I, as Savitri, see most humans as Neanderthals who must be exterminated (as our Cro-Magnon ancestors exterminated Neanderthals in prehistory), * the surviving Aryans must be controlled by a totalitarian State.
Today's experience shows that Aryans can be even worse than Neanderthals in that they have come to suffer from self-loathing like no other race on earth. Clarke himself wrote a futuristic novel in which whites had already all mixed up, as if that were not wicked. After writing his first novella, this Englishman would betray his race by going to live in India instead of marrying an English rose and procreating.
Not because sidebar nymphs are cute should we think that their existence is guaranteed. A bucolic utopia like Lys's, a world without Neanderthals, means constant vigilance against falling into the mistakes Aryans fell into in the 20th and 21st centuries.
The only way to do it is through what we call psychogenic emergency: to produce an Aryan not only beautiful in physique but also in soul, in constant communion with the divine Nature of which he or she is a part.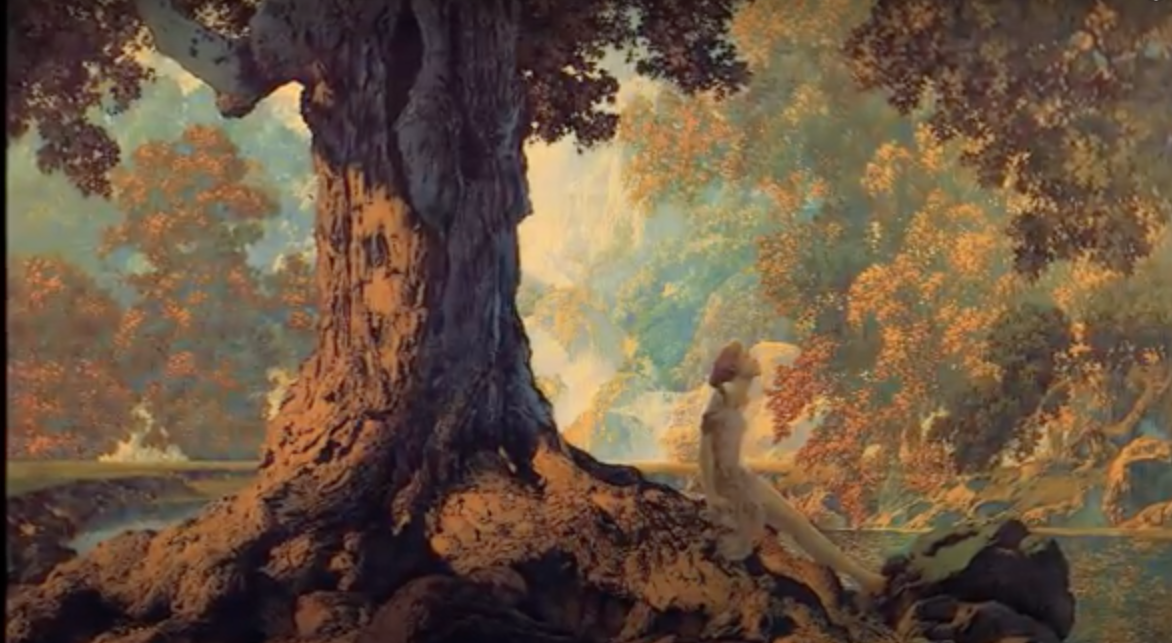 One of the ways to understand what happens is to see glimpses of the future, or rather, of a possible future if Aryans begin to comply with the laws of Nature. What I see from my cave are nymphs in bucolic landscapes like the ones Parrish painted, but apparently few have such precognitive visions.
___________
(*) Unlike the Nazis who first passed laws to protect animals, the mere fact that humans experiment on animals means that they must be exterminated as morally obsolete creatures.