The purge of hundreds of YouTube accounts from its origins to the present day is incredible. Recall, from a racialist point of view, the purge of Stefan Molyneux, Jared Taylor and Richard Spencer on the same day. But over the years even conservatives who are not even alt-lite or alt-right have been purged, to the extent that the alt-lite debates with liberals are now missing.
In recent posts I've linked to several YouTube videos to illustrate some of the issues, but the psyop I see in what's left is that very liberal people are tolerated as if they are the ultra-right, so that authentic traditionalists no longer have a voice on that platform.
For example, my post a week ago has Douglas Murray's face and a YouTube link. A couple of days ago I watched another of his videos, I think interviewed by Peter Boghossian, in which Murray declared that not so long ago the West had achieved an unprecedented degree of equality, but then something 'very strange' happened according to him: out of nowhere came the Woke Monster.
I immediately stopped the video. I found it incredible that Murray, an out homo who approves of the misnamed 'gay' marriage (we should never use the Newspeak of our day unless we put inverted commas around it), was so blind that the spiral of amplifying egalitarianism, of which he himself is a part, simply widened its circle a little further to cover the next 'marginalised' group with neo-Christian love: trans people.
Yesterday The Occidental Observer published an article on transgenderism. Unlike the people who publish there, I trace the origin of that mental virus to Christian morality, as I say when discussing neo-Franciscanism in 'On empowering carcass-eating birds' (pages 132-136 of my book Daybreak—click in the sticky post).
What strikes me about Murray is his utter lack of insight that the spiral of amplifying egalitarianism that ultimately spawned the Woke Reformation has been a centuries-long process, accelerating in the 1960s and only entering an overtly psychotic phase in more recent times.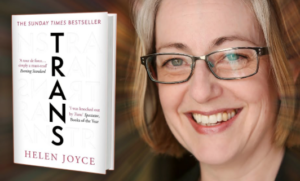 Murray's blindness is indeed notorious, but the same can be said of a fellow countrywoman of his, Helen Joyce. I saw an interview with her yesterday in which she said that women could, intellectually, compete with men without any inferiority complexes. My first essay in On Beth's Cute Tits (again, accessible via the sticky post) shows that in the case of chess this is not true: women cannot compete with men because they lose as if it were a physical sport. Although Helen Joyce hates the new trans religion being imposed on the West, she said it was wrong that in the past women could not vote or inherit property. It doesn't occur to this pseudo-conservative Englishwoman that this is the only way England was great in the past, as is clear from my favourite films: Pride and Prejudice and Sense and Sensibility that reflect a world so healthy that I take it as a template for, once Christianity and neo-Christianity are eliminated, building the ethno-state.
A few years ago on YouTube you could see discussions in which the American racial right always won (e.g., the discussion between Sargon of Akkad and Richard Spencer). Now youtubers can't see anything remotely similar. The voices that that platform still tolerates are those that, when I was much younger, would be considered so ultra-left as to border on delusional—like homo marriage which many of the 'conservative' voices now so naturally accept that men even 'marry' men (e.g., so-called conservative youtubber David Rubin)!
That whole platform is a joke, and all the people in power, and I mean not just media power, are evil. Now that I am going through the second volume of Christianity's Criminal History I was surprised to re-read that, in medieval times, the first to convert to Christianity without external coercion were the Frankish nobility. The Aryan peasants were always much more reluctant to convert to the Semitic cult of their own free will. How was it that the big corporations, today's nobility, were the first to jump aboard the ship of the Woke madmen, many critics of the trans religion ask? Because plus ça change, plus c'est la même chose, the more it changes, the more it's the same thing.