Click on the words from my previous post when I say that the Negro has become the new Jesus, and you will see the article that Counter-Currents has just published on precisely how the Negro is now the new God.
That's what happens when you have two thousand years of worshiping a crucified Jew and people lose faith in Christianity: the mind immediately fills the gap with a new crucified one to worship.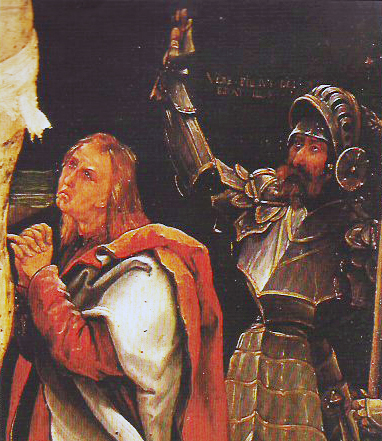 White nationalism is rubbish for the simple fact that no one among them has realised that Christianity and the JQ are two sides of the same coin and, axiologically, the alt-right secularists and the racialist Christians are on the same page. For example, yesterday Christian Hunter Wallace said: 'It is times like this when I write out an angry post only to have second thoughts and remember to love my enemies. I do not want a second wave of the virus to hit this crowd'. This good Christian thus referred to those so burdened by Aryan guilt that they are now, literally, bending their knees before the New Jesus. Similarly, a couple of days ago the pseudo-apostate Richard Spencer felt pity for the black man who died on the asphalt (I don't remember the exact second, but his neo-Christian compassion surfaced in this video).
As I said recently: I broke my promise not to visit racialist sites again because recent events in the United States are more than significant, and I wanted to know what they were saying. But what racially conscious whites ignore is that, parallel to the normies, they, too, are part of the axiological problem that's killing their race.
I think I should go back to my practice of stopping visiting their sites and only doing so until another major event shocks the US. But perhaps from now on everything will accelerate until their beloved dollar collapses?
Although their country was responsible for the darkest hour in the West, as we are seeing in the series 'Love Germania, hate the US', these folk don't even seem to be aware of the role that the US has been playing in the destruction of their European blood since 1861, way before the Jews took over the media. Given so much blindness, as I said in my previous post, I must go back to the roots of my tree and only have contact with those who really know what is happening.