In the chapter 'The Invisible Army' of The Darkening Age: The Christian Destruction of the Classical World, Catherine Nixey talks about how, once the Christians seized the Weltanschauung of the Roman Empire, a demonological hysteria arose that led Christians to a state of virtual paranoia.
It is curious how Christians today ignore fundamental aspects of the history of their religion. When not long ago I told a friend about the demons that persecuted St Anthony the Great (251-356), I found out that he knew nothing about the subject: something so popular throughout Christendom that the 'temptations of St Anthony' permeated European imagination for centuries.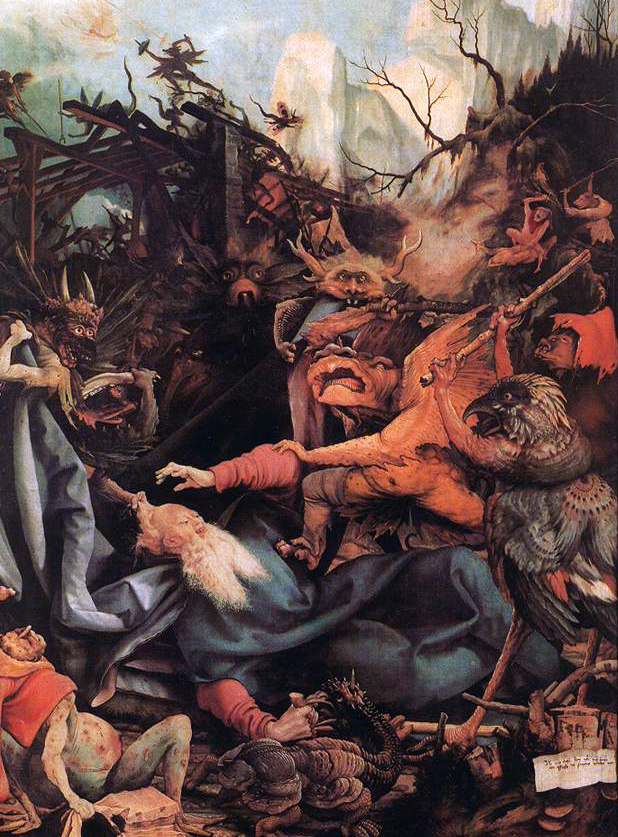 Saint Anthony was the founding father of the monastic life: one of the most influential men in Christianity. As a teenager I saw images like this painting by Grünewald. I knew that the demons (temptations) that the ascetic fought were sexual thoughts that he, who had taken a vow of chastity, had to fight.
The case of St Anthony, which Nixey details in the first chapter of her book, was not isolated. My ignorant Catholic friend, who did not know the history of this very influential man, could think that all that lies now in the remote past.
Not really. When I was a teenager my mother used to come to my room with holy water while I slept because she thought the devil had gotten into me. My sister was terrified to see, in puberty, the movie The Exorcist on the big screen because she believed that the devil really existed.
Decades later, when my brother wanted to divorce, my father wrote him a letter saying that the devil was hanging around tempting them to divorce. My mother even summoned her children on one occasion to tell us that, recovering from an operation, she had committed the blunder of challenging the devil so that he would not mess with her children, and that the devil had insinuated her presence in front of her. A priest scolded her: the devil should never be challenged: only ignored. More recently, some nuns told my mother that the noises they heard in their monastery were angry demons due to the saintly work of the nuns.
This is not the place to narrate how the Catholicism at home was a fundamental factor in the destruction of my adolescent life. I would just like to point out that, in Nixey's chapter, it is described how, once the classical culture was destroyed, the Europeans were under perpetual attack by Satan and his fearsome soldiers, the demons. Their aim, in European imaginary, was to drag them all to damnation.
Currently a residue of this paranoia is only seen in the most traditional Christian families.