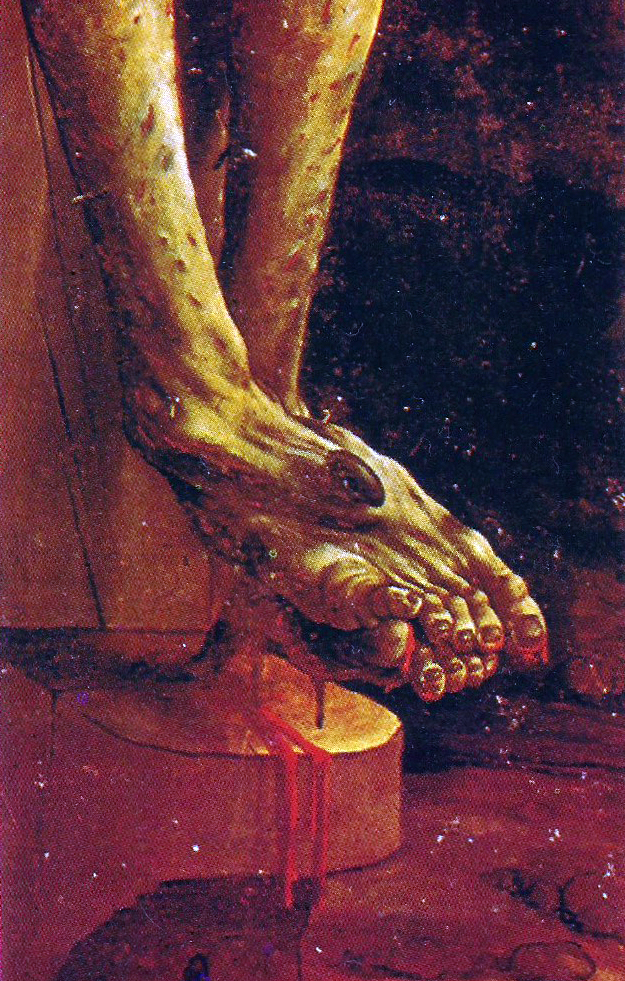 Sometimes it is important to focus on a detail of a masterpiece of Christian art; for example, close-ups of Jesus' feet and hands nailed to the cross. Here we see the contorted feet of Grünewald: a painter of the badly named 'German Renaissance'. Grünewald ignored the Greco-Roman world of the Italian Renaissance to continue the style of late Central European medieval art.
In the Gates of Vienna discussion forum, ten years ago a Swede commented that all Westerners are now either Christians or liberals. I would paraphrase that statement by saying that every white is either Christian or neo-Christian. This includes the alt-right atheists, unable to let Christian ethics go. Even most anti-Semites remain prostrated before the contorted feet of the crucified Jew.
For that reason I do not even comment on The Occidental Observer anymore. But I am very amused that a few who have broken away with such ethics try to argue with Christians and neo-Christians on The Occidental Observer and Unz Review. In this site I have collected many comments from Robert Morgan, but I have also expressed my differences with him regarding technology.
Well: a regular visitor to The West's Darkest Hour has been discussing technology with Morgan (here). Morgan is anti-Christian. Adunai, another anti-Christian, has also discussed with others in that webzine. What Adunai replied to one of these Christians reminds me of something that caught my attention from the first time I read Nietzsche, more than forty years ago.
Nietzsche said that while he rejected the universal love ethic that the New Testament preached, he loved the Old Testament because, unlike the gospel, the ancient Hebrews fulfilled Darwinian laws.
Obviously I'm rephrasing Nietzsche, but in essence he said that. What now has piqued my attention is that white nationalists who have not broken with the religion of their parents see things the other way around: they accept the New Testament and reject the Old. They do not realise that, with this, they have fallen into the trap that the Semitic authors of the New Testament set up for them: to use the fairness of the fair race to invert the values of that race. I refer to the transit from a culture when handsome Greco-Roman statues were so much admired to Grünewald's feet.
Next, Adunai's responses to Morgan and others on Unz Review:

______ 卐 ______
Robert Morgan said: Civilization too is a revolt against Nature.
Adunai responded: How so? The very definition of humans is a bit anti-Nature, but nothing's wrong with that. Man invented fire and scorched woods with it—like any other form of life, he wants to kill everything around himself. Humans destroy species in Amazonia, they breed out pathetic mutants such as dogs, cows and wheat—all to consume and to enslave, in order to ensure their own survival.
The problem only arises when their super-animal intelligence bugs out and accepts the anti-Nature inside themselves, the anti-human suicide—see Christianity. No other animal would fall for the schizophrenia of a virgin mother of a resurrected corpse, and for a god that gives 'life' as a reward for death. But no other animal has invented a space rocket either.
It's just hard for humans to accept a science-inspired atheist Darwinian worldview. But I believe it to be possible—see the DPR of Korea.
P.S. It's a shame Laurent Guyénot is a 9/11 truther. How can one see through the madness of Christianity, and yet swallow the lies of truthers?

A commenter said: It is obvious that the OT is just Jew mystical garbage filled with tribal hate.
Adunai responded: You are so Christian, you see the good part of the Bible as the bad one. That tribal hate you speak of is precisely what we need! What we must admire and put into myth! What every single healthy nation has lived with.
Currently, you hate Jews for being racist. That's insane. No wonder Jews despise Christians—just like a scientist 'despises' the poison he has created, he will not drink it himself. Think War—Harm Your Enemies—Produce Children.

Robert Morgan said: 'Technological innovation tore those barriers down. With the barriers down and races mingling freely, discrete human races and discrete cultures are doomed'.
Adunai responded: I never understood this position. Hadn't it be for the Christian axiology, the White race would have cleansed all of Africa, Asia and America of the non-White nations as early as in the 1890s. Or for sure in the 1950s, with the advent of atomic weapons.
Why do you focus so firmly on the technologies failing to see it as a tool Whites have used as they have seen fit? The problem is not the technology, it is purely the axiology. Technology only allowed the HIV to transition into the AIDS.
But for all I care, it's only for the better. Better to deal with this menace sooner than later. Europe had little hope in 317, even less in 732 and 800 (when the Franks failed to kill the Church). The French, industrial and green revolutions do not change that.
In short, I disagree with your pessimism concerning technology.

Robert Morgan said: 'Further, you seem to be very much in the "free will" / man is a special creation camp (basically a Biblical point of view), and as I said above, I'm a determinist, so I believe free will is an illusion'.
Adunai responded: So, you believe the Whites' conversion to Christianity to have been unavoidable? That is pessimistic.
Of course, there is something in the Aryan's psyche that has failed him—see Buddhism in India. There is also the deep contradiction that I see between man as an animal and his newfound intelligence and introspection, his ability to commit suicide, his ability to hate all life. It is in our Nature to destroy Nature, and that is healthy, but can inspire Christianity as a side-effect.
But I am an optimist and I disagree that the White man was born irredeemably defective, that the Jew is our perfect parasite. Because if it is so, or at least cannot be fought against, then all hope is lost, or worse yet, never existed to begin with.

Robert Morgan said: 'Therefore, when you say something like "whites could have" done this, that, or the other thing, it makes no sense to me. They had what they thought were very good reasons for not doing it, or in effect had no choice'.
Adunai responded: Whites could have made a party that tried to curtail the destruction by technology. Oh wait, they did—namely, the NSDAP. Even the last anti-Christian emperor was born after 317.
What I'm saying is that Whites could have denied Christianity in the 4th, 8th, 16th or 20th century, but chose not to. They could have mastered technology, for with the right axiology, it would have spelled certain doom for all non-White nations on Earth, and not at all led to any race-mixing—but under Christianity, it did provoke suicide. You can only see technology under Christianity, and you think it's the only way [red emphasis by Ed.].
When you see a car, you see a Negro arriving in Finland. When I see a car, I see Whites arriving in Egypt in 1910 and genociding all the locals. We had the first shot.

A commenter said: 'Given the US Constitution, Eisenhower's desegregation orders made sense'.
Adunai responded: Yes… Then why won't you tear down that stupid White-hating Christian document? Why are you trying to rationalize it?
Desegregation is diametrically opposite of the genocide of blacks. Desegregation = death of Whites. Desegregation makes sense due to the Constitution and its idealist Christian egalitarianism… To hell with the Constitution!

A comemnter said: 'Congo Rats are rated as repugnant in reliable tests of racial attractiveness'.
Adunai responded: Who cares how attractive Negroes are? Are you a faggot? Because only faggot feminists think in this way.
The real culprit is White men, and White men alone. It is the White men that allow their daughters marry non-Whites. Not women. Not the attractiveness of said non-Whites. It's the Christian malware in your head.

Robert Morgan said: 'In the context of your example, what I've said is that if the negroes had had no way to get to Finland, they wouldn't be there, and this seems to me inarguable'.
Adunai responded: It is not. Because a non-Christian technological civilization would not have given Negroes access to their technology to begin with. And would have exterminated them in a short while, as predicted by Darwin.

Robert Morgan said: 'I agree that in your imaginary world…'
Adunai responded: The world without Christianity. It happened in a localized version in Germany.

Robert Morgan said: 'The struggle for survival and human nature determine how it will be employed'.
Adunai responded: No, they don't. The White race does not struggle for survival. The reason is still unclear, but I blame Christianity first and foremost. You don't have an issue with doing likewise when it's about the 1860s America, but when it's about more recent times, it's suddenly technology. I fail to see the connection.

Robert Morgan said: '…and almost never have they been killed off completely, even in non-Christian societies. They have usually been assimilated into the conquering race'.
Adunai responded: There were different kinds of conquest in history. The conquest of Europe by Aryans, by Rome, by Mongols. Some were genocidal, others not. Some were empires, others loose confederations of savages.
What is different now? Science. Knowledge of the world. Materialist philosophy that clearly states the supremacy of genetics in the genesis of culture. The issue is not technology—it would only have helped the extermination. The issue is that the idealist poison of Christianity seeped so deep into the Aryan soul that any hope for the materialist worldview was vanquished in 1945 under the double sign of Christianity and Bolshevism.

Robert Morgan said: 'The struggle for survival will force this outcome, because if you don't use slaves in this way, then your enemies that do will become wealthier than you, more powerful, and eventually overwhelm you. This is how, in the real world, human nature and the struggle for survival determine outcomes'.
Adunai responded: I don't deny it. But how does the industrial civilization relate to it? I say that its advances in sciences would have made race-mixing the highest taboo and race war the noblest goal in any non-Christian society. Industry would only have amplified the desire to healthy life in a population. But in our case, technology has amplified the death wish.
You want to remove industry—then what? A return to pre-industrial society will not bar crude empires from spawning that can and will race-mix anyway. Too rotten to keep healthy values, yet not bright enough to develop racial science and fission weapons. Where's a good future in that?
Do you put all your hope on the hypothetical barbarians that will burn Rome time and time again? Our pre-industrial Rome ate a good chunk of Europe, mind you—and even all of central Germany might have been romanized and judaized. Mongols and Turks demolished all Aryan culture in Kazakhstan. Vikings interbred with Eskimos in Iceland. What would stop Aryans from perishing in a non-technological world? I posit that only the power of chemical and atomic bonds can assure the existence of the European race once and for all.

______ 卐 ______

Editor's note: Morgan is obviously violating Occam's razor by multiplying entities (technology) when the Xtian inversion of values alone explains the West's darkest hour beautifully.