Or
The superiority of Nietzschean apostasy
vis à vis semi-apostasy
Albert Schweitzer (1875-1965) was a New Testament scholar and medical missionary in Africa. He received the 1952 Nobel Peace Prize for his philosophy of "Reverence for Life," expressed in many ways but most famously in founding and sustaining the Albert Schweitzer Hospital in Lambaréné in Gabon, Africa.
I am absolutely indebted to Schweitzer and the other Germans that started a secularized research on the New Testament texts since the 18th and 19th centuries. Hadn't the works of the exegetes whose work Schweitzer so aptly summarizes in The Quest of the Historical Jesus been written, I would probably still be trying to exorcize from my mind my father's doctrine of eternal damnation (see for example this entry as an introduction to the subject of New Testament exegesis from a non-Christian point of view).
Schweitzer's book was one of the first books that I purchased in California when I was "struggling with the Daimon" in a mental warfare that almost drove me mad (cynic commenters will say that it actually drove me mad!). But even as I must be eternally grateful to people like Schweitzer and their exegetical works, I must say that the biography of this extremely intelligent man depicts what is wrong with those who abandon Christianity only to become Secular Christians so to speak ("liberals" they are called today).
First of all I must quote a page I stole from a Swede that used to comment at Gates of Vienna:
Our progressivist paradigm is based on Christian ethics. The Left is all about Christian ethics. What the left-wing is doing is not destroying Western civilization, but completing and fulfilling it: what I call "The Finish of the West." The current order is the last and terminal phase of Western Christian civilization.

It's the Western Christian civilization that feeds all these processes. So the Western Christian civilization is in fact the worst enemy of what I call European civilization: another reason for wanting the Western Christian civilization to go away. For the very same reason that Christian ethics abhors infanticide, [presently] it causes the population explosion in the world.

Christian ethics cannot stand the sight of little brown children dying. They must help them, or they will freak out. According to Christian ethics it is forbidden and unthinkable to think in terms of not saving every little brown child across the planet.

But the consequences of this mindset are catastrophic, not only to us but also to them, as I have already explained. But since people are so programmed according to Christian ethics, what I'm saying does not seem to enter their heads. The thought is too unthinkable to be absorbed. It's an utter taboo.

This is derived from the deepest moral grammar of Christianity. The population explosion is not caused by liberalism, it is caused by Christianity in its most general form.
The following is the crux of the Swede's gospel. It explains why, once you research honestly the New Testament texts to the point of becoming skeptical about the historicity of the narratives, you will find yourself not a Christian anymore but instead looking for the downtrodden, like Schweitzer with his niglets in the above pic, to fulfill a form of secularized Christianity:
With Christ as part of the equation, the Christian ethics of the Gospels became balanced. Humans were seen as imperfect and it was Christ who covered for us with his self-sacrifice. In Secular Christianity each person has to be like Jesus himself [my emphasis], doing self-sacrifice, since there's no other way to realize Christian ethics. On top of that, with the Industrial Revolution and the surplus it created in our societies, we came to the point where all the good deeds of Christian ethics could finally be executed by giving off our surplus to all the poor and weak foreign people around the world: food, Western medicine, and other aid.

We should remember that our progressivist paradigm, which is always going left, is based on Christian ethics. And Christian ethics means the inversion of values [my emphasis]. So it's the weak that is considered good, while the strong is considered evil.
The keynote of Schweitzer's personal philosophy, which he considered to be his greatest contribution to mankind, was the idea of Reverence for Life (Ehrfurcht vor dem Leben). Like millions of secular liberals today, Schweitzer inverted healthy Aryan values when he de facto abandoned Christianity to elaborate an ethical foundation for his new tables. Instead of helping the crown of the evolution in Germany, Schweitzer used all of his will to help the cloaca gentium of Africa.
According to online encyclopedias, for Schweitzer mankind had to create a new moral structure of civilization that showed respect for life and that led the individual to live in the service of other people—yes, non-whites included. Such was the new set of values which Schweitzer sought to put into practice in his own life as he departed for Africa in 1913 to work as a medical doctor in the Paris Missionary Society's mission at Lambaréné, in what is now Gabon. The site was nearly 200 miles (14 days by raft) upstream from the mouth of the Ogooué at Port Gentil.
In 1917, exhausted by over four years' work and by tropical anemia, Schweitzer was taken to Bordeaux. By 1920, his health recovering, he was giving organ recitals and doing other fund-raising work to repay borrowings and raise funds for returning to Gabon.
In 1955 Schweitzer was made an honorary member of the Order of Merit by Queen Elizabeth II, another deranged altruist. (Remember how the first Puritans and Spaniards that arrived to the New World celebrated the fact that Amerinds started to die of viral infections that whites were already immune. The central point in the Swede's analysis of the axiology that is killing us is that in Secular Christianity—what I call Neochristianity—Christian out-group altruism is not abandoned but reinforced in the new tables.)
Schweitzer was also a chevalier of the Military and Hospital Order of Saint Lazarus of Jerusalem. He died in 1965 at his beloved hospital in Lambaréné, Gabon. His grave, on the banks of the Ogooué River, is marked by a cross he made himself. This, in spite of the fact that from the times of his most famous book, The Quest of the Historical Jesus, it is clear that he had ceased to believe in the historicity of the New Testament stories.
But the cross was appropriate: internally Schweitzer never gave up Christian ethics, only Christian dogma. Like millions of westerners today—many white nationalists included—, he was a semi-apostate from Christianity, not a full apostate.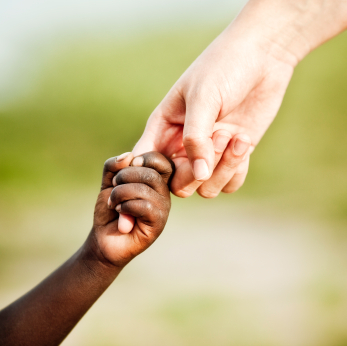 What is the moral that we should learn from Schweitzer's life and work? Well, who needs the Jews when we got Christianity and Neochristianity? Only total apostasy from Christianity will save whites from extinction. And by "total" I mean what Nietzsche said when criticizing the Neochristian Anglos, which also applies to other secular men (like Schweitzer himself I would say):
In England one must rehabilitate oneself after every little emancipation from theology by showing in a veritably awe-inspiring manner what a moral fanatic one is. That is the penance they pay there. —We others hold otherwise. When one gives up the Christian faith, one pulls the right to Christian morality out from under one's feet.
Hitler, not Christ, saves. Unlike the white nationalists we must say Umwertung aller Werte (my bold type).