The best way to realise that it is we rather than the Jews who are responsible for white decline is simply to listen, very carefully, to the great communicators of Western culture.
In my post on Tuesday, in which I reproduced an angel painted by da Vinci, I alluded to Kenneth Clark: who from the time we had a black-and-white television captivated us with his Civilisation series. These days I re-watched 'The Fallacies of Hope' while reading the corresponding chapter in the text version of Civilisation. In the TV version, we heard that Clark chose a few bars of the Funeral March from Beethoven's Eroica to illustrate his disenchantment with Napoleon.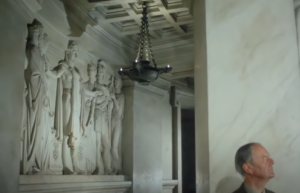 It's a pity that what Clark told us in the TV version about Napoleon's secret police doesn't appear in the book. Why did he leave it out? The audio-visual version is supposed to condense what is written, not vice versa; and the dungeons of Napoleon, who crowned the French Revolution, are not even pictured in the text.
'The Fallacies of Hope' is a phrase from the painter Turner, and in the episode referred to we see allusions to various years: France 1830, Spain 1848, Germany 1848, France 1848, Hungary 1848, Italy 1861, France 1871—all these were the naive daughters of the monster that came later—Russia 1917, Spain 1936 (remember what I recently said about Franco), Hungary 1956, France 1968 and Czechoslovakia 1968.
Clark then complains about prisons for political prisoners in Nazi Germany, Franco's Spain (who was a dictator when the BBC filmed Civilisation) and Hungary, but says not a word about the millions of Russians imprisoned by Lenin and Stalin. Why did Clark omit the most conspicuous?
Civilisation, about which in 2012 I had written several reviews on this site, can serve wonderfully to show how the distorted view of today's West was generated: liberalism as a product of Christianity (Clark considered the Church of England too secular for his taste). A close reading of Civilisation, as well as careful viewing of the television version, is an excellent passport to penetrate the Christian-liberal zeitgeist.
Here is what Clark, who had a very deep insight into Western art, didn't know. Since he speaks of the Church as the cornerstone of our civilisation (his series begins with Greek art and continues through the Middle Ages), it is clear that he knew nothing of what we have been translating from Karlheinz Deschner's book (Clark died three years before the first volume, in German, of Deschner's history of Christianity came out). Also, in 1969 Civilisation was released in the UK and the US, a few years before The Gulag Archipelago was published. As we have been saying on this site, to be ignorant of the history of Christianity, or communism, is tantamount to being a historical fool. Since I was brought up as a child in the arts that Clark mastered so well, it is easy for me to understand him. But art alone is insufficient to understand what happened: we need to know the dissenting voices.
Still, as I said, Civilisation, in its two versions, is a magnificent gateway to understanding how liberalism is shaped by a Christian scholar. Despite the title of the penultimate episode of Civilisation, 'The Fallacies of Hope', Lord Clark never lost hope in the liberal point of view. That same episode, in its television version, shows us images of liberated students in post-'68 Paris, and Clark puts his faith in their struggles never suspecting that, once grown up, those same Sorbonne students would open the gates to mass migration.
But what Clark got absolutely right is that, to understand a culture, you have to understand its art. More recently Tom Sunic has said things in line with this premise, and I have refracted it here by mentioning the novelistic art of some nineteenth-century white authors, such as the European author of Ivanhoe (a pro-Jewish novel), the female author of Uncle Tom's Cabin (a pro-black, anti-racist novel) and Ben-Hur (authored by a pro-Jewish American colonel): great bestsellers of their time.
Rather than the misguided approach of so-called social sciences, to penetrate the deep secrets of art is to understand our soul.