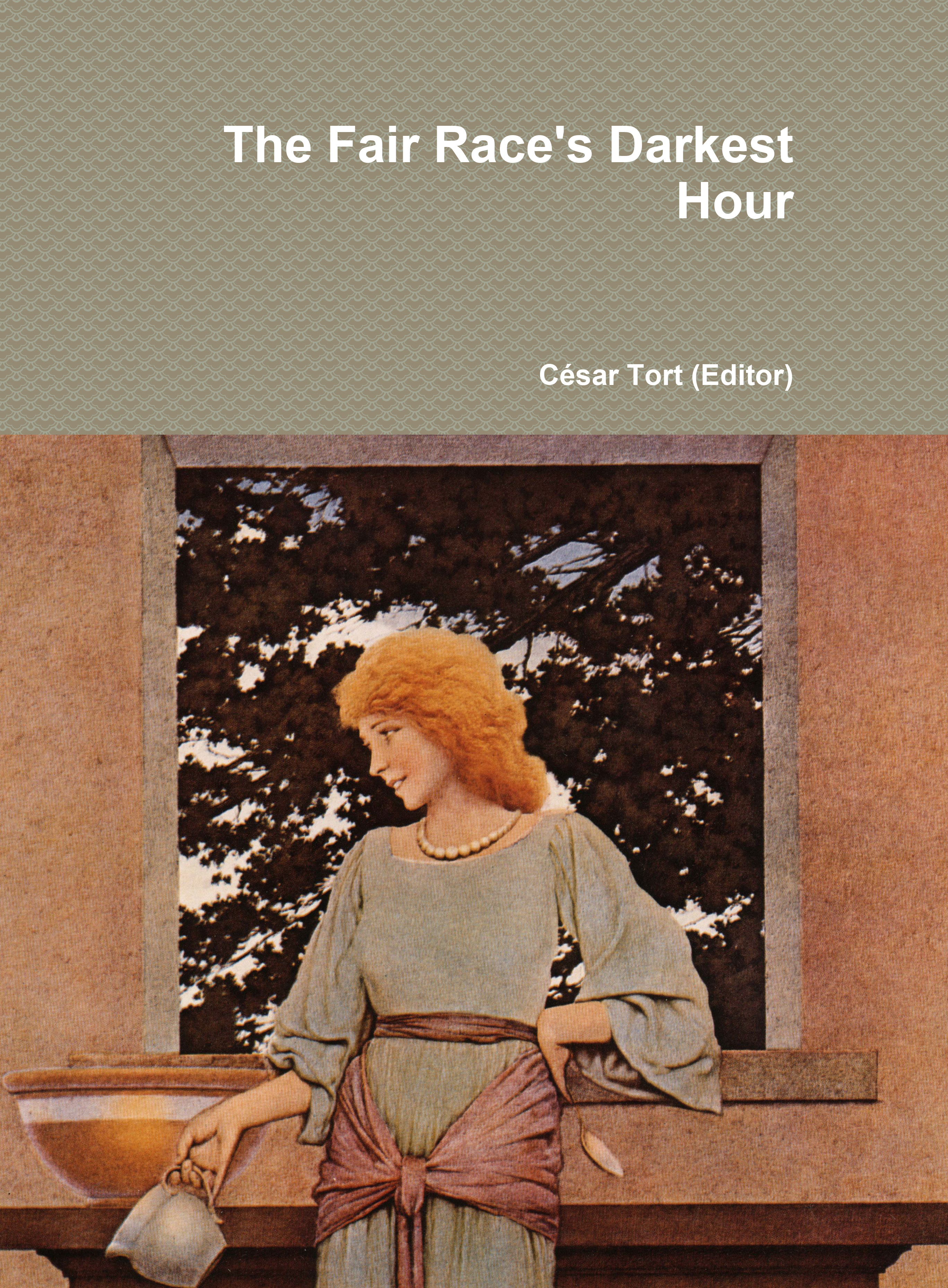 After Lulu Press deplatformed me last month, I became tempted to open an account in Amazon's Create Space so that my Day of Wrath and the other volume I complied, The Fair Race's Darkest Hour, may be easily available as softcover books.
If Amazon doesn't deplatform me, in the 2018 edition of the latter I'll remove my introductory remarks for each chapter (remarks that still can be seen as a PDF here) and also thirteen essays (PDF here). This does not mean that the removed essays from several authors are unimportant. It means that only the texts that caused a huge impact on my worldview will remain.
However, since the 2018 edition will include the long essay that I'm presently translating the weekdays, 'Apocalypse for whites', I won't be able to assemble it until I finish the translation:

CONTENTS [revised February 2018]:
Our 14 words 3
Preface: The ultimate conclusion 5
The Fair Race's Darkest Hour
Part I Basics 9
Worst generation ever! – B.P.S. 10
The depth of evil – Andrew Hamilton 14
Part II The Judeo-Christian problem 16
Seeing the forest – William Pierce 17
Rome contra Judaea; Judaea
contra Rome – Evropa Soberana 26
Arrows and comments – Jack Frost 115
Burn them all! – Albus 134
Part III On the need to undemonize Hitler 135
Hellstorm – J. A. Sexton 136
Manu Rodríguez's first letter 146
Part IV The Aryan problem: Gold over blood 149
Heroic materialism – Kenneth Clark 150
History of the white race – William Pierce 153
Part V Nordicism 261
March of the titans – Arthur Kemp 271
The black man's gift to Portugal – Ray Smith 273
What race were the Greeks and Romans? – J. H. Sims 279
Part VI Translated texts of Evropa Soberana 289
Were the Greeks and Romans blond
and blue-eyed? 290
The new racial classification 310
Sparta and its law 371
Part VII Our New religion: Hitlerism 469
For the Hitler Youth – Helmut Stellrecht 470
National Socialist worldview – SS pamphlet 471
Rockwell – William Pierce 481
Faith of the future – Matt Koehl 514
Part VIII Transvaluation of values 525
Polarities – Francis Parker Yockey 527
Manu Rodríguez's second letter 529
New tablets of stone 531

You will notice that the table of contents includes the text of Civilisation's chapter, 'Heroic materialism' by Lord Kenneth Clark. Yesterday I said that, culturally, the US has been inferior to Germany (at least before the Germans betrayed themselves). I'll illustrate it with today's article at Occidental Dissent, 'Techno-Traditionalism is Feasible'. The author argues that traditionalism is compatible with modern technology because some very modern cities thrive even under Sharia.
This is the wrong paradigm. The right paradigm would be to compare—and here's why I include Lord Clark's text on New York—an unhealthy Aryan city with a healthy Aryan city. Francis Parker Yockey summarised this view with crystal-clear prose in his essay about the enemy of Europe (Americanism).
I won't elaborate much in a single post except saying that in the 1990s I worked in Houston downtown, which reminds me the picture that the author chose for the Occidental Dissent article. We only have to contrast the soulless edifices we see when going to work with Raphael's town square and see how anti-Aryan, and Judaized, our large cities have become. This is what the Spanish blogger says in my previous post:
All these quotes point to a stubborn ideological as well as military confrontation, in which both Rome and Judea were going to think a lot for a final solution: a conflict that would influence History in a huge way and, therefore, cannot be ignored under any pretext. This article tries to give an idea of what the old clash of the East against the West meant.
Today's Americans are clueless that they lost the cultural war since the pilgrims considered themselves Israelites that would found a City upon a Hill: a phrase from the parable of Salt and Light in Jesus' Sermon on the Mount in Matthew 5:14.
Hopefully, my translations of Evropa Soberana in the next weeks will throw some light into the subject of why we must reject any sort of Judaization of the West, especially the religion of our parents.