by Hajo Liaucius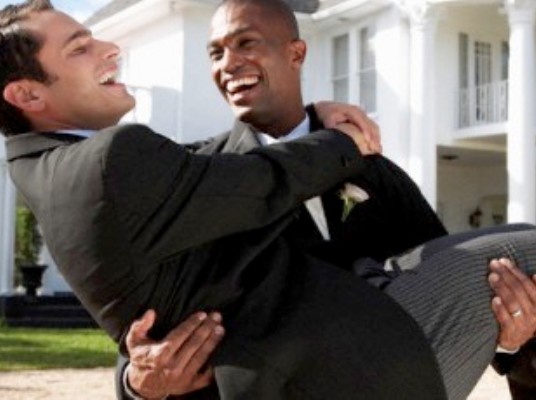 Editor's note:
– an update of 27 June, 2015 –
It is pathetic to see conservatives invited to speak on Fox News trying to criticize yesterday's Supreme Court decision to uphold so-called gay marriage with no other argument that "it is a sin" according to the Bible. In contrast to the argument offered by Liaucius below, the complete lack of secular arguments among American conservatives is due to the fact that very few in our times are willing to challenge the civil religion of our days—egalitarianism—and, therefrom, its epiphenomenon: the principle of non-discrimination.
Liaucius' piece was chosen for my book compilation of articles The Fair Race's Darkest Hour (see sidebar). See also "How the sexual revolution is destroying the West," a review of Guillaume Faye's Sex and Perversion.


* * *
Greg Johnson and I both agree that homosexuality is natural if by natural we mean that homosexuals have always existed in human societies. The problem with this notion is that what makes a behavior natural within a societal context is better understood in terms of its effects upon a society's ability to biologically thrive and advance culturally rather than just its mere existence. In practical terms I perceive behaviors to be socially natural to the extent that they secure the physical existence of a people and the promotion of that which makes a people unique. Given that, the toleration of recreational non-reproductive heterosexuality and miscegenation divorces the living generation from those that gave us life while denying an environment in which Occidentals can have an organic society.
Homosexuality is like recreational and non-reproductive heterosexuality and miscegenation and the widespread social acceptance of such behaviors is an indication that Occidental civilization has been replaced by an atomistic view of social relations. In practical terms all such predilections are driven by selfish, physical pleasure divorced from any sense of hierarchal responsibilities as well as a denial by the individual of any sense of purpose: as a being that is endowed with a responsibility toward his own folk or the development of an organic civilization.
Johnson says that "the idea that changing marriage laws can change heteronormativity is simply false" is, to me, a remarkable claim. Rather, I would suggest that the acceptance of the legal equality of a recreational and non-reproductive predilection that has been accompanied by a massive effort to promote such behavior as a lifestyle is at odds with the physical preservation of our people while advancing the Cultural Bolshevist establishment to greater strengths. I also can't help but notice that the dismantling of anti miscegenation laws and the dismantling of any legal prohibitions on sexual conduct and the consequences in the form of legalizing or even subsidizing abortion have also been accompanied by massive and prolonged efforts to normalize that which has promoted our demographic destruction. In short, all sexual libertine tendencies represent a unified front dedicated to our destruction and they should be addressed as such rather than being selectively ignored or condoned.
While the promotion of yet another socially and biologically destructive lifestyle is deemed by Johnson to be "an unimportant issue from the point of view of white demographics" the reality is what we are talking about is the normalization of yet another recreational and non-reproductive sexual behavior that is promoted by our enemies because it advances our demographic decline. Since homosexuality is being successfully marketed to our youth as a hip, trendy lifestyle morally equal, if not superior, to traditional mores it is sensible to view attempts of mainstreaming homosexuality as simply another demographic tool used to destroy us. Johnson wrote: "During the whole period that marriage and family life have been decaying, homosexuals have not been allowed to marry, and marriage has been defined as a union of a man and a woman. In other words, marriage and family life have declined with their heteronormativity entirely intact. Therefore, heterosexuals bear the primary blame for the decline of marriage and the family."
What Johnson seems to be asking is that we ignore certain manifestations of degeneracy and biologic decline while attempting to enact reforms that are unviable politically because of the climate of decay fostered by the broader trend of degeneracy being promoted by the homosexual movement and other allied forces that seek our destruction. How exactly heterosexuals in general bear the primary blame for the decline of marriage and family life rather than viewing said decay as an expression of the destruction of our society resulting from the power and institutional adroitness of our enemies isn't addressed. Instead, that we are asked to accept such a notion seems to be analogous to saying that the primary blame for the subjugation of our people rests with Occidentals rather than those that have dispossessed us. I would maintain that Pareto's "circulation of elite" provides a better account for our dismal state of affairs and that the long march through the institutions provides a better perspective on the collapse of Occidental marriage and family life than does the assertion that heterosexuals are the guilty party—and the less than logical jump that we shouldn't be concerned with the political power of the homosexual movement and what it means for the Occidental remnant.
That is not to say that Johnson isn't overwhelmingly correct in his summation of what is wrong with the establishment or that his suggestions for reversing our demographic destruction are anything but sound. However, to suggest that opposition to an obviously socially destructive trend promoted by our enemies isn't worth opposing yet advocating the pursuit of reforms (that simply can't happen because of the advanced state of our societal decay that has been produced by the same forces that are promoting homosexuality) seems misguided.
Given the reality that the main-streaming of homosexuality has advanced the aims of Cultural Bolshevism and demographic decline among Occidentals, I can't find much sympathy with Johnson's notion that the advance of homosexuality among our youth should be greeted with moderate disappointment and support. Since such behavior is simply another manifestation of the death of tradition and our physical future, I find such lukewarm condemnations no different than expressing support and disappointment about miscegenation or any other form of selfish and destructive recreational sex. If heterosexuals are to be blamed for our current cultural miasma, such blame should be apportioned to the extent that such weak, pseudo-criticisms are accepted by the advocates of our people. Accepting or not being concerned with an aspect of that which destroys us while attempting to resist our destruction in a broader context is every bit as much of a dead-end in all senses as is the faux right we justly condemn.


After the above comment was approved in the webzine, Liaucius added a second comment:
Mr. Johnson, thank you for giving my comments the benefit of your thoughtful reply. My last two attempts to post retort haven't worked so hopefully this one will make it. Here is my response:
As I am a Zyrian[1] and the situation here has little relation to that of America, I feel that some of the differences between us may be accounted for with a bit of explanation on my part. As an integralist I don't see homosexualism as biologically sub-optimal [Johnson's term] but instead as a biological and spiritual element within the Dissipationist movement. It would appear that you are speaking of mere homosexuality which is like autoandrophilia, biastophilia, coprophilia and paedophilia which have always been noxious aberrations within the occidental world but rarely have they been serious forces of Dissipationism. The homosexual movement is something rather different as it represents the logical development of Dissipationism and its elevation to a protected, fashionable, legally recognized and privileged social force with the goal of destroying any possible occidental restoration by redefining family away from the cornerstone of any civilization worthy of the name into vile inversions of those things.
The various manifestations of Dissipationism (such as egalitarianism, liberalism, anti-racism, class warfare, feminism and recreational heterosexualism) have incrementally instilled the current anti-culture and have given rise to the homosexual movement. The casual dismissal of the reordering of family to suit Dissipationism is a rejection of permanence and wholly at odds with occidental restoration and integralism.
Homosexualism is atomistic individual liberalism taken to its nihilistic, yet logical conclusion in service of our own destruction. The homosexual movement is a particularly serious biologic threat as a result of its trendiness among our youth and its institutional strength.
It is said that family life is dead and that as a result the latest form of societal destruction—that is to say, homosexualism—should be ignored and the more common forms of sexual decrepitude should command our attention. This is a convenient, lazy prescription for selective inaction coupled with a wish that the broader forces of Dissipationism can be reversed, and reflects an unwillingness to understand and act in a way that represents surrender to the metapolitical realm of our enemies.
Yet even within the degenerate post-occidental world, relatively healthy families are still common and any potentially regenerative elements will overwhelmingly arise from them as they represent the only element of organicism left. The prescription that the homosexual movement's campaign against marriage should be greeted with disappointment and blasé support is simply capitulation disguised as pragmatism. Not recognizing the homosexual movement within its broader context—as has often been seen within this discourse, while laying the blame for societal disintegration on heterosexuals—is fully analogous to blaming occidentals for our dispossession.
As to what I suppose is commonly termed "the right"—be it of the neo, paleo, transhumanist or white nationalist varieties—, they jointly represent, at best, a healthy if vague disposition based upon foundationalisms that have easily been co-opted to serve Dissipationism or an ineffectual and constantly retreating faux resistance. As I've detailed the specifics in metapolitical and operational terms elsewhere, I'll leave those larger issues for another time.


Liaucius' final comment about the Johnson affair was not meant to be published at Counter-Currents, only on this blog:
In the past I had heard plenty of claims that Greg Johnson was a homosexual but ignored them because of the great virtues found in much of his writings and because I believed that I shared a broadly similar ideological framework with him.
When I first read Johnson's essay on homosexual marriage I wasn't concerned since I presumed that he was engaging in an intellectual exercise that was sincere, if deeply problematic, which didn't reflect a defense of homosexuality or an endorsement of homosexual marriage. What I did find worrying was that self-identified homosexuals defended the article along with several apparently healthily Occidental advocates who overlooked numerous, serious flaws with the rationales behind Johnson's missive. These concerns had been partly alleviated by Johnson's polite response to my initial retort although I was starting to realize that the ideological chasm between Johnson and myself was far wider than I had previously thought. Still, it seemed that he was dealing with the topic in good faith and I certainly wasn't ready to view him as a sodomite or harboring a Weltanschauung at odds with the cause of Occidental restoration.
My second retort was met with the standard Dissipationist tactic of decrying me as a reactionary combined with a cursory bit about how I was a faux tough, ceding the metapolitical ground to our enemies and doomed to failure. My subsequent attempts at responding were met with censorship and the thread being closed before Johnson created a new essay praising undefined moderates for accepting the soundness of homosexual civil unions and decrying those that disagree as hateful. Seeing an alleged Occidental advocate parroting left-wing agitating was clearly a sign that something was radically amiss with Greg Johnson.
When D. McCulloch correctly pointed out that—:
Marriage is the working out of metaphysical truth. That truth (as traditionalists see it, broadly) is in the incompleteness of either the masculine or the feminine principle instantiated by itself. We marry and then work together in order to become whole, i.e., to become fully human, for want of a simpler term. It is an effort to restore, in a minor way, the primordial condition. Society sanctions that effort for the dignity and fulfillment of both sexes. At bottom, the reasons for marriage, as it were, are entirely metaphysical. All of those sodomite questions and challenges for which you think there are no good answers, are, if fact, easy to answer if you understand the principles involved: the principles that you are supposed to be defending. So, no. The agenda of the forces of dissolution, i.e., anti-tradition, including the radical politicized sodomites, should be opposed in its entirety with no quarter given.
—the extent of Johnson's reply was to dismiss what was said as "made up rationales for justifying coupling" which demonstrates a shallow, mis-educated view regarding traditionalism and an open contempt for Occidental folkways and mores that in no respect differ from any generic proponent of our destruction. Interestingly, D. McCulloch was permitted an elegant reply [at Counter-Currents]. That Johnson lacked the ability or willingness to counter such an obvious truth wasn't a surprise to me. More importantly, the exchange confirmed that Johnson's thinking on this topic is fundamentally in opposition to Occidental renewal and that he mimics the rhetoric of our enemies and the reasoning of the American Supreme Court.
Donar van Holland capably demolished Johnson's argument that "couplings" should be considered strictly in terms of the prima facie position that allows marriage to be divorced from reproduction. As expected, Johnson didn't even acknowledge van Holland's position but focuses upon legalistic sophistry and the notion that all biologically unproductive "couplings" are functionally equivalent because he says so.
In essence, one is concerned with Occidental humanity to the extent that one seeks to preserve and strengthen that which makes our folk unique. Promoting the legal and institutional recognition of "homosexual couplings" can't serve such an aim even if family life has been utterly decimated as Johnson claims. Realistically speaking, Johnson is wrong as tens of millions of healthy families exist in the Occidental world; so a central element of his argument is fallacious.
He never really provided any support for his contention that the decline in family life is the fault of heterosexuals, yet even if one accepts that assertion he still provides no reason to believe that accepting the institutionalization of homosexuality can benefit our people. In fact, the alleged utility of such a policy is left unmentioned let alone supported.
As to what Johnson describes as "heteronormativity," it is true that it can't be undermined insofar as it's natural in every meaningful sense of the term and will always appeal to most people. Regarding the homosexual movement in social/tribal and biologic terms (which is what those of us that care about the preservation of our people should be focusing upon), it's detrimental for all the reasons detailed by myself and others. Johnson recognizes that his prescriptions for strengthening real marriage aren't viable in the present clime yet he promotes the agenda of the homosexual movement which is detrimental to our people making one doubt his motivations and/or his intellectual foundations.
Is Johnson a homosexual? I don't know and I don't think it matters since regardless of how he lives he perceives that the very building blocks of any civilization worthy of the name (i.e., families) can be divorced from biology. He attempts to reconstruct marriage in legalistic-institutional terms which only make sense within the context of deracinated, social atoms that "couple" purely because it fulfills individual needs. That any "coupling" should be accepted socially and legally as equally valid as heterosexual marriage reflects a Dissipationist rather than an Occidental way of thinking that must be condemned.
In short, Johnson has demonstrated that he has fully embraced a key aspect of Dissipationism to the point of adopting rhetoric indistinguishable from any generic libertarian or leftist establishment proponent, meaning that he can't be seen as an Occidental advocate.


_______________
[1] People in the northeastern European part of Russia. The squared brackets in this article are interpolations of the editor.