Click here
From this article, which is an index to all the articles published by Eduardo Velasco in his cancelled webzine 'Evropa Soberana', I would just like to translate a few words from the final section: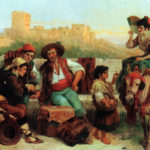 Do you believe that Spain and the Hispanic world have great potential, but that it is not being properly harnessed, and that Spain could play a brilliant role as the Atlantic sword of a continental empire?
It strikes me that Velasco, who understood so well the ravages of miscegenation in Western history, was won over by old-fashioned Hispanic nationalism: a nationalism that doesn't take the race factor into due consideration. My harsh views on mestizaje in Latin America can be found in El Grial. Those who wish to read only a short post, of 17 July 2015, click here.