and Criollos
I get almost zero intelligent feedback in the ramification of this site, La Hora más Oscura. And even here, and as a result of my quest in the Spanish Metapedia, I gather that, apparently:
Throughout more than 1,300 years, no notable Spanish or Portuguese has ever criticized the interbreeding that started since the Aryan Visigoths broke their rule of not getting married with other peoples, a taboo broken during King Recceswinth's reign in the VII century according to the histories by William Pierce and Arthur Kemp;
In 500 years no Latin American intellectual, not even one notable Criollo or a notable man who, phenotypically, may pass as an Iberian, has criticized miscegenation either.
If this proves to be the case, Iberian whites, whether peninsular or American, have been body-snatched ever since Christianity infected their minds, precisely in the 7th century.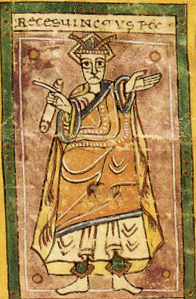 Recceswinth, king of
Hispania in 649–672 A.D.
Again, if the bulleted points prove to be accurate—I'm still checking the facts—, most white nationalists have not delved really deep into the root etiology of the current mess.
Update of February 24, 2016
For those who read Spanish, see my yesterday's postscript about this topic at the end of: this entry.