Or:
The art of having my cake and eating it too


Last year, at Counter-Currents Greg Johnson wrote:
To win this battle, it might be necessary for some of us to become monsters who cannot return to normal society to enjoy the fruits of victory. We need leaders who are willing to sacrifice their immortal souls to this cause. I don't believe there is an immortal soul, but psychologically speaking what passes for it are immortal scruples or absolute principles other than victory. All these need to be slain and sacrificed on the altar of victory.
Sounds pretty Linderite to me! Himmler and his SS henchmen would be proud of Greg's words at the esoteric meetings celebrating the summer and winter solstice in Nuremberg.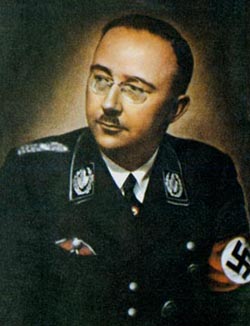 But at Alex Linder's own forum a few days ago Greg rebuked me for taking seriously William Pierce's ethnic cleansing fantasies once the white revolutionaries take over ("…and Pierce's absurd Nordicism and repugnant exterminationism have only reinforced my sense that something about your critical faculties is not quite right").
I am tempted to argue in coming entries, perhaps at the Addenda, that the late Pierce, not the more conservative figures in today's pro-white movement, held the upper moral ground. But first I'd like to say something more about
Greg Johnson
Unlike the later Nietzsche, it seems that Greg still subscribes Christian doctrine and, inadvertently, Christian axiology too, i.e., the inversion of values. This is the diametric opposite of the indented quotation above. Consciously or unconsciously, I believe that Greg lies to himself and his readership by claiming that he already left Christianity behind.
See for example what he said in a December, 2010 lecture at the Swedenborgian Church of San Francisco. Alas for Greg, the lecture was recently "outed" in the pro-white community, much to his embarrassment. At the Swedenborgian meeting Greg Johnson said:
"What most inspired me was his [Swedenborg's] discussion of the life of Christ and the meaning and the mystery of that… Swedenborg gave us the means to understand that mystery."
After quoting Scripture Greg asked, "What does it mean to say that 'God is with us'?" and went into a theological peroration where he added:
"…a child was born. A child that somehow was the God of eternity. This unique incarnation is the great mystery. It is the conundrum of theologians and metaphysicians. Why was Jesus born? Why did God become man? Swedenborg claims that this was not part of Plan A… Jesus was Plan B… because of certain contingencies that [should not have] happened."
Greg then used autobiographical vignettes mentioning his childhood and his father to illustrate "Plan B," presumably what God felt obliged to do when mankind fell into the original sin. He even mentioned the word "salvation." At some point Greg seemed to endorse the infinitely monstrous—the real monstrosity, not my endorsement of Pierce's views—belief that it's within God's freedom to send us to Hell. (As an aside, see my theological piece on eternal damnation here.) After speculating on the Second Coming, Greg finished his lecture with an "Amen" and the Swedenborgians started to pray.
Listen to the audio linked above to hear, in Greg's own voice, the above thoughts. Greg's lecture sounds like the Catholic doctrine I was taught as a kid before my First Communion.
Apparently, Greg has two personas. He is a Nietzschean at Counter-Currents and a pious Christian at his church in San Francisco. He literally had it both ways before his activities with the Swedenborgians were outed. As to his other persona, take note of what Greg Johnson commented this year at The Occidental Observer:
[Christianity] did undermine racial exclusivity for nearly 2,000 years. Racial and subracial differences were no bar to marriage, as long as both parties were Christian.
And at another blog:
Christianity will not be dead until its secular offspring, liberal universalism, is dead as well. But you know that, don't you? Christian fanatics are precisely the ones who believe that blood differences don't matter.
I wonder what would his Swedenborgians friends say if they hit in the internet these impious comments (see my brief collection of anti-Christian comments authored by Greg here).
My purpose here is not to psychoanalyze Greg but to show that, with his kind of closet Christianity, he is not the genuine Nietzschean that I previously thought. Given his doublethink I even doubt that Greg can be a consistent leader in advancing the nationalist agenda. Just compare his Himmler-like advice that could have been taught at Wewelsburg Castle ("To win this battle it might be necessary for some of us to become monsters…") with his more recent pronouncements ("…and Pierce's absurd Nordicism and repugnant exterminationism").
OK, were it not absolutely necessary to transvaluate the inverted values back to "master" (not "slave") morality in order to save whites from extinction, I wouldn't have extended on Greg's duplicity above. But see the opening words of chapter 56, "Old and New Tables" of Thus Spake Zarathustra, the new Moses:
Here do I sit and wait, old broken tables around me and also new half-written tables. When cometh mine hour?
Not yet at Counter-Currents… I'm afraid to say that its editor-in-chief seems to specialize in the mischievous art of having my cake and eating it too.


Brad Griffin
Brad Griffin ("Hunter Wallace") is the administrator of the popular blogsite Occidental Dissent that focuses on the conflict between his beloved Dixie and the treasonous Yankees. In his recent discussion with Alex Linder, Brad challenged his opponent's exterminationism with a very tough question:
Let's suppose you were handed a Glock. There is a 6 year old female Jewish child in the room across the hallway. Could you walk into the room next door, point the gun at the child's face, and pull the trigger? If so, how many times could you do it?

How many people here [VNN Forum] could do it? Anyone?
In the last few years Brad has also called Alex a "sociopath" precisely because of Alex's "exterminationism" on a purely intellectual plane. And it's worth noting that a couple of years ago, in an interview that Jim Giles apparently deleted, Brad issued the same challenge to Jim but this time imagining a hypothetical seven year-old Jewess (I remember so well the edge in Brad's voice). Independently of what Alex and his henchmen at VNN Forum have said about Brad's tough question, I'd like to respond to Brad directly:
I would not shoot the girl.
This said, final solutions on the millions of adults who pose serious threats to the fourteen words must be considered. My own preferred solution to the Jewish problem is stopping all Jewish immigration; designating Judaism as a political, endogamous, racial evolutionary strategy hostile to the West—instead of a just another "religious faith"—and placing legal restrictions on it throughout the White world; initiating Jew out-migration, and the quarantine of the Jewish people within Israel.
However, what bothers me, as I confessed in "Vanguardist poll," is that apparently Jews have the right to openly and unabashedly fantasize about exterminating us ("The best of the Goyim must be destroyed"—The Talmud), while, at the same time, whites feel extremely dismayed when one of us dares to return the favor.


Kevin MacDonald
Yesterday Jim Giles interviewed Kevin and directly asked the professor what does he think about Alex's exterminationist anti-Semitism. The show reminded me Jim's now deleted interview of Brad two years ago, when Brad pleaded to save the little, thoroughly hypothetical Jewess with anguished edges in his voice. Since then, Jim has revisited his previous tolerance of Alex's exterminationism and is now dismayed that Alex and a few of his VNN commenters openly advocate permanently getting rid of the subversive tribe.
In yesterday's interview, Kevin told Jim that Alex's exterminationist position is "pretty crazy and counterproductive." The good professor also said: "That's the kind of thing that I think is absolutely detrimental," and used the term "black eye" as to how would nationalists be seen in public relations after such pronouncements.
VNN Forum of course takes the opposite stance. In one of the threads commenting these inter-blogs exchanges a Serbian wrote, "White nationalism shouldn't be about 'appealing' to the impotent, superstitious, feminine and mentally sterile. Whites need leaders who think like jews, not christ morons."
Well, while I see the point in the recent Jim Giles show, it still bothers me that the West tolerates anti-White exterminationist pronouncements by the Jews while, at the same time, it freaks out when hearing that someone of us advocates exterminationist anti-Semitism.
A chutzpahthic double-standard!