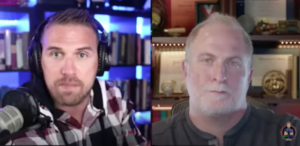 The interview between Derek, whom I have already mentioned this month, and biblical scholar Dr Robert Cargill is interesting. In the beginning, Cargill claimed that his life in a fanatically Christian family and town had been idyllic, without any trauma. But after some time, it became clear that Cargill was simply repressing his traumatic past. He told a horrifying anecdote when he was just a child about his endless fears of the doctrine of damnation (I can well understand this as it was exactly what was done to me too as a teen).
Both interviewer and interviewee are people who think they are apostates but who, in reality, are clinical cases of what we have been saying: that the apostasy of Christianity leads to an axiological neo-Christianity. For example, I interrupted the interview after the hour because I was extremely annoyed that Derek, as neo-Christian as Cargill though unbeknownst to him, commented that poor LGBT people commit suicide because of social ostracism. Cargill had said that, although he is one hundred per cent straight, he helped homos overcome their moralistic traumas, and even supported the misnamed gay marriage.
Watching the interview for at least more than the hour I saw gives a sense of how the (pseudo) apostasy from Christianity is transfigured into neo-Christianity.