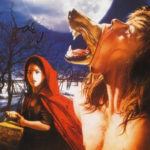 Just as in previous editions of The Fair Race's Darkest Hour I used to link the Spanish essay on Judea against Rome as the masthead of that book, in On Beth's Cute Tits the central essay is 'Our lycanthropic lust'.
In the forthcoming PDF edition of that book, I have already corrected the style of that essay with DeepL Translator. Together with the rest of the book it is a real demolition of feminism: one of the weapons of mass destruction the Establishment is using to exterminate the white race.
I think this essay, 'Our lycanthropic lust', is also fundamental for the reasons I was telling Mauricio earlier in the day. In short, given that we are living in an environment of false abundance, when the dollar collapses and chaos reigns, by psychohistorical laws a window of opportunity will open. I mean that in times of war, when the horsemen of the apocalypse do their thing, men become men again, leaving their feminisation behind for those who have chosen not to survive.
It's essential to understand the scientific reasons for both feminisation and regaining our manhood, and what 'Our lycanthropic lust' (PDF here) tells about our closest relatives, chimpanzees and bonobos, says it all.
I hope you like that essay! The PDF of the entire book On Beth's Cute Tits will be ready next week.