This edition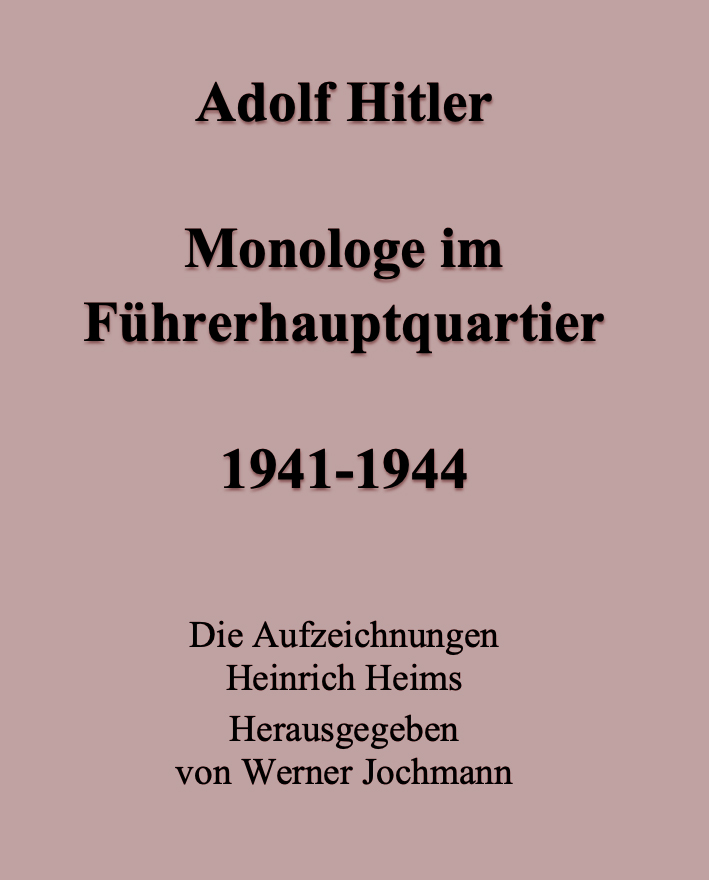 The texts published here are all part of Martin Bormann's collection of Führergespräche (Führer talks). They are printed in unabridged form, retaining their chronological order. As a rule, Heim summarised the content in a note immediately after each conversation. Only in a few cases did he add statements to later notes, resulting in slight deviations in the chronology (e.g., table talk #91). Only the regularly recurring opening formulas were deleted: 'The boss expressed himself at tea in approximately the following lines of thought' or: 'The boss expressed himself in the sense of, among other things, the following lines of thought'.
Spelling has been normalised; corrections of obvious spelling mistakes, especially in personal names, are not marked. The omissions in the text appear in the original. It is unclear whether Heim left the gaps because he did not remember the information correctly, or whether there are other reasons for the omissions.
The records of Heim's conversations that Henry Picker transcribed and included in his edition of the Tischgespräche are all marked with an asterisk after the document number. Given the errors and oversights that Picker made in transcribing or printing his documents, these texts should in future be cited according to the edition available here. The editor did not consider it necessary to point out all the deviations and oversights, as this would have impaired the readability of the source and bloated the annotation apparatus.
Document 6 of 9 August 1941, which Picker included in his edition, is not in the collection of interview transcripts. Nor was it written by Heim, as Picker claims. Whether these Grundsätze der Offiziers-Ehrauffassung were formulated based on the keywords and guiding ideas given by Hitler himself must remain an open question. They do not belong in this collection and are not included in the first edition of Tischgespräche edited by Gerhard Ritter.
Four of Hitler's monologues (#41, 61, 62 and 213) were recorded by Martin Bormann himself. In character, they are more file notes and were partly dictated as such. However, since the head of the Party Chancellery himself classified them as 'Führer Talks' and placed them chronologically in his collection, they have been included in this edition, as have documents #203 to 212, which were prepared by one of Bormann's assistants after Heim's departure.
All other documents were dictated and signed by Heim.
Our commentary on Hitler's monologues has been kept deliberately brief. The editor has refrained from interpreting expressions of opinion on questions of history, politics, worldview or art, as this would have more than doubled the annotation apparatus.