You probably know what I get from the devotees of indefinite 'progress', Marxists or not. They say: 'All this is temporary. Be patient! The machinery is only at its beginning; it has not yet reached its full potential'.
Today, of course, the multiplicity of new needs has resulted in the haste to earn money, and the fact that more and more people accept to earn money by engaging in the most dehumanising occupations. Today, it is true, more and more workers tend to become robots for a third of their lives, namely during their working hours; and, to some extent, after their working hours (by acquired habit). But let's not worry! All this will change, thanks to the sacrosanct progress! Already we are in large companies, equipped with ultra-complicated machines—computers or 'electronic brains'—capable of solving in a few seconds, automatically, from their data, problems that would take a man half a day to calculate the solution.
Less than a century ago, the worker worked twelve or even fifteen hours a day. Today, he works eight hours, and only five days a week. Tomorrow, thanks to the contribution of machines in all branches of his activity, he will work five hours, and soon two hours a day, or even less. The machines will do the work—machines so perfect that it will take only one man to supervise a whole team. In the end, man will hardly do anything. His life will be an unlimited holiday, during which he will have all the time he needs to 'cultivate' himself. As for the disadvantages of overpopulation, these will be remedied in advance by limiting births: the famous 'family planning'.
At first sight, this is enough to seduce the optimists. But the reality will be less simple than the theory. It always is.
First of all, we must realise that no Malthusian policy can be fully effective on a global scale. It is easier to set up factories in technically least developed countries, and to give people who have hitherto lived close to the state of nature a taste for modern conveniences such as washing machines and television sets, than to encourage these same people to father only a limited number of children. Even the population of Western and Northern Europe, or the USA where the most modern methods of contraception are widely used, are growing, though not as fast as in other parts of the world—and will continue to grow as long as there are doctors to prolong the lives of the suffering, the infirm, the mentally retarded, and all those who should be dead.
The people of the so-called 'underdeveloped' countries are much less permeable than the citizens of Western Europe or the USA to anti-conception propaganda. If we really wanted to reduce the population to reasonable proportions, we would have to forcibly sterilise nine out of ten people, or else abolish the medical profession and hospitals, and let natural selection do its work, as it did before the madness of the technical age. But it is only us, the ugly 'barbarians' who would be prepared to resort to such measures. And we are not in power, and do not expect to be there any time soon.
______ 卐 ______

Editor's Note: Precisely what in my soliloquies I call the extermination of the Neanderthals.

______ 卐 ______

The friends of man, who are at the same time fervent supporters of indefinite technical progress, will have to come to terms with a world in which human living space will become increasingly restricted, even if it means reducing to a minimum the areas still occupied by the forest, the savannah and the desert, the last refuges of noble living beings other than man, for the benefit of the so-called 'thinking' primate. It will no longer be the already swarming masses of currently overpopulated countries. These will be crowds twice, three times, ten times more compact than the one which today covers the immense 'Esplanade' of Calcutta around six o'clock in the evening, when the heat subsides. Wherever you go, you will be brushed against, elbowed, jostled—and occasionally, no doubt, knocked down and trampled on—by people and more people who, thanks to the machines, will have almost nothing left to do.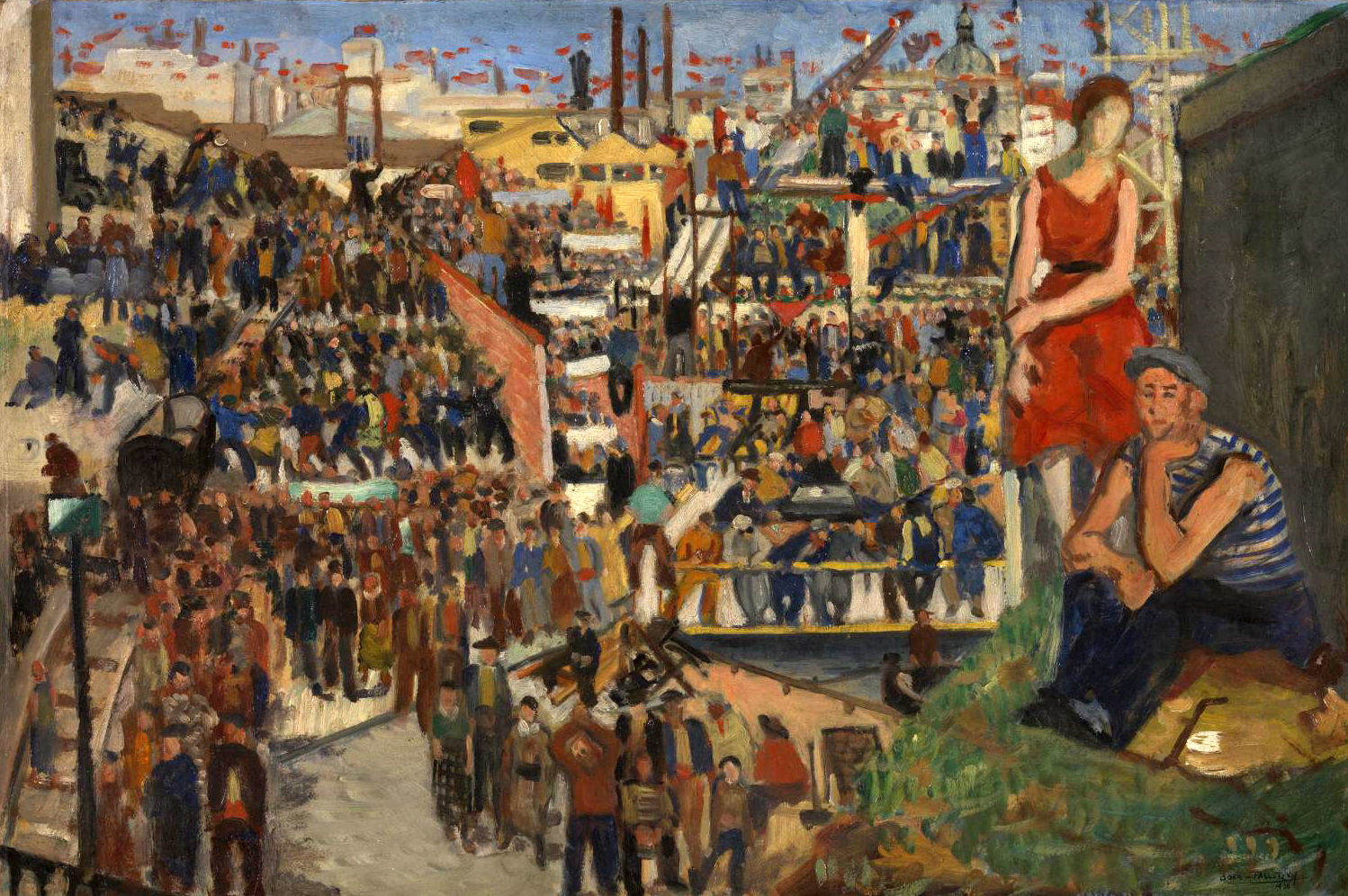 You have to be naive to believe that, as soon as the daily fatigue resulting from work ceases to exist for them, these billions of human beings will devote themselves to study, or to practise whatever pleasure art in which an important part of creation will enter. You only have to look around and see how today's workers, who toil forty hours a week instead of ninety as they did a hundred years ago, use their leisure time.
They go to the café, to the cinema, attend some sports competition or, more often than not, listen to radio broadcasts at home, or remain seated in front of their television sets and avidly follow what is happening on the small screen.
Sometimes they read. But what do they read? What they find at their fingertips—because to know what you want to read, and to strive to find it, you have to be better informed than most people are.
What comes to hand, without their bothering to look for it, is usually either some periodical or book which, without being pernicious, is superficial and doesn't make them think in any way, or a product of decadent or tendentious literature: something that distorts their taste or their minds (or both), or gives them inaccurate information, or info purposely interpreted in such a way as to inculcate in them a given opinion that the people in power want them to hold.
They read France-Soir, Caroline chérie, La mort est mon métier[1] or some pseudo-scientific article on the 'conquest of space' which gives them the impression of having been initiated into the mysteries of modern science, when in fact they have remained as ignorant as before, but have become a little more pretentious. There are, moreover, despite the enormous number of books which appear every year on every conceivable subject, fewer and fewer 'books of substance': those which a thinking man rereads a hundred times, always deriving some new enrichment from them, and to which he owes intuitions of great cosmic truths—even human truths in the name of which he would be able to start his life over again, if he could. The individuals who seek such books do not belong to the masses.

______ 卐 ______

Editor's Note: This reminds me of my Sunday entry. As a teenager I asked in a bookstore: "¿Tienen libros en pro del nazismo? [Do you have books in favour of Nazism?]". I still remember my exact words! Savitri continues:
______ 卐 ______

What will the billions of people of tomorrow's world do with their time? Will they cultivate their minds, as our inveterate optimists think?
______ 卐 ______

Editor's Note: When Savitri wrote her book I was a huge fan of 2001: A Space Odyssey. I was completely unaware that the novel's author, Arthur C. Clarke, professed a starkly stupid optimism about technology. (Without exterminating Neanderthals, all technology does is launch human stupidity at the speed of light.)
______ 卐 ______

No, they won't! They will do all day long what our good proletarians of 1970 do when they come back from the factory or the office, or during their month of paid leave: they will watch their small screen, and very obediently believe what the men in power will have introduced into the programmes so that they believe it.
They will go to the movies; will attend free conferences organised for them, always in the spirit of the leaders of the moment who will probably be the same as today, namely the victors of the Second World War: the Jews and the Communists, the devotees of the oldest and the most recent faith of our Dark Age, both centred on 'man'. They will make organised trips with guides and light music, also indispensable, in transport vehicles, buses and planes, on the outward and return journey. In short, the life of perpetual or almost perpetual leisure will be regulated, directed, dictated by committees elected by universal suffrage, after adequate propaganda to the masses.
And that will be too bad for those who would have preferred to pursue in silence a creation they loved because they felt it was beautiful; or who would have liked to organise the world on other bases and according to another ideal. So much the worse for those—increasingly rare—who will refuse to let themselves be conditioned!
It will be, to some extent, Aldous Huxley's Brave New World with the difference that instead of robots working in front of machines, it will be robots enjoying themselves on command and under the official planning of enjoyment, while the machines provide for their subsistence. One will no more choose how to use one's leisure time than the majority of people today choose the occupation that will provide them with 'food and shelter'. It will be presupposed—as is already the case, for example, in certain tourist buses, where one is forced to listen to the radio all along the route, whether one likes it or not—that all men have practically the same needs and tastes, which is in flagrant contradiction to the everyday experience among unconditioned people (fortunately, there are still a few of them today).
The aim is to give them all the same needs and tastes by means of ever more sophisticated, ever more 'scientific' conditioning.

______ 卐 ______

Editor's Note: All this soft totalitarianism that we are already experiencing will collapse if Chris Martenson's calculations on peak oil, which we have been advertising on this site, are correct.
_________
[1] By Robert Merle: a fanciful account of the German concentration camps.