Chapter VI
Technical Development and Tradition
No more clattering sounds on the walls of the abyss;
Laughter, vile noises, cries of despair.
Between hideous walls, a black swarming,
No more arches of foliage at sublime depths.
Leconte de Lisle ('La Forêt vierge', Poèmes Barbares)
Since the disaster of 1945 we have been talking about the 'free world' and the 'other world', that is to say the world where Democracy reigns and the one dominated by Communism: the only totalitarian ideology whose adherents are in power anywhere, after the destruction of the Third German Reich.
I'll tell you what I think of each of these enemy worlds. Their superficial differences strike you to the point of diverting your attention from their similarities, or rather their profound affinities. And you have been told and continue to be told about these differences and to insist on them, so that you don't get where you are being led. And you are told again and again that you wouldn't have been 'any freer' under the Hitler regime, as Germany knew it for twelve years, than you would be today under any kind of Marxist totalitarianism. We repeat this to you to remove in advance any possible nostalgia for this regime which we, who admired and supported it, present as based on 'joyful work'.
If there is anything certain, it is that in the so-called 'free' world at least—I haven't lived in the other, and know it only from the criticism of hostile propaganda and the praise of its propaganda—not one person in ten thousand 'works with joy', and this is because not one person in ten thousand really likes his livelihood or his 'state', to speak as in the old days. They don't like it, and rightly so. For the activity that they're obliged to do, during all the time of sells, to be able to live, to an individual employer, a collective employer (a public company for example) or to the State, is more often than not so boring that it's impossible to like it.
And this is all the more general the more technically advanced a society is, that is, the more mechanised. Just think of the thousands of workers who have been condemned to 'assembly-line' work by a sinister fate: to the indefinite repetition, eight hours a day, of the same easy gesture devoid of any perceived usefulness (since the worker never sees the finished product, car, plane or improved machine, or the manufacture of which each of his monotonous gestures has contributed), of a gesture without any real meaning for the one who performs it. Just think of the woman sitting in some 'box' at the foot of a metro staircase, who punches tickets every day, eight hours a day, sowing around her as much beige confetti as people coming out of the staircase to get into the cars with automatic doors that will wait for them for a few seconds, every two or three minutes. Just think of the 'typist' who 'types' all day long letters whose content doesn't and cannot interest her.
The list of work which, by its very nature, can be of no interest to anyone could be extended indefinitely. The number of such chores that are 'indispensable' to the economy of modern society doesn't depend on the political regime under which people live, but only on the degree of mechanisation of the cogs of production and exchange. And if it is sometimes possible to remove one or two of them, by replacing a person with a machine—for example, by an automatic banknote punching machine, such as is now used in the buses of Germany and Switzerland—it will never be possible to eliminate them all. The development of technology will create new ones: workers will be needed to manufacture the parts of the 'latest' machines.
And these new machines will have to work under someone's supervision. But it is impossible to make interesting the task of producing identical parts ad infinitum, or of supervising the same machine, let alone pleasant. And if one imagines this task performed under the blinding light of neon tubes, and in continuous noise (or with a background of light music and ditties, even more irritating, for some ears, than any roar of machines), one will agree that for a growing number of men and women earning a living is a chore, if not, a torment.
But it is not only the work that is boring in itself, and therefore exhausting despite the ease with which it can be done by anyone. There are jobs which would undoubtedly interest some people, but which don't interest a considerable proportion of the employees who perform them, either because these employees haven't chosen their professional activity, or because they've chosen it for the wrong reasons. And the question arises: How is it that at a time when (in the 'free world' at least) so much emphasis is placed on the 'rights of the individual' and when, in the technically advanced countries, there are so many institutions whose purpose is precisely to help parents guide their children in the direction in which they should be both happiest and most useful. How is it, I ask, that there are so many malcontents, failures, bitter people, uprooted people and downgraded people; in a word, people who are not where they should be and not doing what they should be doing?
The answer presupposes some observations, the first of which is that it is impossible to ask a mass of people, even of a superior race, to resist the pressure of their environment for a long time, or even only for a few decades. It is certainly wrong to assert with Karl Marx that man is no more than what his economic environment makes of him. Racial heredity and history play a part in shaping the personality of individuals and peoples.
This is undeniable. But it must be admitted that the more one deals with a mass, the more important is the influence of the environment, and in particular that of the technical environment, in the formation of the collective personality, or rather in the evolution which results, in people taken as a whole, in an increasingly striking lack of personality.
In other words, the more one deals with a mass, the more the basic proposition of Marxism—'man is what his environment makes him'—tends to be verified in practice. One could almost say that Marx would be right, if humanity consisted only of the masses. And it is understandable that people who love man above all else, and who are not put off by mass life, should be Marxists. (In order not to be, and to be sure never to be tempted to become, one must love not 'man', whoever he may be, but the human elites: the aristocracies of race and character.)
The technical milieu acts on the masses: it dictates to them by advertising the 'needs' they must have, or hasten to acquire to encourage ever more advanced research leading to ever more varied and perfected applications of the laws of nature to man's 'happiness'.
It offers her real electrification of housework and leisure activities: the ideal modern house, where you only have to turn a knob to heat the soup, bought ready-made, to clean the floor, to wash the clothes, or to watch the day's film on the small screen (the same one for fifty million viewers), and to listen to the dialogues that are an integral part of it. Only a man who knows in advance what he wants has no use for the technical environment all his life, or even be unaware of it because they are so irrelevant to him; a man who is much more aware of his own psychology (and in particular of his scale of values) than ninety-five per cent of our contemporaries; in a word: a man who, by the grace of the Gods, doesn't belong to the masses.
______ 卐 ______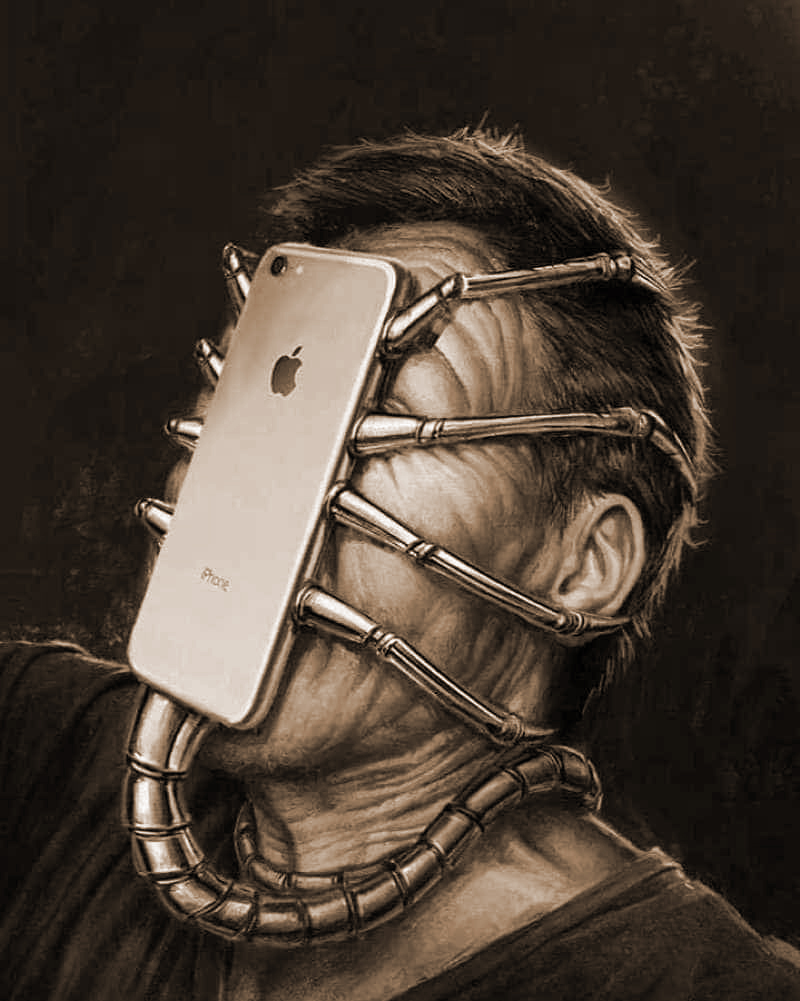 Editor's Note. I would recommend the book Lord of the Rings to those who want to get out of the monstrosity that Saruman did with his arboreal destruction, iron industry, multiplication of Orcs, and technology like the ubiquitous cell-phones (which I don't use since I have zero male friends in my native town).
If I were a film director and wanted to make a childrens' TV series, I would bring LOTR to the screen by retrieving all those detailed descriptions of the bucolic fields in Tolkien's prose, lacking in Peter Jackson's strident trilogy after his first film.

______ 卐 ______

He will not 'fit in' in the modern world, and probably, whatever his profession may be. The mere fact of being happy where three-quarters of the people would be bored, and of being bored on the contrary, of having the most irritating impression of 'wasting one's time' amid the distractions that the majority seeks, sets him apart.
He is really only at home among his few fellows, he who has no transistor, no radio, no television set, no washing machine, and that neon light hurts his eyesight and so-called 'modern' music 'grazes his ears: he who persists in remaining true to himself and who refuses to love 'on command' what the advertisements and propaganda present to him as 'progress'.

______ 卐 ______

Editor's Note:
If there is one thing almost all white nationalists fail at, it is this. The pop music most of them listen to only degrades the Aryan spirit. The transvaluation of all values begins with the music we listen to: food or poison for the soul.
It is impossible to save the race if the white man enjoys the inane and grotesque melodies of the fallen West—often not even melodies, but the grossest and cacophonous ape rhythms we can imagine (just compare it with the film's Evenstar).