Not long ago, in 'Andúril: the broken sword', one of my essays that appear in Daybreak, I complained about a video by Jared Taylor with these words: 'Finding ourselves on the brink of a civil war or rather an anti-white, exterminationist war that gets closer and closer to Ward Kendall's novel Hold Back This Day, Taylor gives counsel like getting married, having a good job, and trying to do politics without overtly revealing our true colours'.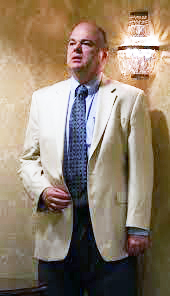 Something similar happened yesterday to me while listening to an interview of F. Roger Devlin about Incels (who was annoyed by the Nazi salutes headed by Richard Spencer in that famous 2016 video because, according to Devlin, the alt-right shouldn't endorse National Socialism). Although the interview was good, especially Devlin's insights about feminism, he is the typical alt-right intellectual who, as we have seen, more than a 'white nationalist' is actually an American nationalist. (The term white nationalism suggests fighting a civil war to create a nation only for Aryan Man, something that the alt-righters don't recommend openly.)
By the end of the interview, Devlin advises the same that Taylor recently advised: to get a good wife. The advice is quite dishonest because Devlin himself concedes in the interview that the laws of our time make it very hard for the white man to get properly married. For example, the divorce industry hasn't been challenged, let alone eliminated along with the stupid laws that prevent males to have sex with their wives whenever they want, etcetera. Without the normal state of civilisation, patriarchy, marrying bitches that steal our children in courts and a law that commands you to send them money while she's living with another guy is insane.
I think in the comments section I've already mentioned the case of a very, very Catholic family, friends of my mother since she was in Grammar School. One of their members, married to a traditional Catholic woman, after a severe illness the woman put him in an asylum and she stayed in his house with their daughter. The man is younger than me and is already committed in an asylum! His late parents were so Catholic that the Opus Dei folk were their clients. (Incidentally, they are a white family: the image of the many blond nephews of this guy now come to my mind when they were kids.)
That family proves that what Devlin said by the end of the interview is wrong. Even if you marry the most traditional girl, under the current laws the bitch can betray you to the degree that—as happened to our friend—not letting him attend even his own daughter's wedding! The poor man stayed in the asylum during the wedding! When not long ago we visited him at the asylum, this very Catholic man came up that, despite everything, he should never hate…
The repulsion I feel for anything related to the American racialist movement can be summed up in one sentence: like this man they don't want to hate, let alone fight. Just compare Devlin's stance to Robert Morgan's recent comments that I've collected on this site. It is more than obvious that, like Taylor, Devlin and the rest of the American racialists are held back by Christian morality. If Devlin & Co. didn't subscribe to Christian ethics but National Socialism, they would know that only a bloody revolution could bring us back our women.
As long as male racialists don't amalgamate their soul with the spirit of The Turner Diaries their whole movement will remain a women's club.