In his latest comments, Robert Morgan made a few remarks about why conspiracy theories, so popular in the comment sections of racially conscious whites, bother me so much:
Linh Dinh: 'When your tyrants can't even be identified, much less found, no coup, uprising or revolution is possible…'

Exactly. Preventing revolutions is the purpose of conspiracy theories. People who imagine they are being controlled by nameless others have the perfect excuse to continue doing what they are doing, which is making up conspiracy theories, or in other words, nothing.

You can score cheap moral points by denouncing vague conspiracies, attributing to them anything you don't like. You avoid blaming the people themselves, because they're only puppets! That's the attraction of conspiracy theories.

I, on the other hand, do blame the people themselves. As I see it, America is just suffering the painful consequences for centuries of Christian delusions. They themselves imported negroes to their shores, and then fought a war to set them free and make them fellow citizens. Thinking this is the result of a conspiracy is ridiculous. To do so is just a transparent attempt to evade responsibility.
At another site, Counter-Currents, also in one of the comments sections a woman just recommended The Turner Diaries.
It is very positive that at least in the comments section, someone mentions Pierce's novel. In one of the passages of that novel, blacks took a white woman in front of the police to rape her and when a white man complained, the policemen fled embarrassed by the complaint, since defending the white woman would be 'racist'. As the negrolatric religion grows, it won't take too long to reach that neo-Orwellian level. But I wanted to say something else about that comments sections.
A couple of CC commenters have just complained that it was useless to talk (for example, about the recent murder of a white woman by BLM) with their wives, that wives don't get what's happening.
Since I was liberal in the past, I treated women as if they were regular blokes. Over the decades, in my family I could only talk about the family tragedy with the direct victims of the perps: a couple of women (who, incidentally, have already died). But when speaking brutally with one of them, as we blokes do, my female cousin freaked out and for a few years we weren't on speaking terms. Only after discovering the manosphere did I realise that I had done something wrong. If I had known what I know today, I would have refrained from talking about little red riding hoods and wolves in my dealings with my poor cousin, who had been a victim of molestation.
I don't blame myself for that way of speaking because I was brainwashed. Twenty years ago, when I corresponded with my cousin, I had internalised the ethno-suicidal propaganda that guys and gals are all the same. Now I see more than ever that the first guideline I devised for the priest of fourteen words is really adequate: let's try to talk about transcendental issues only with white males. For example, there is absolutely no point in trying to convey to a woman the fact that we have about ten times more sexual drive than they feel. Since they have never felt such a thing, we can't create a bridge of true communication.
There are exceptions of course. In this site I've mentioned a female friend with whom I can communicate. But she is the exception that confirms the rule. Although as a woman she doesn't have the impulse I have, her empathy is such that she once told me an anecdote. Apparently, a woman experimented with some male hormones and she felt, for a few days, a tremendous sex drive. As my friend confessed to me when assimilating the anecdote, she finally felt respect for men because we repress our sexual drive not only a few days, but throughout the years. It doesn't matter that my friend hasn't done such a hormonal experiment. Just by telling me that anecdote she transmitted that thanks to it she could finally understand men. But as I said, she's the exception.
Commenters complaining on CC about their wives don't follow the priest's guideline. They try the impossible: to communicate with them. The ideal would be to have such guilds only for males as the Spartans had, in which all young men were forced to eat together, even after marriage in order to create the necessary mannerbund. This, in spite of the fact that eventually all Spartans had to marry.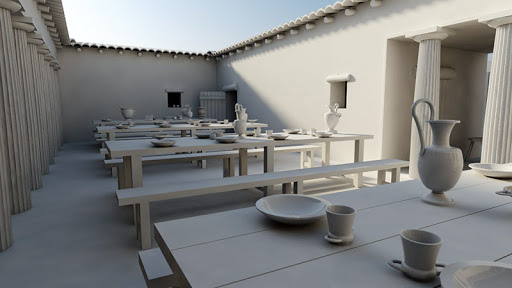 Today's feminised men, including many racialists, don't even realise that, in some matters, it's impossible to build communication bridges with the fair sex. Yes: women could be serving at the table of the Spartan warriors, but not get into discussions or camaraderie.