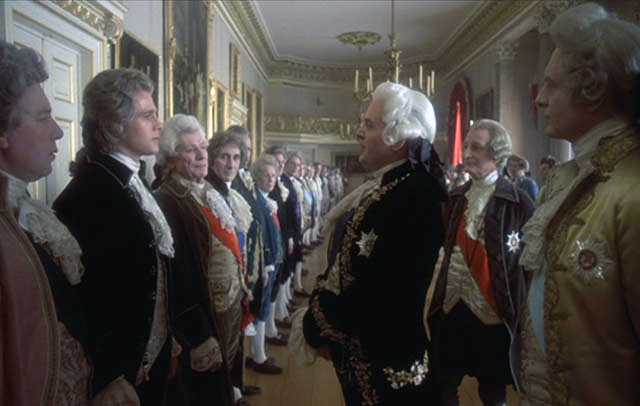 Barry Lyndon meets King George III

After Charlottesville only Tucker of Fox News is barely tolerable to watch, who yesterday mentioned once more The Daily Stormer in the context of free speech. I even find President Trump intolerable to watch. In his speech yesterday he said that 'racism is evil' in the context of 'white supremacy'.
Yesterday I also watched some scenes of the 1975 film Barry Lyndon. I could not believe the beauty of many of the film's exteriors, which were shot in Ireland, England and what was Prussia. Kubrick drew inspiration from the landscapes of painters such as Watteau and Gainsborough.
It is impossible not to compare the two images I saw yesterday: a brief shot of a Prussian city when Europe was healthy and awesomely beautiful, and the few seconds of the American president saying the exact opposite of the truth. ('Racism' should be considered the noblest of virtues in these dark times.)
I must paraphrase what Hunter Wallace said five years ago on the fourth of July: 'We [Americans] invite King George III to come back and resume the throne. He could dissolve the Union, arrest the pretender in the White House, and round up our so-called "representatives" in Congress. In exchange for an apology and a promise to never misbehave again, we get lower taxes, a less intrusive government, secure borders, and an end to all the madness that has flowed from the "self evident" idea that "all men are created equal".'
Alas, George is no longer with us.