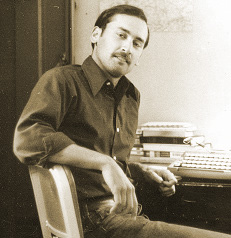 by Michael O'Meara

For white nationalists—whose cyber-based "movement" is still in its infancy—simple explanations tend to be the rule.
The reductionist "anti-Semitism" that dominates WN ranks and serves as a catch-all explanation for the predicament white people find themselves in today, to cite the most prominent example, is wont to attribute every assault on white life to Jewish perfidy.
There is, certainly, no disputing the existence of this "perfidy," for no other group—not the browns or blacks, not the former powers of international Communism, not anyone or anything—is or has been so disposed to breaching the color line, undermining America's traditional racial hierarchy, or propelling the processes responsible for the present dispossession of the country's white majority.
To think, however, that Organized Jewry has been the alpha and omega of this dispossession is not just simple-minded, it's dishonorable.
It's simple-minded because it understands complex historical processes in Kindergarten terms. It ignores other, no less culpable factors.
More fundamentally, it ignores or conflates the differences between structural imperatives and conspiratorial designs, between concrete objective forces and the subjective influences of interest and conscience.
History, as such, offers few cases where monocausal explanations suffice, for the confluence of fortune, structure, and subject (fortuna, necessita, virtu) undergirding the historical process means that significant historical changes are almost always the consequence of a combination of forces unique to their specific time and place.
By the same reasoning, monocausal explanations focusing exclusively on a demonized "other" are dishonorable because they spare whites all responsibility for their misfortunes, refuse to acknowledge the dysgenic and self-destructive forces indigenous to modern society, and ignore the numerous, inherently Jewish facets of the American project.
In criticizing this, I do so not to absolve the Jews, but to preface the subject of this essay—the anti-white consequences of the Cold War—which offers a somewhat broader explanation of white dispossession (though there are at least a couple of others that can also be made).

_________
Editor's note: You can read the rest of the reprinted, 2011 article on Counter-Currents (here). But I much prefer the original 2010 article at The Occidental Quarterly divided in four pieces. Reason: in three threads of the comments section O'Meara responds to his monocausal critics (here, here and here).