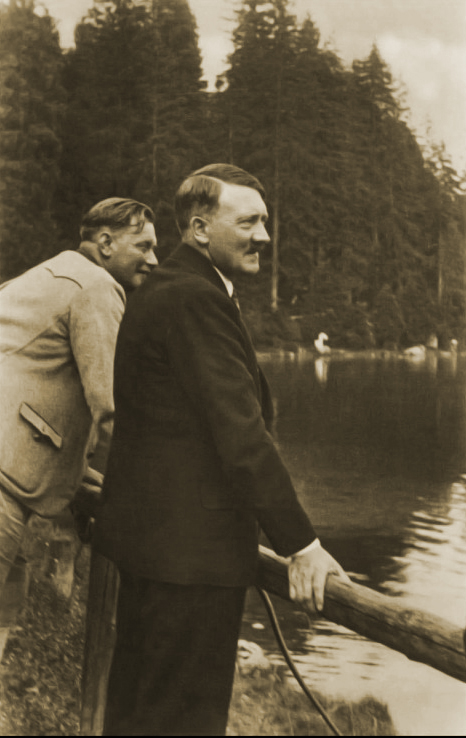 Editor's note: I am relocating this August 5, 2015 comment by Jack Frost to this day so that it is the first post that a visitor hits when clicking the category on Hitler's table talks. I won't delete the old August thread but I have disabled comments on this specific article. Reason: I don't have time to discuss with those Christian neonazis who cannot tolerate even the possibility that the talks may be genuine.

David Irving has considerable expertise in this matter, and he says they're genuine.
Likewise Albert Speer, who was present at some of these dinner talks, attests to them in his memoirs. But also, perhaps even more convincing, the talks are the blindingly original insights of a true master.
These views of Christianity* are not derivative of anyone else's opinions, certainly not Schopenhauer's, and while at odds with certain of his public statements, are quite consistent with other things known about Hitler, particularly his anti-Semitism. Surely a forger wouldn't have gone this route.
In the first place, he would have had to do original thinking that is quite uncharacteristic of forgers, and in the second place an ordinary forger would have been careful not to make any statements that were inconsistent with other things known to have been said or written by Hitler.
Their very originality speaks to their veracity. Of course, this can be turned around. People who want to believe Hitler was actually a Christian disingenuously ask why, if this was his real opinion, didn't he put it in Mein Kampf or mention it in any of his public speeches?
But the answer is obvious. Hitler was a politician, and had to be all things to all people. No politician with such views could have been open about them in a Christian nation.
Accordingly, to Christians of his day, he appeared to be a Christian. Such hypocrisy was more or less built into the task he had set for himself.
_____________
(*) These were Frost's August 4, 2015, 5:15 PM quotes on the same thread. Alas, as usual Dr MacDonald has now deleted the whole comments thread!