Or:
Time to kick the philosophers in the balls

For Francis Bacon (1561-1626) the metaphysicians were like spiders that constructed their webs with a substance segregated from their insides, resulting in that their conclusions kept little if any connection to empirical reality. Here there are some chosen excerpts from Will Durant's chapter on Bacon in his splendid book, The Story of Philosophy. Pay attention how Bacon differs from Buddha-like opinions on human desires: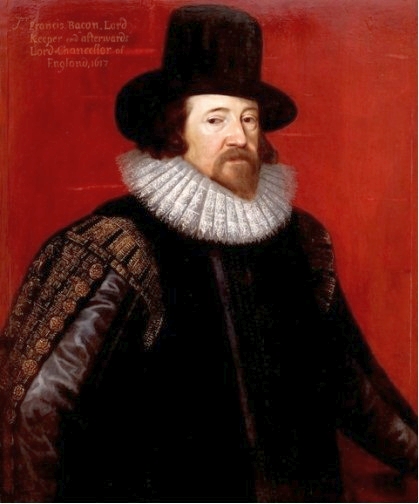 At the age of twelve Bacon was sent to Trinity College, Cambridge. He stayed there three years, and left it with a strong dislike of its texts and methods, a confirmed hostility to the cult of Aristotle, and a resolve to set philosophy into a more fertile path, to turn it from scholastic disputation to the illumination and increase of human good…
Nothing could be so injurious to health as the Stoic repression of desire; what is the use of prolonging a life which apathy had turned into premature death? And besides, it is an impossible philosophy; for instinct will out…
He does not admire the merely contemplative life; like Goethe he scorns knowledge that does not lead to action: "men ought to know that in the theatre of human life it is only for Gods and angels to be spectators"…
All through the years of his rise and exaltation he brooded over the restoration or reconstruction of philosophy, Meditor Instaurationem philosophiae. It was a magnificent enterprise, and—except for Aristotle—without precedent in the history of thought. It would differ from every other philosophy in aiming at practice rather than at theory, at specific concrete goods rather than at speculative symmetry… Here, for the first time, are the voice and tone of modern science.
Just as the pursuit of knowledge becomes scholasticism when divorced from the actual needs of men and life, so the pursuit of politics becomes a destructive bedlam when divorced from science and philosophy…
Philosophy has been barren so long, says Bacon, because she needed a new method to make her fertile. The great mistake of the Greek philosophy was that they spent so much time in theory, so little in observation. The predecessors of Socrates were in this matter sounder than his followers; Democritus, in particular, had a nose for facts, rather than an eye for the clouds. No wonder that philosophy has advanced so little since Aristotle's day; it has been using Aristotle's methods. Now, after two thousand years of logic-chopping with the machinery invented by Aristotle, philosophy has fallen so low that none will do her reverence. All these medieval theories, theorems and disputations must be cast out and forgotten…
Philosophers deal out infinites with the careless assurance of grammarians handling infinitives. The world as Plato describes it is merely a world constructed by Plato, and pictures Plato rather than the world…
Knowledge that does not generate achievement is a pale and bloodless thing, unworthy of mankind. We strive to learn the forms of things not for the sake of the forms but because by knowing the forms, the laws, we may remake things in the image of our desire. So we study mathematics in order to reckon quantities and build bridges…
And when the great minds of the French Enlightenment undertook that masterpiece of intellectual enterprise, the Encyclopédie, they dedicated it to Francis Bacon.