"Taking Down Tinsel Town"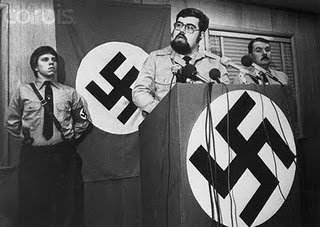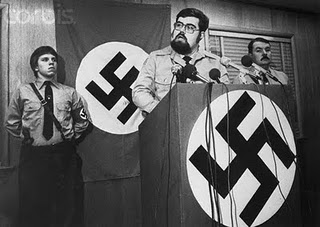 "Gentlemen, I don't have to tell you that ever since the invention of the motion picture over a century ago, the movie industry has been the most completely Jewish field of private enterprise in the world, with the exception of international banking and the stock exchange. Even today, Yiddish is considered to be Hollywood's second language. Literally so. It is spoken regularly on movie lots and sound sets, and in every office and casting department and boardroom. The senior executive office complex of every major production studio contains a private synagogue or chapel called a mincha, with one or more rabbis attached, as well as special glatt kosher catering facilities and kitchens. Entire boards of directors in Hollywood and also at their parent companies in New York sometimes hold Jewish religious services prior to meetings. Every crucial, non-technical job on the business and creative end of any major movie is either held by a Jew or is in the power of a Jew, from the studio heads, the producers and the directors, down to the scriptwriters, the casting directors, the agents, the accountants, and anything to do with the money. Even in areas that seem to be controlled by Gentiles, you will find that somewhere along the line during the process, Jews have crucial input and veto power. This control by the Tribe is pervasive and complete, and it extends into television as well, with the exception of two of the major cable networks, which are heavily Jewish in their senior personnel but are owned by consortiums of super-wealthy Protestant evangelical Christians of the Israel-worshipping persuasion, who are in their own way even more poisonous in their evil than the Jews themselves, because they have no excuse for turning on their own blood.
"I do not need to tell you of the terrible and largely irreversible damage that Hollywood has done to the white race and to Western civilization over the past century. For four generations, the international bankers and the corrupt politicians have committed unspeakable crimes against humanity, especially the war after war after bloody war they have plunged our people into for Jewry's sake, but it is Hollywood and Hollywood's mutant bastard spawn television that has made the white people of America and the world swallow these atrocities and actually support them with enthusiasm. It is Hollywood that has spent the past 50 years pushing every conceivable kind of perversion of body and mind down the throats of white people. It is Hollywood that has turned the loathsome practice of homosexuality into something cute and trendy, the subject for silly jokes, when it is in fact a poison of the very soul. It is Hollywood that has turned white women as portrayed on film into either mindless sex objects, or else degendered, masculinized, man-hating neurotics. It is Hollywood that has poisoned the minds and broken the spirits of generation after generation of white children who are now beyond recovery, and turned them into whiggers. The bankers have stolen our money. The federal government of the United States has stolen our lives and our freedom and soaked the earth with Aryan blood, spilled to save a filthy race of Asiatic parasites. But Hollywood has stolen our peoples' minds and souls, and in some ways that makes Hollywood more evil to my mind even than the sinks of iniquity centered in New York and Washington, D.C. Comrades, we will go down to southern California, we will grip this monster by the throat, and we will cut its heart out!"
There was a cheer from around the table; the men found the project to their liking. "At this point I'll turn the floor over to Lieutenant Hill," said Morehouse.
"Thank you, Red, and isn't this a great audience in our studio tonight?" There was a chuckle from the assembled men. "I need to begin by explaining just what has precipitated this operation, which by the way, has been designated Operation We Are Not Amused," said Hill. There was more laughter. "Obviously, any revolutionary movement within North America has to deal with the Hollywood problem at some point or other. It's pretty obvious that barring some catastrophic event, the NVA [Northwest Volunteer Army] is here to stay as a permanent feature of Northwest life, and for us, to survive is eventually to win. The time has come for us to take our offensive for balance in the media right into the belly of the Beast."
"Now we are about to start…" Harry Hannon interjected.
"But it's not just simple fear that's made Hollywood go a little easy on us so far," Red Morehouse said. "I don't want to get metaphysical, but Hollywood has always been the American ruling establishment with its heart on its sleeve, and southern California has always taken point in the culture wars, openly and brazenly, so you can read them like a book. And I can sense a deep and definite malaise. The Jewish and liberal establishment down there is not just afraid, they're puzzled, disturbed, confused. They don't know what to make of us quite yet. They've never seen white men act like this before—hell, no one in living memory has seen white men act like this before. Comrades, even if we were all wiped out tomorrow, the NVA has managed to achieve one incredible accomplishment, and something that for the entire century, no one ever thought was possible. We have reintroduced the gun into American politics, the ultimate fount of all law and political power."
Morehouse smiled and shook his head in admiration. "For the first time since the Civil War, the United States of America no longer has a credible monopoly of armed force, and that fact has thrown the whole ruling élite in this country for a loop, unbalanced them. We've taken a hundred years of this shit from these people. No more! It ends now!"
"Who gets to be the hammer?" asked Tommy Coyle eagerly.
"Sorry, Tom," said Morehouse, genuinely commiserating. "You and Harry are too badly needed up here with your brigades, and that goes for you battalion commanders as well. I'm afraid the reason you are here is because we're going to need your help and your concurrence to cherry-pick your units. The actual hammering will be planned and organized by the Third Section, but the nails will be from Portland and the North Shore."
"What will be your plan of attack, Lieutenant Randall?" asked Hatfield.
"The main strategic objective here is to neutralize the Hollywood movie and television apparatus as an effective weapon of enemy propaganda," said Randall. "It is now such a weapon because of the Jewish control of these industries. We have to get the Jews' hands off the levers of power and creative control down there as much as possible, not only by terminating individual hebes, but by establishing a credible deterrent sufficient to prevent those reptiles from producing dingo doo like those things there."
Randall pointed to the scripts on the coffee table. "They have to know that even to contemplate producing an anti-NVA movie or television episode means bloody near certain death. We won't be so much going after movie stars or actors themselves as we will be taking down the Jews who actually decide what movies and shows are made, and what their contents will be—studio heads, producers, directors, and screenwriters, and the moneymen. We have several objectives. First, to physically prevent these Jews from doing the dirty. A dead Jew can't make an anti-white movie. Secondly, to create a psychological disincentive to make propaganda movies and telly for the Americans, since live Jews and liberals don't wish to become dead ones. Finally, and this is a long-term goal, we want to demonstrate to the extensive Gentile community in the movie and television world down there that Jewish control of their industry, their money, their speech, and their creative talents is not some kind of perpetual, God ordained inevitability. We want to show them and the whole world that Jewish power can be broken, right in the heart of their own oldest and most cherished empire in this country."
"In a way, we're trying to show the stars and the genuine film artists down there the same thing we're trying to show our own people here in the Homeland—that it is possible to resist, and that the enemy is not invincible."

Chechar's note:
Just compare Covington's views about Hollywood to Counter Currents' opposite views and leave a comment: either below, or in a recent thread.