Or:
Self-harming Germans
cheering at Inglourious Basterds
Glad to have received a reply.
"Why should native Germans repudiate the memory of these atrocities is beyond me."
It is of course a sad state of affairs, but I can see how it came to be this way. For the Allies after 1945 it was just the continuation of the war against Germany and the German people with other means.
After the first world war Germany was able to recover; thus to prevent another recovery and to turn Germany into a docile protectorate / occupied nation permanently, they went on to completely reengineer society by brainwashing and "reeducating" the populace.
I remember reading a quote somewhere saying that the war is only won once the occupied population has internalized the victors' narrative. The Germans were made to feel guilty and to see their own ancestors / nation as evil and the Allies as saviors.
Our chancellor Merkel for example recently (in 2010 I think) visited the annual Russian victory parade in Moscow and thanked the Russians for "freeing" and "liberating" the German people. Her predecessors Schröder and Kohl did the same on D-day celebrations of the western Allies. Befreiung (liberation) is the word that is constantly being used to describe the beginning occupation of Germany in 1945. It's the way they teach these events in the history lessons at schools and it's the word used by the media. Thus mentioning the mass murder, torture, rape and expulsion of Germans that took place in that time would contradict the official narrative—the one-sided history which portrays our own ancestors only as criminals and the Allies as selfless benefactors on a crusade to "liberate" the German people from "Nazi tyranny."
Our current leftist mass immigration and multiculturalism advocating establishment is also entirely based on this historical narrative. If you argue against mass immigration, it will ultimately always lead back to "evil Nazi Germany," human rights and how we for this reason are obliged to accept immigration and have to repress nationalists. Then you have the Jewish lobbies, who think they have a monopoly on the victim status and who viciously oppose any Germans remembering their own victims. And when the Federation of German Expellees suggested a memorial for expelled people—including but not exclusive to the Germans who lost their native homeland in 1945—Polish politicians demanded measures from our politicians to prevent this (and our foreign minister Guido Westerwelle, back then during a visit in Poland, actually obeyed and condemned the Federation of German Expellees shortly after).
The European Union, Globalization, the historical self-image of the Allied nations… there are just so many different parties stacked against German interests in this case. In the end it's all about power to this day; that's why the knowledge about German victims is suppressed while atrocities in the other direction get exaggerated.
"Have you tried to communicate to them? Or translate to German these excerpts from Goodrich's book?"
I haven't translated any excerpts yet, there are other sources available in German. But you're right, it's probably a good idea to make parts of Goodrich's book available in German as well if no one has done so yet. But I'm probably not the best suited for this task due to my limited language abilities.
And yes, I have talked about these topics with other Germans, but it's a difficult topic to cover.
Nationalist Germans at least are already very aware of what took place, in that regard the situation might be different in other white nations, but they're unfortunately only a small minority. But talking to them is like preaching to the choir. There's no awareness problem in this case.
I would say average Germans on the other hand fall into two categories: there are those who have fully internalized the official narrative and those who are tired of the constant indoctrination and just want to be left alone and live a pleasant life.
Those who have fully internalized the official narrative will get agitated and attack you once you mention German victims, because they will see you as a revisionist who seeks to excuse German crimes by mentioning Allied crimes. They will not discuss facts but will discuss your motivation behind mentioning them and accuse you of having sinister intentions. The official historical narrative with the Jewish Holocaust has gotten quite a religious atmosphere, and if you stray from the German perpetrator & non-German victim narrative, it is seen as a sacrilege/blasphemy.
Some people have made the comparison that the Holocaust has turned into a secular version of Christianity, a new replacement religion. Emotions play a big role. How do you reach these people with mere facts? Of course reading a book like Goodrich's, which describes in detail the suffering of the German people, is emotionally very disturbing and touching as well. But how do you get them to read these accounts in the first place when they already have all these mental protective barriers in place and judge you morally just for bringing it up?
Maybe part of the problem is also that we don't have a Schindler's List kind of movie showing the German suffering and retelling a book like Hellstorm. I'm not even sure how I would like that; it has an exploitative and tasteless element, but it's a fact that people respond to emotional messages from audiovisual media quite strongly, and the German suffering is not present in that form. I'd go so far as to say that a large part of the population these days bases their historical knowledge on Hollywood movies they have seen, and we know whose narrative they only show.
Then there are those Germans who have grown tired of the daily anti-German indoctrination and the one-sided historical narrative that we're constantly being force-fed with. They just don't want to hear about past events. They say we should let bygones be bygones and focus on the future. They strive for a materialistic hedonism. They want to live a pleasant life, material wealth, entertainment, fun, happiness. In a way you can't blame them, since we all strive for happiness.
But since they've just grown tired of the anti-German slandering based on the Second World War, they don't want to hear anything about it. So they also block off once you mention the German victims. They might also get irritated or angry. I guess in part it's because they fear that this controversial topic might endanger their material wealth and their status in society. Another reason might be that acknowledging it would lead to a cognitive dissonance. They would also have to acknowledge in turn that our society is ill and that the elites are anti-German and that we live under a repressive regime, which would conflict with their strife for happiness. It's easier to look the other way and to conform with the crowd, and thus the messenger is shunned instead of acknowledging the message. As in the movie The Matrix, it's a decision between the red pill and the blue pill—and it looks like in reality most people would prefer the blue pill to remain in a state of blissful ignorance.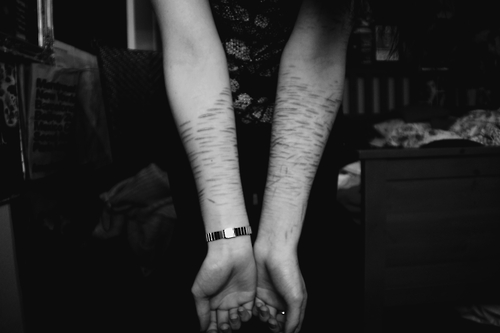 I guess it's also a form of mental escapism and suppression of uncomfortable truths and traumatic historic memories. Feeling victimized isn't a good feeling. That might be another reason why the official narrative is so successful and why there's a total disconnect with our past and people even identify with the Allied occupants, thus all this talk about "liberation" or Germans watching Tarantino's movies like Inglorious Basterds and cheering while Germans get slaughtered on screen.
The point is that in both cases if you want to spread awareness, mentioning the mere facts helps little as it is an emotional and psychological problem and I don't know how these mental barriers can be overcome.
Even in rare cases when you had long discussions with someone and think it left an impact… it gets quickly drowned out again by the constant barrage of propaganda through all the media channels.
Many people work hard throughout the day and once they come home they feel tired and just want to relax, they don't want to think. What do they do? They lean back and turn on the television. And there they get the same message ad nauseam. It's a seductive mix of propaganda and American Hollywood entertainment. It's the same on the radio. They broadcast 24/7 American movies and series, advertising and a little system propaganda in-between. So whatever conversation you had, it's just a little flicker on their attention span and quickly forgotten and drowned out. It reminds me of that one scene in Brave New World in which the character tries to get through to his mother, but she prefers the drug-induced feel-good state while consuming the systems media.
And then there's the whole Jewish Holocaust propaganda and censorship we have to deal with. I would like to be able to separate the two topics and treat them independently, but often the first thing you hear when you mention German victims is "but they killed six million Jews! [and thus deserved it and wasn't so bad in comparison]."
You get it thrown into your face regularly. Not a day goes by without the holocaust being mentioned on television or in the newspapers. And it seems it wasn't enough that we have selective memorials for them at every second street corner. In recent years they started to plaster the streets with golden stones with inscriptions which basically say "Here lived a Jew… and he was murdered by your ancestors!"
They call these things Stolpersteine (which means stones, on which one is supposed to stumble over). They often make children from elementary school place these stones or clean them. The protestant church also seems to support this project. Imagine if we would place such a commemoration stone for each German victim that was killed during the terror bombing campaign—we could plaster entire streets with them. I think that is another reason for this constant holocaust propaganda and exaggeration: it serves to hide and suppress the crimes against the Germans.
Some images to illustrate those Stolpersteine: here, here and here.
And once they throw the Jewish Holocaust in your face when you mention German victims, you can't even argue with them as it is illegal. People have been imprisoned for merely translating books on the topic. And last year an NPD politician even got sentenced to jail for what they called "indirectly denying the Holocaust": He didn't want to participate in a Holocaust commemoration and called it a "one-sided guilt cult." He got eight months of jail and a couple of thousands Euro fine.
And censorship in general is quite harsh. So you have to be very careful if you want to be a blogger in Germany.
Recently Gottfried Küssel, a blogger in Austria was sentenced to almost ten years for running his website, which was probably tamer than your own blog. Horst Mahler was sentenced to twelve years of imprisonment only for speaking out. Considering that he's already seventy-six years old it's more or less a life-long prison sentence for having the wrong opinion.
So spreading awareness online is always risky in Germany. Of course, you would think that simply mentioning the German victims should be safe, but if you draw a comparison to the official Jewish Holocaust, or they insinuate that you say certain things in order to show the Third Reich in a positive way, or that your speech could agitate the population, you go to prison.
Speaking of Horst Mahler, even the lawyer who defended him got imprisoned in turn, because the defense of his statements was seen as a repetition or a crime in itself. At least she only got imprisoned for something like three years I think, but on top of that she lost her lawyer license and has thus been barred from working in her profession. Her name is Sylvia Stolz and last month she participated in a free speech congress in Switzerland and spoke about the trial and the anti-free speech laws in Germany. I fear she will end up in prison again for giving that speech once she returns to Germany.
I will end my message with an article that was just released this Monday in the Junge Freiheit, one of the few conservative German newspapers. It also deals with German victims, the one-sided culture of remembrance and repressed memories. So I thought you might find it interesting. The article is in German, so I had to translate it. My English isn't very good, but it should at least be better than the Google-translate version.
With Best Regards,
Friedrich