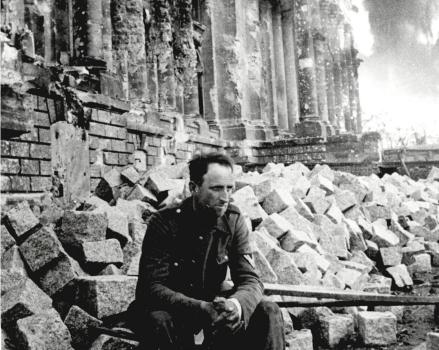 I wanted to thank you for speaking out for the German victims of the Second World War.
Unspeakable crimes were committed against the German people in those days, and few people are even aware of it. In Germany we're constantly being told that our ancestors have been monsters and we're subjugated to holo-propaganda from an early age on and this is reinforced on an almost daily basis on all channels. Yet the crimes against the Germans are covered up: there's censorship, they're not even briefly touched in school history curriculums and people who want to remember German victims as well get harassed.
For example Erika Steinbach and the Federation of Expellees were subjugated to a political witch hunt because they wanted a memorial that also remembers the millions of expelled Germans who lost their native homeland after 1945, even though the memorial they had in mind wasn't even exclusively for German victims.
And when people gather to remember the civilian victims of the fire bomb attacks against German cities they're always met by anti-German mobs (they actually call themselves Antideutsche), supported by the political establishment and media, who carry placards with titles like "Bomber Harris do it again!" or some slogans glorifying the Red Army.
The holocaust propaganda is omnipresent, while German victims are erased from history and the consciousness of the people. Although I belong to a young generation that has not witnessed the horrors of war, it feels awful to see how these victims—our grandparent's generation—have no voice.
It feels as if through this silence the initial crime is repeated or persists and it creates a really quite heavy and depressing atmosphere in society. Knowing about these crimes and yet seeing that they're actively suppressed by the State that is supposed to represent us—it makes it that much more unbearable.
So seeing someone like you speak out and to give them a voice, it feels like a slight relief.
That's why I think what you did was right and important despite some people having complained and wanted to thank you.
It might also help to educate some British and American White Nationalists. Over the years I've met many  who were revisionist only in so far as that they reject multiculturalism and political correctness, but they fully  swallowed the one-sided black & white history about World War I and World War II that is being thought and perpetuated by the mainstream (which knows of no German victims) when it suits their nationalism.
These are the people that throw stuff at you like, "We wouldn't be in this multicultural mess today if Britain wouldn't have had to put evil Nazi krauts in line twice in the last century!" To them it's a crime against humanity when Germans shot ten or twenty people in some village after partisan attacks, but the fire bombings that killed millions of women and children in Germany and Japan were totally justified and no crimes at all—they even build new memorials glorifying them.
And the Soviet mass rapes and murders your blog article described so visually… they don't believe it and if you mention it they accuse you of "Nazi propaganda." Then what can you say to these people? But articles like the ones you posted might lead some of them to look past mainstream history and to investigate these events with a more open mindset.
I thought about writing more about the current situation in Germany, but for an uninvited email I've probably already written too much. I just wanted to thank you for posting the blog articles and your intention to give these victims a voice as well.
With best regards from Germany,
Friedrich