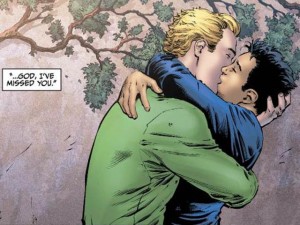 At last someone spoke out about a problem that most nationalists are reluctant to discuss. This image is taken from Carolyn Yeager's radio podcast, where she "discusses the increasing promotion and approval of homosexuality in our Western societies, and also in our White advocacy communities."
OK, Carolyn probably saw the photo that a Spanish policeman of the little town of Bélmez de la Moraleda in Andalusia took me long time ago and momentarily thought that I was, ehem, "gay" (I really hate this word). What can I say? Not all men who have looked a little androgynous in younger years necessarily are.
Anyway, don't miss Carolyn's podcast. It's must listening (link above). As far as I know, it is the first time that the problems of accepting overt, non-closet homosexuality in our community are approached honestly and fairly in audio form.