It is always wise to listen the Christian and temperate voice of Matt Parrott (photo). Below I collected some of Parrott's responses in the most recent thread about the Norway incident at The Occidental Observer, "Letter from Sweden: Fallout from Breivik." It throws some light into the ultimate issues of White and Western preservation: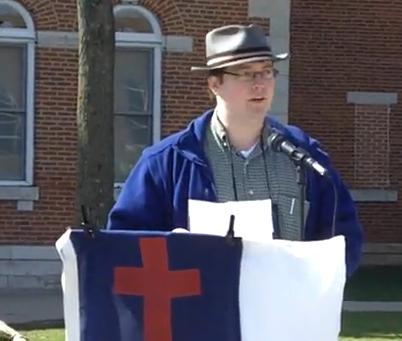 From a crude tactical perspective, I believe the biggest victory for Jew-wise explicit racialists is that the cultural nationalists and neocon imperialists have lost the credibility of their moral argument for defining a distinction between cultural and ethnic nationalism.
What's the point of playing the "cultural nationalist" angle if you're still going to be stained by association with violent radicalism? The anti-immigration sentiment and growing anxiety over ethnic displacement isn't going to simply go away because of this, but this deeply problematic quasi-Zionist "anti-racist" cultural nationalism may no longer prove suitable as a vehicle for its expression.
My suspicion (one shared by the left) is that an infinitesimal fraction of cultural nationalists actually believe their prattle about the millions of aliens peacefully assimilating into traditional Western society. It's a vehicle, one driven by pragmatic racialists seeking bourgeoisie legitimacy and Jews looking to usefully channel the West's sublimated racial anxiety.
It would be a tragic defeat for our interests if racial tensions boiled over in the West, only to be misdirected by Christian Zionists, "cultural nationalists", and Likudnik infiltrators into exhausting itself in more land wars in Asia. Breivik's manifesto betrays a complete failure to recognize this very real threat, even indulging in the dangerous scope creep of framing the Middle East itself as occupied territory due for a new Crusade.
Sticking to explicit racial and ethnic nationalism is necessary, as our competitors are waiting to leap into the gap between what we say and what we mean. As Kevin MacDonald suggests, to recoil is to forfeit the moral argument. When you concede that White folks have no legitimate interests, you're forfeiting an argument we'll eventually win as people become more radicalized by social and economic trends.
Islamic immigration is merely one dimension of the problem. Even if it were reversed tomorrow and the 90% who've failed to effectively integrate are deported, the declining birth rates, decadence, and non-Islamic immigrants would still be there. A man's truly intent on committing suicide will find a way to do so, even if you've managed to hide the scimitar from him. Breivik's focus on leftist political leaders instead of the immigrants indicated a degree of awareness of that, but targeting the leftists promoting unchecked immigration still amounts to hacking at the branches.
He kind of reminds me of a problem I see in America, of racialists falling into a pattern of thinking that the problem is really all about illegal immigration. Some vilify the illegal immigrants as wife-beating gang-bangers hellbent on Reconquista, appealing to law and order… as if desperate foreigners are to be faulted for breaking laws our leaders beg them to break.
It's a fine angle, and a scab which definitely ought to be picked. Just don't mistake the scabs and fungal infections for the underlying auto-immune defect.
Media censorship drives men to a desperate mind set. And desperate men do desperate things. – Tadzio
It's not just media censorship. It's direct attacks on our means of supporting our families. It's death threats on ourselves and our family members. It's bricks thrown through the windows of the restaurants we're meeting at, pepper spray and fist punches at our supporters, and law enforcement officers conspiring with antifa terrorists to cancel our events.
It's more than a mere tactic to ask them this question. It's a damn good question that I, for one, would like to have answered. The answer, of course, is that they wish to cow us into cowering and conceding defeat.
The Norwegian leftists succeeded with their ham-fisted tactics in drumming ABB [Anders B. Breivik] out of conventional political activism. I believe the technical term for the predictable result of what they did and what they've redoubled their efforts to do in response to this is "blowback".


Julian Curtis Lee said…
"Sticking to explicit racial and ethnic nationalism is necessary, as our competitors are waiting to leap into the gap between what we say and what we mean." –Parrott
Tremendous statement. (The whole post, though I brought out that vital line.) Bravo!
Let's get explicit, folks! Come what may.


Kevin MacDonald said…
We at TOO [The Occidental Observer] are going to continue to be explicit about race and Jewish issues. Someone has to do it. But politicians have to think about getting elected in a particular context and they may be right. If we could end non-White immigration without being explicit, I'd be all for it. I think the jury is still out on that one.


Matt Parrott said…
Why is an argument from racial and ethnic nationalism necessary to put an end to unchecked immigration. There are many, many other good arguments for why mass immigration is insane and suicidal. – Anon2
In theory, an argument from racial and ethnic nationalism is not necessary to put an end to unchecked immigration. In theory, it's not even necessary to preserve the racial and ethnic nation.
Our advocacy team actively collaborates with groups across the political spectrum (all of which are explicitly against preserving our ethnic identity) to help reduce immigration.
But this isn't really about the Muslim invaders. It's not really about the Mexican invaders. It's not really about the Black youth mobs. What it's really about is a lack of a will of a people to live. As long as America and Europe are spiritually and ideologically hellbent on suicide, they'll find new ways to keep hurting themselves. Even if ABB's anti-Islamic crusade scenario were actualized throughout Europe, they would still be slaughtering their own offspring by the millions. They would still be barren. They would still be decadent and nihilistic. They would still be allowing Afro-Caribbean and myriad other populations to elbow in on their homeland.
Removing Islamic immigration from Europe is akin to hiding the gun from a man who's suicidal. It may buy some time, but if a guy's really set on killing himself, he'll figure out some other way to do it.
I do believe that only an argument from racial and ethnic nationalism will be sufficient to steel Europeans to take the bold action necessary. After all, stopping illegal immigration and asylum fraud is insufficient. Reducing legal immigration to reasonable levels isn't sufficient. Stopping legal immigration cold isn't sufficient. Offering cash prizes for emigration isn't sufficient. Deporting most of them isn't sufficient. Only deporting each and every last non-White community from Europe is sufficient.
The sorts of mild arguments that operate within the mainstream paradigms and respectable bourgeoisie talking points are well and good for slowing the acceleration of the rate of our demise. But the radical steps necessary to actually reverse our course require the widespread acceptance of these radical ideas.
But let's grant that one can find some clever angle to convince voters to deport all the non-Whites without requiring White Americans and Europeans to embrace their right to survive. That only solves the immigration dimension of our multifaceted problem. The mainstream paradigms and respectable bourgeoisie talking points would spell doom for the West if it were a fortified island continent.