CHAPTER 6: TAKING STOCK, LOOKING AHEAD
Let's take stock at this point by briefly recapping the central facts.
The oldest existing Bible dates from the year 350; as we move backward in time from there, our confidence in the actual text diminishes significantly—some parts being much more uncertain than others. Expert consensus is that the four Gospels date to the years 70 to 95 AD, and Paul's letters to 50 to 70 AD. Paul, the Gospel authors, Jesus, Joseph, the Virgin Mary, and all twelve apostles were Jews. Many Jews had been in active and passive resistance to Rome from virtually the beginning of the takeover in 63 BC. Between the years zero and 93 AD we have absolutely no independent, corroborating evidence for such things as the Bethlehem star, any of Jesus' 36 miracles, any of the apostles' miracles, or any of the Christian-specific events depicted in the New Testament.

Critiquing antagonism
My thesis addresses the question of motive, something that's utterly lacking in the other skeptics. I have shown how the Jews had a deep hatred for the Gentile masses and the Romans in particular, and thus how individuals would have done anything—including lie, and including placing themselves at mortal risk—to benefit the Jewish people. The mythicists and other skeptics have no good account of a motive… The Antagonism Thesis is by far the most credible analysis. It best accounts for all the known facts, and identifies an actual and fact-based motive for the whole construction. All signs point to a Jesus Hoax.
So, what's the counter reply to the Antagonism Thesis? The basic elements of it have been around for over a century. Obviously it had been considered before and apparently rejected, since none of the recent Jesus skeptics defend it. What would they say in reply, to challenge that thesis?
In fact I have raised this question with a number of experts, precisely so that I could gauge the strength of the thesis. Let me mention their comments and then offer my responses.
"It's not clear that all the Gospel authors, apart from Matthew, were Jews. John certainly was not."
As I've replied earlier, the Gospel of Mark was written for a Gentile audience and thus takes on the superficial appearance of a Gentile work. There is a strong consensus that Mark himself was Jewish. The extensive OT references in all four Gospels argue strongly for Jewish authorship. There is no real evidence that Luke was a Gentile save his name, but as we know from Paul, it was not unheard of for Jews to change to Gentile names. The scattered anti-Jewish statements in all the Gospels—especially John—more reflect an internal Jewish battle over ideology than an external, Gentile attack. Paul is clearly and obviously Jewish.
"You are making sweeping generalizations. Not all Jews opposed Rome, and not all NT writers and characters are necessarily Jewish."
On the first point, of course, as I stated, many Jews acquiesced to Roman rule. Probably a large majority accepted it, even if begrudgingly. But the elite Jews were sure incensed, and there was certainly a substantial minority of Zealots and others violently opposed. My thesis doesn't require that all or even most Jews opposed Rome, only that a small band—Paul and friends—did so, and acted on that basis. Regarding the NT writers, that's addressed above. Regarding the characters in the story—Jesus, Mary, Joseph, et al—we can only go by the words written down, and the text is conclusive: all were Jews.
One knowledgeable colleague listed a number of specific problems for any such hoax theory:
Needs a motive. Discussed above. The motive was revenge against Rome, and an attempt to undermine its support by confusing and corrupting the masses.
The depiction of Jesus as Messiah conflicts with Jewish expectations of the time. Certainly, and that's why the majority of the Pharisees opposed Paul's gang. Paul didn't concoct his hoax for the Jews; it was strictly for the 'benefit' of the gullible Gentiles [1] …
There is no reason that the militant Jews would have given up; rather, they changed direction. [S.G.W.] Brandon's best defense is that the last Gospel, John, does indeed drop most all talk of revolution, as I noted previously. But that is better attributed to John's new, more intellectual audience than to any utter resignation on the part of the cabal.
The main point, though, is that the apologists never quite get around to explaining how exactly the Zealot thesis has been "discredited." And they can't. They can point to Jesus saying "love thy neighbor" and "turn the other cheek," but that's about it.
Let me take a moment to respond to a number of questions that may arise at this point—some of which I've covered already, and some not.
Question: "Okay, as a Christian I've read and absorbed your whole shocking message. What am I supposed to do about all this?"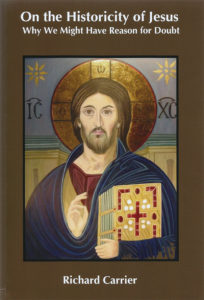 Answer: First, try to confirm as much of the evidence cited here as possible [Editor's note: This image doesn't appear in Skrbina's text. He is wise, but an amateur New Testament scholar. I suggest that the reader begin studying a professional NT scholar, for the reasons given in my book Daybreak. Skrbina continues—his italics:] You have been swindled. Tell them you want your money back. And your time. And your life—everything that you've invested, and lost, in the most famous hoax in history.
Question: "What about all those pro-Roman, anti-war passages?: 'Render unto Caesar' (Mark 12:17), 'let every person be subject to the governing authorities' (Rom 13:1), 'pay your taxes', 'perish by the sword' (Mt 26:52), 'turn the other cheek' (Mt 5:39)—not to mention, 'love thy neighbor'! Don't these undermine your thesis?"
Answer: This is the "peaceable Jesus" reply. We all know those famous lines, and they get repeated ad nauseum. My general reply is (a) the Jewish cabal was compelled to insert such lines for cover; too much explicit talk of rebellion was dangerous. Also (b) these relatively few lines are outnumbered by far more that imply rebellion and war—see my discussion in chapter five. And in any case, "rendering to Caesar" says nothing about not also working for his downfall. And sure, you may perish by the sword, but that's what happens in war. I particularly appreciate "love thy neighbor": Who, after all, was "the neighbor" if not the Jew?
Question: "The Jews come off looking pretty bad here. Isn't all this terribly anti-Semitic?"
Answer: People are overly sensitive these days, particularly about Jews, probably because we hear so much about them and anti-Semitism in the media… I see no good reason why Jews should continue to merit special sensitivity, especially in light of Israeli crimes in the middle East. (Editor's note: The last ten words appear in the printed book, not in the online version available on the internet. Skrbina probably made some last-minute changes.)
Question: "How could so many people be fooled for so long? It doesn't seem possible."
Answer: Actually there have been several famous examples in history when many people, even many smart people, have been fooled for a very long time. The Donation of Constantine was a fraudulent document in which Emperor Constantine allegedly gave his empire to the Catholic Church in 315 AD. In fact it was forged in the 700s and not exposed until 1440 by Lorenzo Valla.
Witches have been condemned and burned since at least 300 BC, and during the peak period in Europe—from 1450 to 1750—some 500,000 were killed. In all these cases, millions of people were fooled, deceived, or otherwise attached to false beliefs for centuries. It's no surprise that millions could still be wrong.

Media, Government, Hollywood
All the Abrahamic religions worship the Jewish God; Muslims simply changed his name.
Governments everywhere want compliant populations. They want citizens who will respect authority without question, follow the laws, accept its power, and not be too inquisitive. They like people who simply have faith in government, and who more or less blindly trust them…
Colleges and universities are somewhat better, often having panels or speakers who challenge the Christian view. But the Antagonism Thesis is particularly difficult to discuss since it casts blame on Jews, and any negative talk about them risks ostracism or worse, even in our "liberal" and "free speech" universities.
What about our irreverent media and Hollywood filmmakers—those who are so willing to commit sacrilege against any social norm or moral standard? I suspect this has something to do with the extensive role played by Jewish Americans. It's uncontroversial that Hollywood has been dominated by Jews for decades; a relatively recent article in the LA Times cites Jewish heads of nearly every major Hollywood studio.[2] And it's not just the movie business. All the major media conglomerates have a heavy Jewish presence in top management. If they should decide that Jewish malevolence at the heart of the Christian story "looks bad," then they obviously won't bring it up at all—not in the news, not on TV, not in books…
"It is also difficult to imagine why Christian writers would invent such a thoroughly Jewish savior in a time and place where there was strong suspicion of Judaism." Actually, not difficult at all: the "Christian" writers were Jews who were trying to build an anti-Roman church based on a Jewish God and a Jewish savior. They just had to make sure that the enemy was "the devil" and not "Rome."

Whither Christianity?
I rest my case. By all accounts, and despite protests to the contrary, Christianity indeed seems to be a "cleverly devised myth" (2 Pet 1:16)—a lie, a hoax—foisted upon the innocent and gullible masses simply for the benefit of Israel and the Jews.
It's in the Gospel of John that we read one of the bluntest statements of truth, wherein Jesus says, "You [Gentiles] worship what you do not know; we worship what we know, for salvation is of the Jews" (4:22). We know what we are doing, say the Jews. You Gentile Christians don't even know what you're worshipping—which in fact is us and our God. But that's okay. Just leave everything to us; "salvation is of the Jews."
But it's Paul who's really the star of this show. Paul comes across as a masterly and artful liar—one of the all-time greats in world history, a man who can lie with impunity about the soul, the afterlife, God, everything. This unprincipled scoundrel, who admits to being "all things to all men," would do anything or say anything to win his "kingdom of God" here on Earth. His mournful cries of "I do not lie!" are revealed as nothing other than an inveterate liar caught in the act.
With his fabricated "Jesus" and his fabricated "afterlife," Paul drained all value from this world, the real world. It turned believers into weak and subservient sheep, ones whose lives are oriented around the manufactured sayings of a marginal rabbi and of prayer to Jehovah, the invisible God of the Jews.
It took a few hundred years, but when enough people fell for the hoax, it helped to bring down the Roman Empire. And when people—lots of people—still believe it after two thousand years, it cannot but degrade society, weighing us down, blocking us from attaining that which we are capable of, that which was only hinted at in the greatness of Athens and Rome. And all for the salvation of the Jews.
___________
[1] Paul famously declared himself to be "Apostle to the Gentiles" (Rom 11:13, Gal 1:16).
[2] "How Jewish is Hollywood?", by Joel Stein (Dec 19, 2008).