– For the context of these translations click here –

Criminal excesses at the papal court with the change of power in the Frankish kingdom
Pope Stephen II, who at the decisive moment had generously granted himself the 'Constantinian Donation', died on 26 April 757. At his death, he left a considerably large territory, which for the time being remained in his family. Paul I (757-767), in fact, Stephen's successor, was also his younger brother, and the second Orsini pope to occupy the Lateran palace. Pope Paul, to whom his unofficial biographer constantly attributes a propensity for clemency, wanted a permanent war against the Longobards…
Scarcely had Paul I closed his eyes on 28 June 767, practically abandoned by all those close to him, when a violent revolt broke out in Rome, as so often before. Already the next day Toto, Duke of Nepi and head of a powerful family, stormed into Rome with his armed colonists and had his brother Constantine, a layman, elected as Paul's successor. The foundation of the church-state, the papacy's strengthened position of power, made it increasingly attractive to the nobility. Constantine seized the Lateran, received the relevant clerical orders and within six days was the pope. In St Peter's Basilica, he was solemnly consecrated by the bishops of Palestrina, Albano and Porto…
Constantine II (767-768), although elected in an anti-canonical manner, occupied the discredited throne for thirteen months without particular difficulty, conducted business, ordained clergy and even presided over a synod. But then he succumbed to a conspiracy of influential people, chief among them his chancellor and provost Christophorus, head of the papal officials, and his son, the chaplain Sergius. Placed under house arrest, at Easter 768 they both preferred to move to a monastery in Spoleto, San Salvatore in Rieti. They undertook to remain there by oath but fled to take refuge with the Longobard king. With the king's permission, they gathered reinforcements in Rieti, and at the end of July 768, these forces marched on Rome under the orders of the priest Waldipertus. There, one of the city gates was opened to them and a series of bloody street battles ensued; but a traitor, a creature of Christophorus, the ecclesiastical archivist Gratiosus, stabbed Duke Toto in the back. Pope Constantine fled from church to church, until he and his closest entourage were captured and imprisoned…
Cardinals and bishops had their eyes and tongues gouged out. Constantine, deposed and discovered by chance, was dragged through the streets of Rome in an ignominious procession, locked up in a monastic prison and tortured there under the orders of the ecclesiastical archivist Gratiosus, also the murderer of Duke Toto (and later himself a duke). No less bloody was the persecution of his closest supporters, who were mutilated and blinded. Bishop Theodore, who supported Pope Constantine to the end, had his eyes and tongue torn out and was imprisoned in the monastery of Clivus Scauri where he soon succumbed in horrible pain. Passivus, Toto's brother was also imprisoned in the monastery of St Silvestre, and all his property was seized. Likewise, the priest Waldipertus, the agent of the Longobards who had placed Philip on the papal throne, was given a short trial. True, he sought asylum in a sacred place, the church of Santa Maria Maggiore; but he was torn from there with the image of the Madonna to which he was embraced, and thrown into a dungeon of the Lateran, where he died mutilated.
At Easter 769 a synod was held at the Lateran; in addition to twenty-four Italian bishops, it was attended for the first time by thirteen Frankish bishops. This underlined, as His Holiness said in his opening speech, the ecumenical character of the cause. Constantine, already blind, was led and interrogated on 12 and 13 April in the basilica. In the first session, he confessed to having more sins than there was sand in the sea. He prostrated himself in the dust but declared that the people had made him pope by force because they were not satisfied with the harsh regime of Paulus…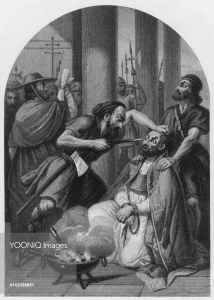 The assembled fathers threw themselves furiously upon Constantine, slapped the pope whom they had already deposed and threw him out of the church. They burned the acts of his pontificate, including those of his election, which Stephen himself had signed. But the pope then intoned a kyrie eleison and all fell to the ground and confessed themselves, sinners, for having held communion with the reprobate Constantine. He was condemned to lifelong penance and probably spent the rest of his life in a monastic prison.
Again and again, it becomes clear that Christians have a compassionate heart; not all enemies are eliminated at once. Here, too, people live and let live… The policy of pope Stephen III concentrated on preventing any understanding between the Franks and the Longobards.