This is a response to Mauricio's comment about the supposed representative of the English roses who died recently:
Miscegenation, the sin against the holy spirit of life is not to be forgiven, and the son of the late queen committed it.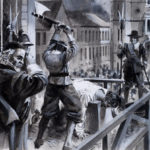 But what is most worrying is that English males don't seem to care about the propaganda to miscegenate they see on street advertisements, and I don't even see hatred on the forums of so-called white nationalism on this side of the Atlantic.
The only hope for salvation, and I confess it is the thought that comforts me when I wake up at night, is that the crash of fiat currencies will cause such chaos as to initiate the collapse of the System.
Only infinite hatred can save us, but it must come from at least two per cent of the Aryan males of each nation. The big question is whether, after the dollar tanks and we enter an era of ethnic chaos in the West, the Aryan males will finally wake up…