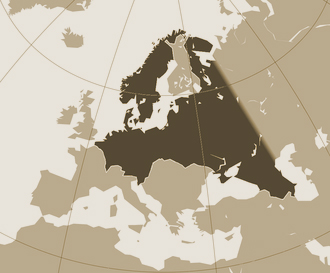 As I explained in my update yesterday, there was still a tail of enemy propaganda in the quote I made from a military encyclopaedia, and therefore I'll merge that information, albeit with anti-NS propaganda expunged, with content from another source.
The latter source was written in Spanish and I'll now translate it in my next six posts starting with this one (below), albeit modifying it in order to spin it in favour of the fourteen words. (In Spain it is not possible to publish books praising German National Socialism. Pedro Varela has suffered more than one sentence in prison for doing so.)
Keep in mind the image that I published in my previous post showing Himmler with a child from an occupied country. The fact is that people with the right genes were in high demand in Hitler's Germany and the Germans of that time did everything possible to provide the Reich with blond and blue-eyed citizens. In that endeavour, they even adopted children from occupied countries; and sexual relations outside of marriage were promoted to bring more Aryan children into the world.
These are the fourteen words in action!—exactly the opposite of today's System throughout the West with its campaign of slow genocide against whites.
* * *
Heinrich Himmler was happy. October 7, 1939 was a very special day for him. Not only was he turning thirty-nine, but Hitler had appointed him Reich Commissioner for the Consolidation of the German People which, among other things, made him responsible for the inhabitants of Poland: a country that Germany had occupied a month before.
Himmler wasted no time. He immediately ordered a report and, a month later, had a forty-page text on his desk. The document contained a detailed plan to effectively use human resources in the conquered areas to the east.
Most of the population had to be displaced or used for work, so that the Germans could settle in and enjoy the living space called Lebensraum in German. Those who stayed had to be raised German and be part of the dominant race.
The report recommended that the selection be made mainly among the youngest: 'We must exclude racially valuable children from deportations, to grow up in Reich educational facilities cared for by German families', ending with another recommendation: 'They must not be older than eight or ten years because until that age their national identity can be completely changed and their definitive Germanisation achieved'.
After reading the report, Himmler decided that the solution for children in Poland and other countries should begin as soon as possible, even if it meant handing over those children to parents in a foreign country. The acquisition of new Aryan citizens for the Third Reich had absolute priority.