'Satanism is alright. Depends on how you go about it. But then again, I'm more well read on the subject than most people. Most people get scared away and only go into the crust, rather than down to the core'. —Rape [penname], AWD Discord server, November 9, 2017.
Using a negative Christian symbol (Satan) to scare Christians, as the so-called Atomwaffen Division (AWD) does, should trigger the alarm signal in anyone wishing to recover the West. It is the reverse of using a positive Christian symbol (the hymn that Martin Luther composed) to please Christians, as in the case of another failed revolutionary, Harold Covington.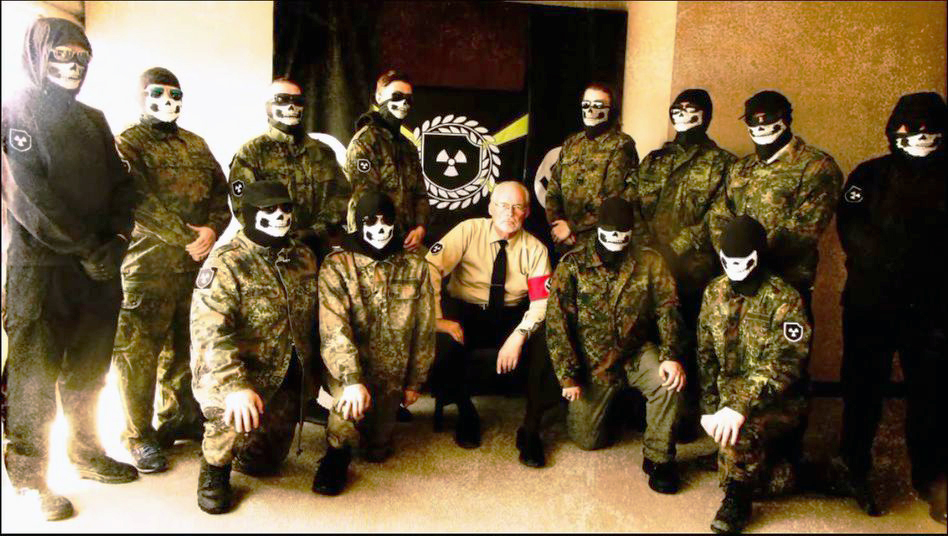 AWD with James Mason at the centre
When I see someone using satanic symbols the first thing that comes to my mind is: 'A mental infant…!'
It should be obvious that if someone wants to start distancing himself from the religion of our parents, the distancing mustn't be done childishly but maturely: assimilating books like that of the Spaniard Evropa Soberana about the psychological warfare that Judea fought against Rome after the destruction of Jerusalem; what I translated from the German Karlheinz Deschner, or even a book written by a liberal English, like Catherine Nixey's.
But no: these neochristian Americans, unlike the Europeans mentioned above, make a teenage tantrum with Christian symbols that only denote their inability to reach adulthood.
If a revolutionary man wants to do something against Christianity, adulthood begins by reading, say, Uncle Adolf's table talks. On this site I still have to collect the remaining of Hitler's anti-Christian pronouncements in my cited quotations (I am missing another seven citations).
The tragedy I see with these groups who aspire to revolutionaries is that they don't seem to realise that, given that the ethnosuicide of the West has to do with Semitic psyops, it's more urgent to imitate Athens than Sparta at the moment; more important to philosophically understand the psyop than to do a military career. Otherwise one ends up playing with unassimilated forms of Christianity either with Satanism (which circumscribes an Abrahamic religion although negatively) or with the Luther hymn.
What kind of 'anti-Semitic' revolutionaries are these who cannot encapsulate the virus of Judeo-Christianity in their minds? Why don't they follow the commandment of the Oracle of Delphi, an Apollonian oracle uncontaminated by Abrahamic religions (cf. my forthcoming translated autobiographical book)?
A Satanist would not scare the educated Christians of the racialist movement in the US. He would only inspire pity, as if he were a mentally ill person, a schizo individual. However, when I discuss with a Christian, as I recently did in Unz Review, he resorts to wanting to psychoanalyse me with my father because the objective information I represent he cannot answer.