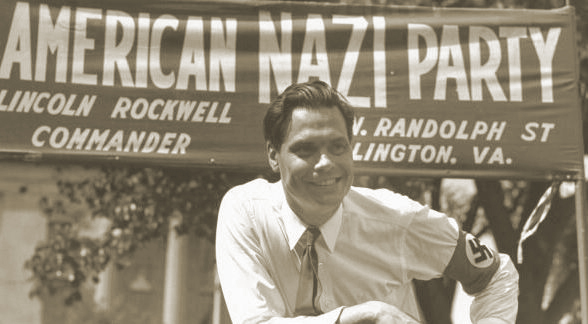 Commander Rockwell often spoke of "White Christians" under attack in the West. "White Power" as a slogan can be credited to him. Every North American racist revolutionary has a debt to this man. His populism, theatrics, swagger, and street fighting shaped the Struggle for decades to come. We know what he did, but what did he really believe? Below are some choice selections from his written correspondence with Savitri Devi herself that shed light on his true sentiments.
December 1960, Rockwell writes Devi:
You ask in your latest letter if I will sell your books! OF COURSE!—And PROUDLY!—they are great books which will one day be revered like our present Kike Bible, when our Jew-hypnotized people are once again proud and knowledgeable of their Nordic culture and concepts, and do not need to or want to lean on the nasty mutterings of a bunch of old Jews.
Summer 1965, Rockwell writes Devi:
You simply must try to understand the almost unbelievable difficulties I face in working here with Americans. Perhaps many Europeans are evil and vicious "Democrats" and even "Communists." Unfortunately, most of my fellow Americans do not have the honor to be even such ideological criminals—they are just plain ignorant and often unbelievably dumb. Europeans simply have no comprehension of the political ignorance of the majority of Americans. It is also true what you write about various religious matters. (For obvious reasons I cannot commit to writing, all the various things involved here.)
June 1966, Rockwell writes Devi:
I cannot mention the subject in writing, for what I hope are obvious reasons, but you will remember it was criticism of one subject you were afraid might be included in the National Socialist World. By now, you should have received your airmail copy of this journal which we are very proud of. I doubt you will find anything about which to quarrel. In fact, I think you will be quite pleased with the tremendous world circulation we have finally given to your wonderful book The Lightning and the Sun. In that very book, and in the condensation in National Socialist World, you and Colin Jordan both point out that National Socialists unhesitatingly and unhypocritically admit that the ends justify the means, providing the means do not contradict the end.
—excerpted from Woman Against Time.