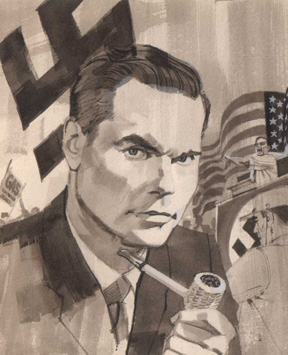 This is one of the problems I had with George Rockwell's White Power. He did apologise to Europe for WWII but at the same time he was speculating on a leader for the white race and seemed to think Europe needs America to save itself. This personally irked me because Europe already had that leader. They can blame the Jews all day long but it wasn't the Jews who gleefully pulled the trigger, they just pointed the gun.
Sometimes I get this feeling that Americans and English care about Europe only so far that they can tie it back to their own exceptionalism.
They're also naïve and ignorant on the Christian question. They seem to think that because Christianity is "attacked", this makes it an intrinsically white religion. They would do well to read Celsus' On the True Doctrine: Jews and Christians, and Christians and Christians have been squabbling since the first inception of that religion.

______ 卐 ______
Editor's reply: I have complained dozens of times why Pierce's Who We Are, published on National Vanguard from 1978 to 1982, never was popular among white nationalists. Presently I am the only one who publishes part of it in my Daybreak Press!
Gradually the thought dawned in my mind that it's simply because Pierce introduces the most relevant chapters of white history outside the American continent. And American white nationalists are still stuck with their provincial history (just as Mexican nationalists don't want to know much of the history of Spain).
Recently, for example, Hunter Wallace of Occidental Dissent published a series of articles about the Vikings. He is stuck with the story that the Norsemen were the bad guys and the European Christians the good guys; and that only their Christianization solved the Viking problem. Just compare this interpretation of history with what Pierce wrote in Who We Are about the Vikings.
My prediction is that white and southern nationalists won't become National Socialists in the US. They will cling to their American and Confederate flags. Fortunately, the collapse of the dollar that is coming will start their lesson in humility…