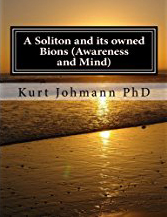 My correspondent Kurt Johmann asked me to say something about 'A Brief Analysis of Christianity', a section within his book A Soliton and its owned Bions (Awareness and Mind) which subtitle reads 'These Intelligent Particles are how we Survive Death'.
As to the origins of Christianity, Johmann relies heavily on Joseph Atwill's 2006 Caesar's Messiah: The Roman Conspiracy to Invent Jesus. I don't claim to have read Caesar's Messiah, but the book has become so popular that Wikipedia has an article about it. In the last couple of years I've seen mentions to Atwill's book in white nationalist forums as if it was a great discovery on the origins of Christianity.
As can be gathered from the book reviewers, Atwill tries to persuade the reader that the New Testament was written under the direction of 1st-century Roman whites. Those who know the new masthead of this site, Evropa Soberana's essay on Rome and Judea, will find it strange that Atwill would not blame the Jews for creating Christianity. He blames an emperor of the Flavian dynasty.
A Roman fraud written by a Jewish traitor in the emperor's pay? Really? Are we to believe that the Aryan Romans really cared about the primitive literature of distant Semites enough to go through the trouble of using the Septuagint to elaborate the New Testament, with fake Pauline and non-Pauline epistles, numinous gospel narratives and even a book of revelation that craves for a New Jerusalem right after the emperors destroyed Old Jerusalem? Is this credible taking into account that this John of Patmos was so anti-pagan that in the final book of the Bible he introduced the idea of eternal torment for non-Judeo-Christians in a lake of fire?
As can be seen in the recent entries of this site, our working hypothesis is that the authors of the New Testament were either non-Aryan Judaized gentiles or, like this John of Patmos, Hellenised Jews whose hatred for white Rome was infinite.
Also, Atwill's assertion that Jesus was a totally a fictional character is only a possibility. I am open to such possibility, as can be seen in this article by Joseph Hoffmann. However, another possibility is that a historical Yeshua existed and a lot of literary fiction was later added onto an original, bare, all too human story that is now lost forever (e.g., what Soberana speculates about the historical Jesus in his essay).
Johmann writes: 'Although Christianity was originally contrived and constructed [by Romans] to domesticate the recently conquered population of Judea…' According to our recent quotations of Nietzsche in this blog it looks the other way: Christianity was originally contrived and constructed by Jews to domesticate those who recently had conquered their population of Judea.
In his brief analysis of Christianity' Johmann also wrote:
Instead of having to accept the reality model of Christianity or of any other religion to have a good afterlife, the reality model presented in this book says that what one consciously believes about the afterlife during one's physically embodied life has no substantial effect on what one's afterlife experiences will be, during what will be an afterlife measured in years or many years (not Christianity's eternity) before one reincarnates, most likely reincarnating as a human again.
Regarding Christianity's position on sexual matters, Christianity has a long history of being hostile to sex for any purpose other than the production of children. Thus, given this emphasis on having children, Christianity, in general, has a history of being against birth control, abortion, infanticide, and homosexuality. The reason Christianity has these attitudes is because Christianity wants its current believers to have many children…
The first paragraph postulates the existence of reincarnation.
In the late 1980s and early 1990s I was heavily involved in the field of parapsychology and even published my stuff in the journal of the Society for Psychical Research. I am pretty familiar with the literature arguing for evidence of reincarnation, for example the work of Ian Stevenson. With time, after meeting in person the main intellectuals of a sceptic organization, subscribing their journal, and purchasing many books published by Prometheus Books, I became sceptical of such claims, including reincarnation.
In a blog post I cannot narrate the spiritual odyssey from my credulity in such phenomena to my apostasy: I would need a whole autobiographical book recounting my inner experiences from December 1978 to May 1995. Suffice it to say that I am familiar with the work of Sue Blackmore. Sue has written a lot about out-of-body experiences, that Johmann mentions elsewhere in his book. She says such experiences may have a more prosaic, parsimonious explanation than the paranormal one (incidentally, in a Seattle café I sat with Sue and other attendees during one of the sceptical conferences that we all attended).
As to the second paragraph by Johmann cited above, not only Christianity has been hostile to sex for any purpose other than the production of children. Other cultures and religions, even the Nazis, had a history against Aryan birth control, abortion, infanticide, and homosexuality.
This said, I basically agree with the last paragraph against Christianity in Johmann's text: that prayer is silly because, as Johmann put it, 'is only "heard" by one's own unconscious', and that trying to solve our problems with prayer, begging the god of the Jews to help us, only forfeits our duty of hard, Aryan work in the real world.