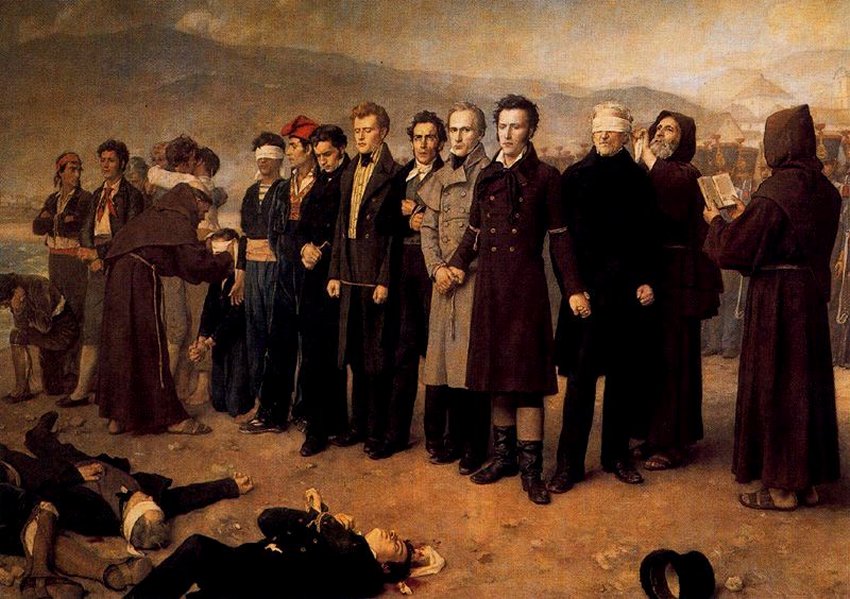 Execution of Torrijos and his men in 1831 by Antonio Gisbert. Spanish King Ferdinand VII took repressive measures
against the liberal forces in his country.
Criticism and support
Liberalism has drawn both criticism and support in its history from various ideological groups. For example, some scholars suggest that liberalism gave rise to feminism, although others maintain that liberal democracy is inadequate for the realization of feminist objectives.
Liberal feminism, the dominant tradition in feminist history, hopes to eradicate all barriers to gender equality—claiming that the continued existence of such barriers eviscerates the individual rights and freedoms ostensibly guaranteed by a liberal social order. British philosopher Mary Wollstonecraft is widely regarded as the pioneer of liberal feminism, with A Vindication of the Rights of Woman (1792) expanding the boundaries of liberalism to include women in the political structure of liberal society.
Less friendly to the goals of liberalism has been conservatism. Edmund Burke, considered by some to be the first major proponent of modern conservative thought, offered a blistering critique of the French Revolution by assailing the liberal pretensions to the power of rationality and to the natural equality of all humans. Conservatives have also attacked what they perceive to be the reckless liberal pursuit of progress and material gains, arguing that such preoccupations undermine traditional social values rooted in community and continuity. However, a few variations of conservatism, like liberal conservatism, expound some of the same ideas and principles championed by classical liberalism, including "small government and thriving capitalism."
Some confusion remains about the relationship between social liberalism and socialism, despite the fact that many variants of socialism distinguish themselves markedly from liberalism by opposing capitalism, hierarchy, and private property. Socialism formed as a group of related yet divergent ideologies in the 19th century such as Christian socialism, Communism (with the writings of Karl Marx), and Social Anarchism (with the writings of Mikhail Bakunin), the latter two influenced by the Paris Commune. These ideologies, as with liberalism and conservatism, fractured into several major and minor movements in the following decades.
Marx rejected the foundational aspects of liberal theory, hoping to destroy both the state and the liberal distinction between society and the individual while fusing the two into a collective whole designed to overthrow the developing capitalist order of the 19th century. Today, socialist parties and ideas remain a political force with varying degrees of power and influence in all continents leading national governments in many countries. Liberal socialism is a socialist political philosophy that includes liberal principles within it. Liberal socialism does not have the goal of abolishing capitalism with a socialist economy; instead, it supports a mixed economy that includes both public and private property in capital goods. Principles that can be described as "liberal socialist" have been based upon or developed by the following philosophers: John Stuart Mill, Eduard Bernstein, John Dewey, Carlo Rosselli, Norberto Bobbio and Chantal Mouffe. Other important liberal socialist figures include Guido Calogero, Piero Gobetti, Leonard Trelawny Hobhouse, and R. H. Tawney. Liberal socialism has been particularly prominent in British and Italian politics.
Social democracy, an ideology advocating progressive modification of capitalism, emerged in the 20th century and was influenced by socialism. Yet unlike socialism, it was not collectivist nor anti-capitalist. Broadly defined as a project that aims to correct, through government reformism, what it regards as the intrinsic defects of capitalism by reducing inequalities, social democracy was also not against the state.
Several commentators have noted strong similarities between social liberalism and social democracy, with one political scientist even calling American liberalism "bootleg social democracy" due to the absence of a significant social democratic tradition in the United States that liberals have tried to rectify. Another movement associated with modern democracy, Christian democracy, hopes to spread Catholic social ideas and has gained a large following in some European nations. The early roots of Christian democracy developed as a reaction against the industrialization and urbanization associated with laissez-faire liberalism in the 19th century.