"I am a moderate compared to The Turner Diaries. I would like the most peaceful possible divorce from other races. Pierce wanted extermination, plain and simple."
Editor's note: The below passage from George Lincoln Rockwell's White Power strongly reminds me the book I'm presently writing, Extermination; and cannot contrast more with white nationalists like Johnson:
______ 卐 ______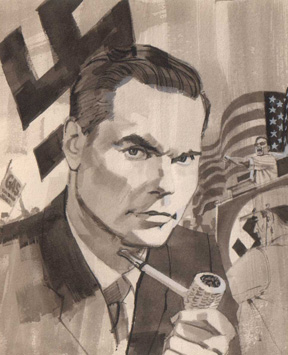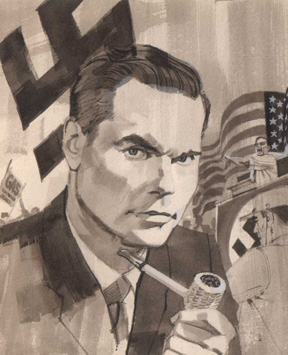 As Adolf Hitler said in Mein Kampf, the only question in the history of our times is: Will the titanic and final struggle of humanity turn out for the benefit of the White Aryan, or the benefit of the scheming Jew and his swarming army of colored inferiors?
As this racial Armageddon approaches, the real value of a human being will shortly appear with a vengeance whether we like it or not. Like the "plague of diamonds" pouring out of the sky, there will be such a roaring storm of people on this planet that it will sink in its orbit from sheer weight. Colored "humanity" will drop to lower than zero on the scale of value.
Your children or grandchildren will be forced to exterminate and/or transport swarms of wild Blacks until all of them are finally dead or corralled in Africa. And your grandchildren's children, in turn, will look back on you and wonder how, in the name of heaven, we ever let this insanity go so far without doing anything but talk! …
There is no "cure" for the coming population horror other than to kill…
This was the situation, for instance, in what is now Rhodesia, where the native, Black population never exceeded 40,000 since the beginning of time. Then along came the humanitarian, half-witted, White liberal, and "outwitted" Nature by providing these swarms of human scum with the medical genius of a higher race, with education, with police to maintain order and prevent them killing and eating each other, with hygienics to put down germs and mosquitoes and prevent disease, with sanitation facilities, and otherwise applying the miracles produced by White brains and character, to enable Black and inferior humanity to proliferate like flies on a dung heap.
The Whites came to Rhodesia with law and order, medicine, education and food—and produced 40 millions of Blacks, who now demand to take over the Whites! The way out of this mess is not in making available more food, better medical care, more efficient farming, or birth control! There is only the old-fashioned way of Nature: death, one way or another. Somebody has got to go, ugly as that may be.
The problem would never have arisen, had men been wise enough to obey Nature's ancient and eternal laws. But we didn't, and the problem is about to overwhelm us in a furious catastrophe.
If we don't do something about it, Nature will. There will be famines such as the world has never imagined, massacres such as the worst nightmare cannot envision, slaughter, disease, death and horror until there is nothing but blood and darkness on the face of the earth…
This is no call to brutal, heartless, sadistic massacre. There is no "hate" involved here, any more than there is "hate" involved when roaches or bedbugs invade a home and must be exterminated. It is a matter of survival.
If they survive and swarm by the millions, we must die. It will not be too many years before even the most rabid liberal will see that. Some of them already have, as the Blacks run around attacking them, shouting "Kill Whitey," "Burn, baby, burn!" and sacking our cities.
To survive, we will undoubtedly have to kill vast numbers of those of the colored races who attack us. I believe the planet will run red with the blood of both sides, in the lifetimes of many now living, before order is restored to the world, and genuine peace is therefore possible.
To stop a plague of bed bugs takes killing, not words. To stop a plague of traitors, agitators and black half-animals is going to take killing, not words.
Locusts and bed bugs that do not invade your home do not need killing. Inferior humanity which leaves the White Man alone does not need killing, either, and can be left to limit their own numbers by their own stupidity, improvidence and cruelty. But it is forever too late for those colored people who attack the White Man to be permitted to survive.
We have no intention of attacking or exterminating those who leave us alone.
But let this be a declaration of war upon the savages who dare to shout "Kill Whitey," and on those Jews and others who dare to encourage, agitate, arm and finance them in this bloody insanity. It's them, or us!