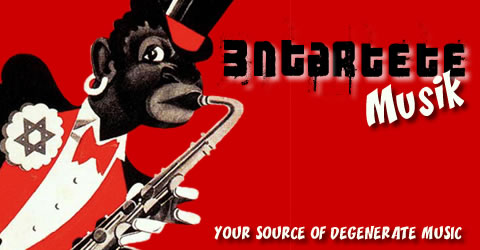 I've come to the conclusion over the past few years that the mantra, "The conservatives of today are the liberals of tomorrow," is axiomatic. Whereas the Racialist Right of the past, viz., Rockwell, inveighed against rock'n'roll, modern-day WNs promote it to the hilt and consider it part of White cultural heritage. Thus, it's not surprising that James O'Meara's latest essay is part of this trend.
Essentially, O'Meara's essay is an attempt to belittle the Western musical canon and replace it with something more "progressive" (with a homosexual tinge). There are several problems with this. Allow me to begin with the most inconsequential and then I'll work my way up to the crux of the matter.
James O'Meara's writing style is irritating. It's filled with references to "pop culture" and various modern/modernistic sayings. It's a snazzy, jazzy, and frenetic writing style with a lot of names thrown in to give it the flavor of credibility. This invoking of the modern "world of pop" is alien to me and others from the Old World. More than half-the-time, I have no clue who or what he is referring to. O'Meara is steeped in the modern world. This is not good and it's a sign of worse things to come.
Now, I'm not an expert on Equal Tuning (ET). However, I know enough of Western music, with its modes and diatonicity, to realize that the latter expanded the possibilities of the former by allowing for better direction and finality due to harmonic progression. Contrary to what the "composer" Dane Rudhyar claims, Western music did not revoke Mysticism. The Western canon is spiritual to the core, from chant up to and including the pathos of  Elektra. Incidentally, I listened to Rudhyar's "compositions" and they are ugly and miasmic. I thought it wryly humorous that he should speak about the West losing its Mysticism with his cacophonous compositions.
Once O'Meara is done attempting to denigrate the foundations of Western music, he states that the twelve-tone diatonic system is bankrupt and washed up: it's discordant, it's anti-Tradition, it's "merely psychological", etc. If O'Meara knew anything about Western music, he would know that it goes beyond the mundane. Western music moves the Soul. Actually, it invokes various States. Those who are moved by a Beethoven symphony, a Haydn string quartet, an Ockeghem mass, and a song of courtly love by Machaut, know of what I speak. For example, the last movement of the Pastoral symphony, where the double basses take the melody, makes the music soar, and one feels as if the clouds have been ripped asunder and the Heavenly Host has shown itself in its full glory. This is not mere theatrics. If individuals, bereft of a sense of beauty, cannot see it, then they are blind.
In actuality, O'Meara's thesis is not novel. Others have besmirched Western music before. O'Meara's approach, however, is to attack Western music by quoting the school of Sophia Perennis in order to sanctify his agenda. This doesn't fly as it's disingenuous and manipulative. A case in point is O'Meara's homosexuality and probable pederasty. O'Meara is quick to quote and use Guenon to further his agenda; to wit, his viewpoint is in tune with "Aryanism". Yet, Guenon converted to Islam and moved to Egypt, married an Egyptian woman, and fathered a half-Egyptian daughter. Indeed, Lings, Burkhardt, and Schuon, all big names in Tradition, converted to Islam and even took Islamic names. Next time, when O'Meara raises the issue that the anti-homosexual stance is Abrahamic and not Aryan, why doesn't he quote Guenon, Lings, Burkhardt, and Schuon, all "Aryans", in order to see what they think of homosexuality, given their conversion to Islam?
After having attacked Western music and attempting to destroy its edifice, O'Meara calls for a new music. This new music is exemplified by a horrid modernist by the name of Partch. Said modernist, miracle of miracles, is yet another "wild boy"; i.e., a homosexual. As disgusting as homosexuality is, what's more intolerable, philosophically, ideologically, and aesthetically, is the hubris with which O'Meara pontificates on the merits of Partch. Partch is nothing but a gasbag and a pretentious pseudo-iconoclast. This microtonal moron (like Haba and Harrison, another homosexual) is touted because he developed a new system of music and new instrumentation to go along with it. Big Deal. Experimentation is nothing but another sign of the times. Is it any wonder that Hitler stated, "There shall be no experimentation"?
Experimentation is proof that music, including other fields of cultural expression, are dead and stinking. When an artist must create something novel, for the sake of novelty, then there is no creative spirit present. Hasn't one witnessed that every degenerate and soporific (at best) "composer" of the modern era has been noted for one hare-brained form of experimentation or another? One can take serialism, minimalism, microtonalism, and their various permutations and amalgams as proof that not one of these turds (how appropriate, given their homosexuality) has anything to say. Further, isn't it also telling that there is a large degree of perverse sexuality (homosexuality) in these aesthetically horrid circles: Harrison, Cage, Partch, etc.?
A Traditionalist would look to the past and stick with that, refusing to infuse today's cacophony and faux-music ("folk metal", for example) to build something new, since the age of creativity in the Arts has passed and said Frankenstein will be a chimera full of monkeyshines. This lack of understanding shows that O'Meara's utilization of Tradition is flawed. It's quasi-Tradition raised on rock'n'roll and other types of "pop culture". All that this ridiculous talk does is, yet again, show that O'Meara and his ilk lack musical refinement while exhibiting, unbeknownst to themselves, the utmost hubris. As a case in point, O'Meara's third installment on Partch refers to the decomposer as "Our Wagner, Only Better"! My God, what fatuousness!
Speaking of Wagner, he's considered an idol because the NS, Hitler in particular, made him such at the expense of others. This is a case of sycophantism. In fact, the Right doesn't know any better, because it, too, lacks knowledge and aesthetic sensitivity, to a large degree. Brahms and other composers who weren't revered by Hitler and Co. didn't shine as strongly for the Right as we currently witness. Be that as it may, I agree with Rossini: "Mr. Wagner has beautiful moments, but bad quarters of an hour."
You who love the Western musical heritage and give it more than cursory lip-service  should be aghast at what this pederast has written. He has an agenda of promoting the most absurd ideas as novel and almost always with some homosexual angle. His "wild boys" are charlatans, hacks, freaks, homosexuals (excuse the redundancy), modernists, and purveyors of ugliness. I have yet to listen to a piece by Partch that can compete with the most nugatory of classical compositions.
The fact that Western youth do not listen to their musical hits and wonderments is not a reason to forego the Musical Masters, but to accept the fact that Western youth are degenerate through and through and must be redeemed. They need the light and they need to be re-acquainted with their heritage. Simulacra of a nadir variety are simply not to be brooked.