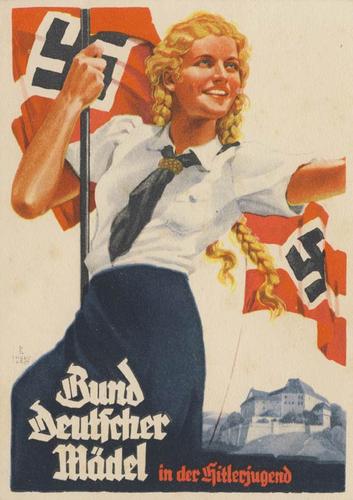 From Faith and Action (1938) by Helmut Stellrecht for the Hitler Youth:


Loyalty is a holy word. Speak it rarely. It must be as taken-for-granted as the air we breathe.
§ What exists exists because of loyalty. If that which exists ceases to be loyal, it returns to nothingness. That tears the bonds that hold everything together. It shatters camaraderie; it shatters leadership; it shatters honor; it shatters confidence in the law; it shatters the army; it shatters the state; it shatters everything that exists.
§ Germany collapsed in 1918 because disloyalty replaced loyalty. An "excess of loyalty" raised it again from the abyss. Now it stands on the foundation of loyalty, which must be stronger than the destructive forces of the world.
§ What is loyalty, comrade?
§ Your loyalty is that you never, never turn from the ideals to which you have sworn allegiance. National Socialism has raised them high, so that they live in you and will go into the grave with you. That is your first and deepest loyalty.
§ And you are true to your fatherland, called Germany. As its earth brought forth your blood, you belong to it forever.
§ The third claim on your loyalty is to follow the Führer both in the brightest and the darkest days. It is better for you to follow him ever into darkness and misery than that your loyalty weakens even once.
§ Fourth, you owe loyalty to your comrade. You will always help him in need and danger. He should always know that he can come to you, that he can rely on you entirely, as if you were his physical brother.
§ Siegfried and Hagen were loyal. Siegfried, the bright hero, fought battles for his king. His life was joy and jubilation and victory. Love and loyalty accompanied him, as if bearing him on their hands.
§ Hagen slew Siegfried not as a cowardly murderer, but rather because Siegfried invited guilt upon himself. The honor of the king was at stake. Siegfried had to die. But Hagen took the guilt upon himself. His loyalty to his king was more to him than his own outward honor. He took the curse of a murderer on himself and was greater than all and he was loyal [This story is part of the Nibelungen saga].
§ The German warrior loyally followed his nobleman and did not return home without him. The knights loyally followed their lords and emperors. Prussia's greatest sons were served their king loyally, even when they were better than he. They served not his person, but the crown that he bore. The millions who died in the World War loyally followed their leaders. In loyalty, they lie with them as a ring of dead around Germany. In loyalty, we all follow the Führer and his flag. The hand of each will hold the flag until death, the flag that leads Germany to new life.
§ We show loyalty in daily life as well. Once again, a man's word is dependable. Promises must be kept and will be kept. We do not need a handshake and an oath. Each can depend on our word, because we again have become loyal.
§ Germany is the land of loyalty. It dwells in its vast forests. It dwells in its knights and soldiers. It dwells again in us. Loyalty is our honor. Who wants to be dishonorable amidst the brave and the heroes?